This post may contain affiliate links. If you click a link and buy something, I may receive a small commission at no extra cost to you.
This Bowflex Blaze Home Gym review covers everything you may want to know about it to help you decide if it's worth buying.
Choosing fitness equipment requires careful research and consideration of the results you wish to achieve from your workouts.
Whether your aim is to build muscle and endurance, or you just want to get toned, the right fitness aid can simplify the process and make your workouts more enjoyable.
This machine from American brand Bowflex will not disappoint.  It is marketed and sold by American fitness giant Nautilus Inc. who are synonymous with quality fitness products.
Their original home gym, the Bowflex 2000X, set a new industry standard when it debuted in 1986.  Of course, that was a long time ago, so you may be wondering if recent models are still regarded as being among the best home gyms on the market.  You may also want to know if this model would be a good choice for the average user.
In this Bowflex Blaze Home Gym review, I will answers these questions, and more.  We will go over the key aspects of the machine, and the advantages and drawbacks of owning one.  I will also include a Bowflex Blaze exercise list containing the exercises you can do on the machine, and the muscle groups they target.
Hopefully, if you are considering purchasing one of these gyms, you will learn something that will make your decision an easier one.
Bowflex Blaze Home Gym Specs
Assembled dimensions – Assembled, the Bowflex Blaze measures 90″ (L) x 38″ (W) x 83″ (H)
Folded dimensions – When folded, it measures 52″ (L) x 38″ (W) x 83″ (H)
Workout area – 100″ (L) x 78″ (W)
Additional space requirement – For safe and unrestricted workouts allow a total workout area of approximately 8′ 4″ (L) x 6′ 6″ (W)
Power rod resistance – 210lbs, with the option of upgrading this to 310lbs, or 410lbs
Weight – The machine weighs 195lbs
User weight – The user weight limit for this model is 300 pounds
What's in the Box?
Along with your Bowflex Blaze home gym, you will receive Leg Extension attachments, a Lat Cross Bar, Triple-function Cuffs, a Workout Placard, an Accessory Basket, an Owner's Manual, and a Fitness Guide.
Who Will Benefit from Using the Bowflex Blaze?
The Bowflex Blaze Home Gym will suit people who want to get fit without having to do long training sessions.  It would also be an excellent choice if you have limited workout space and a fairly modest budget.
It can be used by people of most heights, with buyers from under 5′ tall to 6′ 4″ leaving positive feedback.
Whether you are new to exercise or a long-term fitness fanatic, the Bowflex Blaze will deliver excellent results if you use it regularly.
Bowflex Blaze Home Gym Overview
The Bowflex Blaze Home Gym is capable of more than sixty full-body exercises targeting all of the body's major muscle groups.  It provides the benefits of several pieces of exercise equipment in one unit.  For example, the machine has a Leg Curl attachment, a Lat Bar, and a Pulley/Squat Station, among other accessories.
Triple-function Handgrips/Ankle Cuffs can be incorporated into your sessions to isolate specific muscle groups.
Utilizing Bowflex's exclusive "Power Rod," this will give you the same resistance as lifting free weights, while simultaneously mitigating the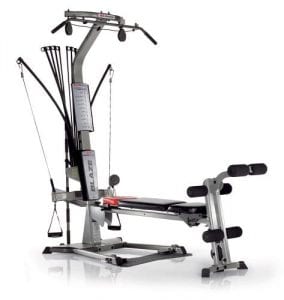 risk of joint pain.
The gym comes standard with 210lbs of resistance.  This comprises 2 x 50lb rods, 2 x 30lb rods, 4 x 10lb rods, and 2 x 5lb rods.  If you upgrade to 310lbs of resistance you will receive two extra 50lb rods.  Upgrade to 410lbs of resistance and you will receive 4 extra 50lb rods.
The rods, which repeatedly flex during use, have been engineered to last for many years without wearing or breaking.
The manufacturer is so confident of the strength of the rods that they come with a lifetime warranty.  In the highly unlikely event that you wear one out, you can contact customer service for a free replacement.
One of the main advantages of this machine is that it can be used for total body toning, or to target specific muscle groups.  The choice is yours!  Bowflex Blaze workouts take just 20 minutes, and it's recommended that they are done three days a week.
Though this model isn't exactly cheap, there are far more expensive home gyms that offer less.  And, it will quickly pay for itself if you replace your gym membership with home-based workouts.
Something to be aware of is that the Power Rods provide a non-linear pattern of resistance distribution. This may take some people a while to get used to.
Next, we will look at the Bowflex Blaze exercise list, followed by its key features, pros, and cons.   

Bowflex Blaze Exercise List
This following Bowflex Blaze exercise list contains some of the many exercises you can do on the machine, and the muscles they target.
Chest Exercises: 
Shoulder Horizontal Adductions
Bench Presses
Incline Bench Presses
Decline Bench Presses
Incline Chest Flys
Decline Chest Flys
Lying Cable Crossovers
Resisted Punches
Shoulder Exercises:
Rear Deltoid Rows
Standing Lateral Shoulder Raises
Seated Shoulder Presses
Front Shoulder Raises
Lying Front Shoulder Raises
Shoulder Extensions
Scapular Retractions
Shoulder Shrugs
Scapular Protractions
Shoulder Rotator Cuffs
Scapular Depressions
Reverse Flys
Seated Lateral Shoulder Raises
Back Exercises:
Pulldowns
Narrow Pulldowns with Handgrips
Lying Lat Pulldowns
Low Back Extensions
Lying Lat Flys
Lying Narrow Lat Pulldowns
Seated Lat Rows
Stiff-Arm Pulldowns
Bent Over Rows
Arm Exercises:
Triceps Pushdowns
Single Arm Pushdowns
"Rope" Pushdowns
French Presses
Seated Triceps Extensions
Lying Triceps Extensions
Cross Triceps Extensions
Seated Biceps Curls
Standing Biceps Curls
Lying Biceps Curls
Seated Wrist Extensions
Standing Wrist Extensions
Standing Wrist Curls
Reverse Curls
Abdominal Exercises:
Reverse Crunches
Resisted Reverse Crunches
Seated (Resisted) Ab Crunches
Seated (Resisted) Oblique Ab Crunches
Trunk Rotations
Leg Exercises:
Leg Extensions
Lying Leg Extensions
Standing Hip Extensions
Squats
Ankle Eversions
Seated Hip Adductions
Standing Hip Abductions
Standing Leg Kickbacks
Leg Presses
Prone Leg Curls
Bowflex Blaze Home Gym Key Features
Capable of over 60 total-body exercises
Fully adjustable for customized workouts
Adjustable resistance Power Rod
Comes with 210lbs of resistance that can be upgraded to 310lbs or 410lbs
The Lat Tower has an angled bar to help build shoulder and back muscles faster
A Squat Station allows you to target your hamstrings, quads, and glutes
A sliding seat rail extends the machine's use
Leg Presses and aerobic rowing options round out the exercise options
The included handgrips double as ankle cuffs
The Accessory Basket can be hooked onto the Chest Bar to store the Squat Bar, Cuffs, or other small accessories
The Bowflex Blaze Workout Placard snaps onto the Lat Tower, providing a convenient reference to a range of exercises you can do on the machine
With this model, you get a 5-year warranty on construction, a lifetime warranty on the Power Rods, and 60 days on other parts
Bowflex Blaze Home Gym Review Video
Bowflex Blaze Pros
– The machine is compact and easy-to-use
– Its construction is sturdy
– It is quiet to use
– At 20 minutes, Bowflex Blaze workouts are short
– There are a wide range of exercises to chose from with everyone from beginners to experienced athletes catered to
– You can target every major muscle group
– Workouts are easy on the joints
– If you are consistent you will get fast results
– The assembly instructions are clear
– The Blaze can replace a gym membership
Bowflex Blaze Cons
– Takes anywhere between one and a half hours to three hours to assemble depending on whether you are handy with tools and if you have a second person to help you
– Temperature extremes may affect the resistance
– The plastic coating on the cables may degrade over time
– It may take some time to adapt to using non-linear weights
Bowflex Blaze Home Gym Summary
The Bowflex Blaze would be a solid choice if you want to get toned or buff at home and you have limited space and a relatively modest budget.  Workouts are short, and the device offers a broad range of exercises to target all of the body's core muscle groups, so you won't get bored.
The machine is well-constructed, and smooth and quiet to use.  Combine the routines with regular cardio workouts and a nutritious diet, and you will quickly transform your body and health for the better.
To read reviews of other recommended home gyms, click this link
For more Bowflex Blaze reviews, click on the link below to visit Amazon.