This article looks at some of the best and fastest ways to lose thigh fat through diet and exercise.
In our quest for thinner thighs, many of us have fallen for the latest "miracle exercise gadget" that comes with the claim we will lose many pounds, inches, and clothing sizes simply by using the contraption for five minutes a day for two weeks. If only it were that simple!
That's not to say there aren't some very effective fitness tools out there. Many do live up to their promise, but losing thigh fat involves diet as well as exercise. Keep reading to find out how to lose thigh fat fast.
What is the Best Way to Lose Thigh Fat Fast?
There is no one best way to lose thigh fat, but the fastest ways to lose thigh fat is to lose weight.
If your upper legs are large, it may seem that every ounce of weight you gain goes straight to them. And when you diet, it may appear that you lose weight from everywhere but your thighs. However, this is not the case. When we gain or lose weight, we gain or lose it all over, not in just one area. The parts of our body that already have excess fat appear to gain weight faster. Likewise, the parts that have less fat to start with will seem to trim down faster.
As with dieting, it is not possible to reduce fat from one area of your body alone through exercise. You could exercise your thighs for hours every day for years, and while their muscle tone would improve, if there is a lot of underlying fat, rather than look slimmer, your thighs would bulk up and appear even heavier.
Are there any Exercises to Lose Thigh Fat Fast?
Sustained aerobic activity is one of the best ways to lose thigh fat fast. It doesn't matter if you jog,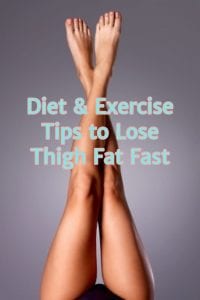 walk, cycle, do aerobics, a combination of all of these, or any other exercise that increases your metabolic rate, for that matter. The important thing is to be consistent.
Find a workout you enjoy and commit to doing it for between twenty minutes and an hour, at least three to five times a week. Obviously doing longer workouts more often will result in faster weight loss and, ultimately, a quicker reduction in the size of your thighs.
It's never too soon to start doing thigh toning exercises. However, the results of these will show in improved muscle tone and firmness, after you lose your excess thigh fat. Eat sensibly, do aerobic exercise regularly, and your legs will become slimmer.
Exercises to Lose Thigh Fat Video
Diet to Lose Thigh Fat Fast
As mentioned earlier, there are no specific foods that target thigh fat. To lose thigh fat, you will need to take in fewer calories each day than your body burns. When operating on a calorie deficit, your body will tap into its fat stores, including the fat on your thighs, using it as a source of energy.
If you cut 500 calories a day, you will lose one pound of fat over the course of a week. You will lose the weight, regardless of what you eat. However, you should choose your calorie sources wisely, as highly processed, sugary foods will not keep you satisfied for long.
The school of thought these days is that the fastest weight loss occurs when people follow a low-carb diet. Do so, by all means, but keep in mind that carb restriction can be difficult to maintain long-term. By eating a variety of
nutrient-rich foods that are filling, low in calories and high in protein and fiber, you will still be able to lose weight quickly. Personally, I find this way of eating easier and sustainable for the long-term.
Foods to base your diet around include lean proteins such as skinless poultry, lean cuts of beef and pork, and seafood. Grains, such as whole-wheat bread, whole-wheat pasta, brown rice, and oatmeal should also be consumed regularly. Legumes, including peas, beans, and lentils, plus tofu and low-fat or fat-free dairy products should also be on the menu. Along with being nutritious, these are filling, and they don't contain a lot of calories.
Other beneficial foods to eat regularly include fruits and vegetables, particularly those that are fiber-rich, such as berries and apples, potatoes and broccoli. Unsaturated fats are beneficial in small amounts, including nuts, seeds, avocados, salmon and olive oil. Eating this way you will feel more satisfied, and so be less inclined to overeat.
Certain foods increase our metabolic rate, but the effect is slight. These foods are still beneficial and worth including in your diet for their healthful properties. They are also helpful for maintaining weight, or if you only have a few pounds to lose. If, however, you're carrying a lot of excess weight, you won't lose it by depending upon fat burning foods alone.
Lose Thigh Fat Fast Summary
If you eat sensibly, undertake regular aerobic workouts and do thigh toning
exercises, you will lose thigh fat and firm your thighs. The aerobic exercise you do can be as simple as brisk walking.
If you'd rather work out at home, there are many machines and fitness tools that combine cardio and toning. One I love and recommend is the Maxi Climber. (Click the previous link to read a review.) It's affordable; the workouts are short, and it's made a big difference to the tone of my thighs and butt.
Home workout DVDs are another great option. Click this link to read about some of my favorite DVD & DVD Workout Kits.
You may also like to read this article on how to get rid of saddlebags on thighs.