This post may contain affiliate links. If you click a link and buy something, I may receive a small commission at no extra cost to you.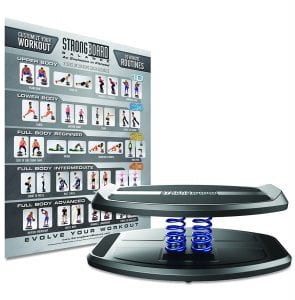 The popularity of balance boards continues to grow, with one of the best on the market for home use being the StrongBoard Balance Board.
Manufactured in the USA by StrongHold Fitness, it is suitable for everyone from new exercisers to the very experienced.
Providing an effective means of improving strength and balance, it is excellent for toning the core.
At around 10 minutes, workouts are short, so even the busiest people can benefit from the board, which can also be used to get better and faster results when undertaking floor-based toning exercises.
This StrongBoard Balance Board review covers how to use a balance board and the benefits of doing so.  We will also look at some balance board exercises and the specs of the StrongBoard Balance Board, along with purchaser opinions.
StrongBoard Balance Board Specs & Inclusions
The StrongBoard Balance Board is compact and light enough to move around easily.  Assembled, it has a height of 9 1/4 inches.  Its base is 25 1/4 inches long and 17 ¼ inches wide.  Its platform is 23 ½ inches long and 15 ¼ inches wide.  Weighing 14 1/2lbs, its user-weight limit is 450 pounds.
Electricity-free, the boards are black with a choice of black, white, blue, red, yellow, pink, purple, orange, green, or turquoise springs.  There's also a Limited Edition Model that is green, yellow, and black.
The boards come with a customizable laminated workout poster.  This depicts a range of 10-minute workouts suitable for beginner, intermediate, and advanced level exercisers.  You will also receive a 3-year manufacturer's warranty.
If you are a senior or in treatment for or recovering from a neurological disorder, the StrongBoard Balance Board Mini may suit you better.   It will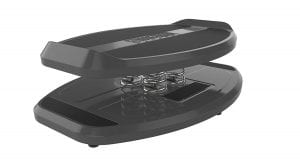 also be a great option if you are rehabilitating from an injury, recovering from a stroke, or have ADHD or Autism.
At 4″, the compression springs on the Mini are two inches shorter than those of the StrongBoard Balance Board.  This makes the platform more rigid and easier to use but no less effective.
Available in black and chrome, as with the original model, the StrongBoard Balance Board Mini also comes with a laminated workout poster and a 3-year warranty.
NB: People weighing over 300 pounds should seek guidance from an accredited personal trainer or physical therapist before using the StrongBoard Balance Board. 
How to use your board
StrongBoard Balance Boards consist of an upper platform and a base, with four springs connecting the two.
When you stand on the platform, the springs will compress.  Your muscles will be in a constant state of contraction as they shift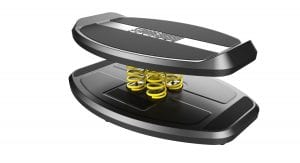 slightly to maintain the board's balance.
To mount a balance board, step onto the right-hand side with your right foot.  The platform will tilt downwards, with the right-hand side resting on the base.
Next, put your left foot on the left-hand side of the platform.  At this point, you will be standing on the platform.
Stand with your knees slightly bent, your feet shoulder-width apart, your toes pointing forwards.  Keep your eyes open and look to the front.
If you feel unsteady and think you may stumble, step off the platform and onto the floor.  Try to keep the platform steady by slightly shifting your body weight backward and forwards, from side to side, or in a circular motion.
Mixing things up this way will target different muscles and get a more thorough workout.
As your strength and balance improve, you can go from standing upright to squatting, then standing on one leg.  You can increase the challenge further by closing your eyes.
NB: You may wish to use your balance board near a wall or solid piece of furniture until your balance improves.  
Click here for 10 balance board exercises to include in your workout.
You'll find information on how to use a balance board and balance board safety tips here.
StrongBoard Balance Board Squats Demo
Balance Board Benefits
Balance Board benefits are numerous.
You engage your core, hips, back, legs, and ankles when you stand on a balance board.  Do this regularly, and you will improve your proprioception balance and posture.  You will also increase your flexibility and range of motion and improve your blood flow.  
Some personal trainers and fitness authorities recommend the balance board, specifically the StrongBoard Balance Board, to athletes looking to condition their muscles, prevent injury and improve their balance.  This, in turn, leads to better coordination and performance when competing.
Increasingly, orthopedic surgeons and chiropractors use balance boards in their practices to rehabilitate patients with skeletal and muscular injuries.
Some therapists working with developmentally disadvantaged children have integrated the boards into their programs to improve cognitive and sensory skills.
Physical therapists who treat seniors have found that balance board workouts help their clients to maintain or improve proprioception.  With better balance, falls that could result in bone breaks can be avoided.

The next part of this balance board review looks at some of the exercises it offers.
Balance Board Exercises
Many Balance Board exercises can be performed on the StrongBoard Balance Board, including Athletic Stance Balance, Front to Back Balance, Single Leg Balance, Squats, Squats to Extensions, Lunges, Mountain Climbers, Triceps Dips, Push-Ups and more.
Using two boards simultaneously can increase the benefits of Pilates and Yoga.
Buyer Feedback
The StrongBoard Balance Board has proven to be very popular with buyers.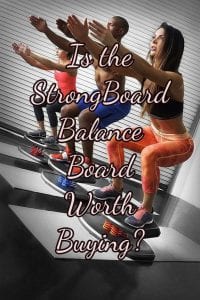 The intensity and effectiveness of the workouts the board provides receive a lot of positive feedback.
The board's compact size and durability are appreciated, as is its ability to stay in place during use.  This is a plus for anyone who has used a balance board that shifts and moves across the floor.
Positive comments have been left by people who use the board to improve their balance and core strength.  This, in turn, has improved their performance in various sports.
StrongBoard Balance Board Summary
Whether you're a new or experienced exerciser, balance board workouts are worth including in your exercise routine.  A quality balance board such as the StrongBoard can improve your core strength, all-over muscle tone, balance, agility, and posture.
It is exceptionally sturdy with a high user-weight limit, and it comes with a 3-year warranty.
You may also like the Terra Core Balance Trainer, which provides access to hundreds of different exercises and can support a weight of 1,000 pounds.
For a very effective but slightly less challenging workout, check out the Bosu Balance Trainer.  Working the same muscles and delivering similar benefits, it is available for a lower price than the StrongBoard Balance Board.