This post may contain affiliate links. If you click a link and buy something, I may receive a small commission at no extra cost to you.
The YOSUDA Indoor Cycling Bike Stationary is an Amazon #1 best-seller in its category, with many thousands of overwhelmingly positive buyer reviews.
Also known as the YOSUDA L-001A, the bike is manufactured by a company that has been around for over twenty years during this time it has gained a reputation for offering quality fitness equipment and value for money. 
The bike is sleek and stylish, and it will enhance any workout space.  But its attributes go well beyond appearance!
While the bike lacks built-in workout programs, it is affordable, robust, and durable, and it offers everything needed for efficient and effective workouts.
Felt-pad friction provides infinite resistance, making it suitable for people of any fitness level.  This means that beginners won't have to upgrade to a more advanced model when they become fitter.
Equally important is that most buyers have stated that the seat is very comfortable, even during extended sessions.  It is also smooth and quiet to use.
Since its release in May 2018, this YOSUDA exercise bike has been among the most popular fitness aids of its type on Amazon.  It is also one of the most highly rated.
Not content to rest on their laurels, the manufacturer released an upgraded version in 2020 that further improved the bike's quality and performance.
If you'd like to find out more, please keep reading this YOSUDA Indoor Cycling Bike Stationary review to help you decide if it's right for you.
Whom does the bike suit?
The YOSUDA L-001A suits almost everyone, from newbies wanting to do light spin workouts through to experienced athletes wanting to do very intense workouts, providing they weigh no more than 270 pounds.
This model is highly customizable, so your entire family will be able to use it.  And because it is relatively compact, it doesn't require a lot of room, so if your workout space is small, it should be on your shortlist.
It will not be the best choice for anyone looking for a bike packed with bells and whistles.
YOSUDA Indoor Cycling Bike Stationary Specs
Assembled dimensions – When assembled, the YOSUDA L-001A measures 44.50″ (L) x 21.70″ (W) x 45.30″ (H)
Clearance – For safe and unhindered workouts, you will need a free space of at least 12 inches on either side of the bike and 24 inches to the front and rear
Seat dimensions – The seat measures 10″ (L) x 7″ (W) x 3″ (H)
Handlebars to seat fore and aft position options – The seat adjusts to between 17″ and 19″ from the handlebars
Seat height (inseam) – The seat adjusts from between 29″ and 36″ above floor height, with eight marked settings available
Handlebar height – The handlebar adjusts from between 54.30″ and 50″ above floor height, with five marked positions available
Weight – The bike weighs 86 lbs
Flywheel weight – The bike's flywheel weighs 40 lbs
User weight – Its maximum user weight is 330 pounds
User height – Buyers shorter than 5′ and taller than 6″ 4″ and many in between have left positive feedback for this model
Color – The bike is black with bronze and orange details
Batteries – 2 x AA batteries are included for the monitor
YOSUDA Stationary Bike Overview
Build & Finish –
The YOSUDA Belt Drive Indoor Cycling Bike is an affordable spin bike with a road bike feel.  A heavy bi-directional flywheel allows you to pedal backward as well as forwards to target different leg
muscles.  You can also pedal while standing.
Stability, Smoothness & Noise Level
The bike's robust steel frame provides stability that allows you to pedal as hard and fast as you desire without unwanted movement.
Four levelers further add to the bike's stability, so you can use it even if your floor is slightly uneven.
The bike's belt-drive system and high-quality wool felt resistance pads ensure smooth, quiet workouts that won't disturb your housemates no matter how hard you pedal.
Resistance –
Unlike bikes that utilize magnetic resistance, the YOSUDA doesn't have preset levels.  Its unlimited resistance enables people of any fitness level to get a great workout.
You can increase or decrease the intensity by turning a knob that is accessible during workouts.  The knob also acts as an emergency brake that immediately stops the flywheel if you want to jump off quickly.
Console –
This YOSUDA Stationary Bike has an LCD monitor that displays workout Time, Speed, Distance covered, Calories burned.  There is also an Odometer.
Seat –
The bike's ergonomic padded faux-leather seat features a pressure-relief cutout.  Most users consider it is comfortable, even during extended sessions.  However, something to keep in mind is that what one person thinks is comfortable, another may not, and upright models are not usually as comfortable as recumbent and semi-recumbent models.
If you find the saddle too hard, place a folded towel on it to add additional cushioning  Buying a gel seat cover is another option.  These are not expensive, and any standard-sized one will do the job.
The seat adjusts upwards, downwards, and back and forth, enabling you to find the position that suits you the best.
Pedals –
Adjustable slip-resistant aluminum alloy cage pedals are safe, supportive, and comfortable to use, even at high speed.  While these do not accommodate clipless cycling shoes, their 16/9″ pedal thread enables them to be replaced with SPDs if desired.
Handlebars –
The large, padded non-slip handlebar can be raised or lowered to suit the individual's preferred height, and multiple handgrip positions are possible.  They are slip-resistant and comfortable to hold.
Accessories –
Onboard accessories include a convenient-to-access water bottle holder and a bracket that can hold an electronic device so that you can watch a video, listen to music, or phone a friend as you exercise.  A spare console mounting bracket and an extra resistance pad are supplied so that you can replace either if need be.
Two small wheels in the front base of the YOSUDA L-001A enable it to be moved by tilting then rolling the unit.
Assembly –
Your bike will arrive with the frame and flywheel assembled.  Finishing the set-up involves attaching the handlebars, pedals, seat, monitor, and stabilizers.  Easy-to-follow instructions and tools are included, so you should be able to complete the task in around 30 minutes or so.  If you don't want to assemble it, you can have it down for you, at extra cost.
Warranty –
This model comes with a 6-month warranty on parts, and there's a 30day return policy.
Next, in this YOSUDA Indoor Cycling Bike Stationary review, we will look at its pros, followed by its cons. 

YOSUDA Stationary Bike Assembly Video, Part 1
Pros
The YOSUDA L-001a has the feel of an outdoor bike
It has standing and backward pedaling capability
Workouts are fluid and quiet
This model offers limitless resistance – from almost none to near impossible to turn the pedals – making it suitable for almost anyone
A user-friendly monitor lets you track your workout metrics
Most users regard the bike's fully customizable seat as comfortable
The cage pedals provide support, comfort, and safety
Non-slip, multi-grip padded position handlebars add to the safety and comfort of workouts
Levelers in the base provide additional stability
Transportation wheels facilitate moving the bike if this is necessary
No lubrication top-ups are required.
Step-by-step assembly process and tools make for a quick and easy process
Cons
The handlebars of the YOSUDA Belt Drive Indoor Cycling Bike only adjust vertically and horizontally; however, the seat can be moved closer to the handlebars if necessary
The LCD monitor isn't backlit, so it could be hard to read your stats in dim lighting
This model does not offer pre-programmed workouts
It is not Bluetooth or ANT/+ compatible, which means you can't connect wirelessly to save your workout stats
At just 6-months, the warranty is short, but, judging by the many positive reviews, the likelihood of a problem occurring is small
Final Thoughts on the YOSUDA Indoor Cycling Bike Stationary
Many of us are now spending more time at home.  It would be easy to put exercise on the backburner, but it's more important than ever to keep fit.  You can do this through fitness DVDs, strength training, or by using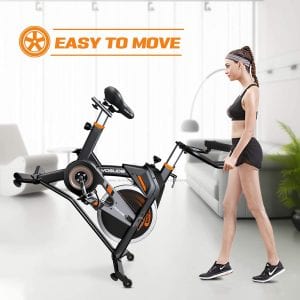 cardio equipment.  If you decide on a stationary bike, the YOSUDA Belt Drive Indoor Stationary bike is an excellent option to consider.
A simple, budget-friendly upright fitness bike, it suits people of any fitness level.  Its features are rudimentary, but this is not necessarily a negative.  Not everyone wants built-in programs and Bluetooth capability.  If you won't use these, there's no point in paying for them.
With this model, you can hop on and pedal without having to read a manual first.  The onboard monitor will track your metrics and display them on the LCD screen.  This will enable you to see your progress in real-time and set future fitness goals.
The bike is robust and stable, and its components are solid, so it should serve you for many years.  At 275 pounds, its user weight is quite generous for a fitness aid in its price range.
Its built-in shelf is useful for holding a cell phone or tablet, so you can watch a spin workout or a movie on Youtube or listen to music as you exercise.  The water bottle holder allows you to keep a bottle of water within reach during your workouts.
Not sure if this YOSUDA Exercise Bike is right for you?  Click here to read reviews of other popular upright bikes.