This post may contain affiliate links. If you click a link and buy something, I may receive a small commission at no extra cost to you.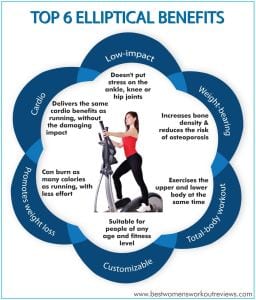 If you're looking at buying an elliptical machine, you may be curious about elliptical benefits and wondering if the elliptical provides as effective a workout as you've heard.
You may also be wondering if the elliptical benefits users more than other aerobic fitness equipment.
Over the years, I've used just about every type of fitness device invented.  Okay, a slight exaggeration, but I've tested dozens.
Some I would have no hesitation in recommending, whereas others were pretty much useless or just boring to use.
A machine I always come back to is the elliptical.  It was the first exercise machine I ever used, and, to this day, it is one of my favorites.
Other cardio machines provide benefits on par with the elliptical.  However, when using most of these, the effort required to get the same results is often more considerable.
I find elliptical workouts enjoyable.  Somehow time seems to pass more quickly than it does when using most other exercise machines I've tried.
This article looks at what I consider to be the top 6 elliptical benefits.
My Top Elliptical Machine Benefits
Providing a low-impact workout, the elliptical machine benefits people who cannot exercise due to their knees, hips, spine, or ankle problems.
Many such people found it extremely difficult, or even impossible, to lose weight until using an elliptical machine.
If you have a lot of weight to lose, you will need to cut your calorie intake. It's important to exercise during the weight loss phase and afterward to help keep the weight off.
If exercising causes pain, it is little wonder we give up.  With mobility compromised, weight gain is usually inevitable, as we can only cut calories so far.
The elliptical machine can help anyone in this predicament to drop their excess pounds and regain their health.
One of the most significant elliptical benefits that is often overlooked is that it provides weight-bearing exercise.
Approximately 50% of females and 30% of males over the age of 60 have osteoporosis.
The reason females are more prone to developing it is due to the hormonal changes associated with menopause.
By making some simple lifestyle changes, we can substantially reduce the likelihood of osteoporosis occurring.
Along with making sure we eat a healthy diet that includes sufficient calcium, one of the best precautions we can take to guard against our bones becoming brittle with age and breaking is to do regular weight-bearing exercise such as that provided by the elliptical.
Weight-bearing exercise helps preserve and build bone density, increases lean muscle mass, and helps improve balance.
With stronger bones and muscles and good balance, the likelihood of falling and suffering a bone break or fracture is greatly reduced.
The outcome of such accidents is catastrophic for some.
This makes osteoporosis prevention arguably the most important elliptical benefit of all for older folk.
Some exercise machines only work the lower body.  Having movable arms, the workout you get from an elliptical benefits the lower, middle, and upper body.
Lower body muscles worked include the glutes (butt muscles) and hamstrings (the muscle that connects the butt and the upper thigh).
The quadriceps (front of the thighs), calves (back of the lower legs), and the tibialis anterior (the shins) are also targeted.
Because we stand upright while exercising on an elliptical machine, our core muscles also come into play.  This includes the rectus abdominis (the abdominals or abs) and the obliques (the sides of the abs and waist).
Upper body muscles targeted during an elliptical workout include the latissimus dorsi (the area of the back that forms a V), shoulders, pecs (the chest), biceps (the fronts of the upper arms), and triceps (the backs of the upper arms).
With three separate muscle groups targeted in the one session, more calories are burned, and time is saved by not having to focus on working one area at a time.
There will be an elliptical workout for you, whatever your age or fitness level.
If you're new to exercise, start slowly.
Do short sessions and work out on the flat (no incline) without using any resistance.
Seniors and anyone rehabilitating from an injury can also safely use the elliptical in this way, progressing at their own pace over time.
If you are reasonably fit, you should be able to go a bit harder from the start.  You may also be able to do longer sessions using some resistance and incline.
If you've been exercising for some time and class yourself as fit, you can start at a level that presents a more significant challenge.
Regardless of your current fitness level, the elliptical machine will offer most people a way to improve their physique and cardiovascular health.
Those who have already achieved peak fitness can experience elliptical machine benefits by incorporating the machine into their regular exercise routine to add a new dimension to their workout regimen.
The elliptical machine benefits those who are trying to lose weight, with elliptical machine workouts burning approximately the same number of
calories as running, skipping, or fast-paced aerobics.
The average number of calories burned using an elliptical machine for one hour is 800.
The exact number of calories you burn will depend on various factors.  These include your height, current weight, the duration and intensity of your sessions, and the incline level you choose to work at.
You may think you will burn more calories by exercising with greater resistance and incline, but this is not necessarily the case.
If your body is not up to the challenge, you will not be using the correct form.
Under these circumstances, momentum will likely be responsible for complete rotations of the pedals rather than the effort you are putting in.
An example of this is someone whose legs are not long enough to execute each rotation properly.
If you find you can only turn the foot pedals around by shifting most of your weight to one side, this is a good indication you are working at too high an incline.  Your knees should always have a slight bend as you pedal, too.
If you can only make a full rotation by extending your leg until it is straight, to experience the elliptical benefits fully, you will need to lower the incline level you are working at.
By all means, gradually increase the resistance as your fitness improves and go faster and swing your arms more vigorously, but stay within the appropriate incline level.
Intervals are another way to burn additional calories and thus experience greater elliptical benefits.
Try going at a medium pace for two minutes, then going hard for one minute.  Alternate this sequence for 20 minutes, and you will get a great workout that will burn more calories than you would burn working out at the same pace throughout.
When you are fitter, you should be able to do a thirty-minute interval workout, extending this over time if you wish to.
Improves cardiovascular health 
Cardio exercise can play a significant role in how we look, feel, and how healthy we are.
Regular elliptical machine workouts done at a moderate to brisk pace will strengthen your heart muscle and improve your lung capacity and function.
A stronger heart muscle makes it easier for your heart to pump blood.
With increased blood supply to your lungs and the rest of your body, this will flow to your muscles, increasing the oxygen level in your blood.
Your capillaries (tiny blood vessels) will also widen and deliver more oxygen throughout your body, expelling waste products more efficiently.  As a result, you will have more energy.
Regular cardio workouts reduce the risk of Coronary Heart Disease.  CHD occurs when a waxy substance known as plaque accumulates in the coronary arteries that supply the heart with oxygen.
If left untreated, the plaque will continue to build, narrowing the arteries and decreasing blood flow to the heart.
Sometimes a plaque section will break open, resulting in a blood clot forming on the plaque's surface.
If the clot is large, it will partially or totally block blood flow to a coronary artery.  When this happens, a heart attack can occur.
Certain genetic conditions can make CHD incidence more likely, and there's not much we can do about genetics.
However, implementing lifestyle changes such as adopting a healthier diet to lower blood cholesterol levels, giving up smoking (if you smoke), and increasing your physical activity can substantially reduce your odds of developing CHD.
Numerous studies have conclusively proven that inactive people are approximately twice as likely to develop CHD as those who regularly exercise.
So if you lead a sedentary lifestyle, it is essential you become more physically active sooner rather than later.  The wonderful thing about exercise is that it's seldom too late to start.
Research has proven that people who have already suffered a heart attack can significantly decrease the likelihood of another one occurring by partaking in regular moderate to high-level physical activity, such as that provided by an elliptical machine.
Other benefits of regular aerobic exercise include that, along with helping us to lose weight, it can lower blood pressure (a major contributor towards a stroke attack).
It can ward off depression, and it may even help to prevent some types of cancer.
* If you suffer from CHD, be sure to check with your healthcare professional before starting an exercise program.  Likewise, if you are over the age of 40 and haven't exercised for a while.
Additional Elliptical Benefits
While the elliptical machine benefits listed above are not the only ones, they are the top 6 elliptical benefits as I see them. 
Other benefits of the elliptical machine that I appreciate are based on convenience.
With so many elliptical trainer brands and models available these days, their price has come down.
There are now some very affordable, high-quality models equipped with a range of programs and features that will provide you with an excellent workout.
Another of the elliptical machine benefits is that coming in a range of sizes, even larger models with all the bells and whistles usually take up less room than a lot of other exercise machines.
With a number of reliable, compact models available, if your workout space is small, you should still be able to find one to fit it.
And the #1 reason the elliptical machine is my top pick of all the exercise machines?
It's that working out on an elliptical machine feels a lot easier than working out on most of the other exercise machines I've tried, but it delivers equal if not better results.
I say better results because I can work out for longer when using an elliptical.
I don't sweat as much as when using some other exercise machines, either.  However, I am burning just as many calories and toning my muscles to the same extent.
Obviously, for the best results, you will have to put in the effort.  For me, going flat out feels easier with an elliptical, so sticking with my exercise program isn't that difficult.
I hope this article on my top 6 elliptical benefits will help you decide if the elliptical machine is right for you.
For more information on elliptical machine benefits, read Is the Elliptical a Good workout or Just Another Fad?
Click here to read reviews of some popular elliptical machines