This post may contain affiliate links. If you click a link and buy something, I may receive a small commission at no extra cost to you.
If you're looking for diet tips that work, you've come to the right page!
Losing weight is tough, but these 10 diet tips will make it easier.  They're simple enough to integrate into your day-to-day life, and they come with the approval of nutrition experts.
By shifting your mindset, making healthier choices, and small dietary and lifestyle changes, you can win the battle of the bulge once and for all and keep the weight off for good.
Keep reading to find out about 10 of the best diet tips that work.  They will help you to shed your excess pounds without risking your health or starving yourself.
10 Best Ever Diet Tips that Work
1. Weigh yourself on Wednesdays
Experts say Wednesday is the best day of the week to weigh yourself.
Researchers at Cornell University, New York, found that dieters weigh the least on Friday then typically gain weight over the weekend due to eating out and snacking more.
This means that if you weigh yourself on Monday and the scale registers a couple more pounds, you may lose the motivation to continue with your diet.
Another study at Finland's Tampere University of Technology involved weighing 40 overweight people 2,900 times over 12 months.
It was found that Wednesdays provided a more accurate reading of the subjects' true weight, compared with weekends when there were lots of fluctuations.
Consistency is also important.  Along with weighing yourself on the same day and time every week, use the same scale and wear the same clothing.
Some weight-loss experts now say we should weigh ourselves daily.  Click the following link to read How Often Should You Weigh Yourself When Trying to Lose Weight?
2. Drink water first thing every morning
Studies in Germany showed that drinking two glasses of water upon getting up in the morning – before eating breakfast – will kick-start your metabolism by 30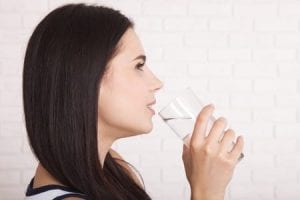 percent.  And, if you are well-hydrated, you won't feel as hungry.  As a result, you will tend to eat less both at mealtimes and throughout the day.
Aim to drink around 3 1/2 pints of water a day, including one glass of water before lunch and dinner.
Do this, and you will feel satisfied eating less.  Your skin will look clearer and more hydrated too!
3. Chew your food longer
Slim people tend to eat more slowly than overweight people.
A recent study showed that slender individuals generally chew each mouthful of food at least 15 times before swallowing it.  That's three times more than the average person.
According to US research, it can take 20 minutes for our brain to register that we've eaten enough.  And numerous studies have found that taking smaller bites of food and chewing it for longer can reduce the amount of food we eat by up to one-third.
So eat slowly, and you will eat less.  If you find yourself eating too quickly, put your knife and fork or spoon down between mouthfuls.  This diet tip really works!  Give it a try.
4. Eat yogurt daily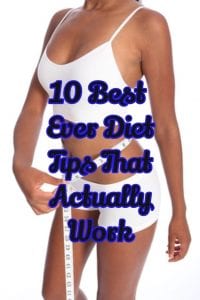 US scientists say that eating a small serving of yogurt every day can help us lose weight, particularly from our mid-section.
A University of Tennessee study found that participants who included yogurt as part of a reduced-calorie diet lost 22 percent more weight and 81 percent more belly fat than participants who didn't eat yogurt.
It's thought that yogurt is beneficial for weight loss because it contains amino acids, which help burn fat.
Additionally, the calcium in yogurt decreases the amount of fat-producing cortisol our body releases.  Yogurt is also a valuable protein source, and protein keeps us feeling full for longer.
5. Sit up straight when snacking
One of the best diet tips I can pass on to you is to be aware of how much you're eating.
It's all too easy to polish off a bag of Cheetos when you're eating them while lying down on the couch watching TV.  And it's not just due to losing track of how much you've eaten because you're engrossed in your favorite show.  When we eat lying down, food takes longer to digest.
When we eat sitting upright, food reaches the lower part of our stomach faster, sending a signal to our brain that we've eaten enough.
6. Dilute chilled beverages with ice
Reduce calories from alcohol or juice by filling your glass with ice before adding the other ingredients.
A long icy drink is especially refreshing in summer, and it will last longer.  And, by adding diet soda or diet cola instead of regular soda, you will cut around 128 calories.  This tip works for white wine too, and it will enable you to cut 55 calories per standard glass.
If your preference is fruit juice, regular cola, lemonade, or another carbonated drink containing sugar, diluting it with chilled still or sparkling water will reduce the calorie count.  Eliminating soda entirely is a better option still.
7. Eat grapefruit
Grapefruit is making a comeback as a diet aid, with scientists raving about its ability to blitz pounds.  The consensus is still out as to why it works so well.
Some people think that grapefruit's aroma quells the appetite.  Others put it down to its high fiber content, which makes us feel full for longer.
Experts at the University of California believe that grapefruit's effectiveness is attributable to it preventing our bodies from absorbing fat.
Another benefit of grapefruit is that it stabilizes blood sugar.  A balanced blood sugar level will trigger your body to burn fat stores.  It will also increase your metabolic rate so that you will burn more calories.
8. Switch off electronic devices
One of the best diet tips I can give you is to eat mindfully.
Research at the University of Birmingham in the UK revealed that people who rush their meals while glued to their tablets, cell phones, or televisions are 69 percent more likely to snack later.
The reason for this is that when our brain is distracted during meal times, it struggles to recall that we've eaten.  This almost inevitably leads to snacking later in the day or at night.
Switch off your electronic devices at mealtime and eat mindfully.  Sit on a chair at your dining table or breakfast bar and allow twenty minutes for finishing your meal.  You will enjoy your food more, and you will eat less.
9. Eat your largest meal in the morning
We're all familiar with the adage, "eat breakfast like a king, lunch like a prince, and dinner like a pauper."  Unfortunately, most of us do the reverse.
If you eat your largest meal early in the day, you won't be as inclined to snack later.  Eating this way will also give you all day to burn off the calories.
A 12-week study in December 2013 found that overweight women who ate their largest meal at breakfast and their smallest meal at dinner lost more weight than women who ate a small morning meal and a large evening meal.
They also decreased their waist circumference by a greater number of inches.  This was despite both groups sticking to the same 1,400 calorie menu per day.
If you can't face a substantial breakfast, you'll be happy to know an April 2013 study found that dieters who consumed most of their calorie allowance before 3 pm lost more weight than dieters who ate their main meal after 3 pm.
10. Get adequate sleep
Women who stay up late and get 7 hours or less sleep per night have a higher level of body fat than females who retire early.  This is primarily due to sleep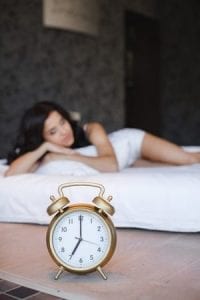 deprivation putting two hormones that control sleep – leptin, and ghrelin – out of kilter.
Studies have proven that our metabolism slows when we don't get adequate sleep, and our appetite increases, particularly for high-calorie, carbohydrate-rich foods.
A two-year study involving 9,000 people found that participants who averaged 6 hours of sleep per night were 27 percent more likely to be overweight than those who regularly slept for 7 to 9 hours.
Participants averaging 5 hours sleep per night were 73 percent more likely to be overweight.
The time we go to bed also plays a part.
Human circadian rhythms are synchronized with the earth's rotation.  This is a part of our genetic makeup and has been for hundreds of thousands of years.  Our bodies are programmed to sleep after sunset, not stay up late and eat.
When sleeping and eating are not in sync with our body's internal clock, changes in appetite and metabolism that lead to weight gain often result.
Best Ever Diet Tips Summary
Starving yourself and restricting certain food groups will help you lose weight but only in the short term.  These fad diets are not sustainable, and they are unhealthy in the long run.
The key to losing weight and keeping it off is to make healthier dietary choices and to be more active.  The diet tips above will also help. T hey're easy to put into practice, and most have benefits beyond that of just weight loss, so give them a try!
You may also like to read these 10 Safe and Healthy Weight Loss Tips and 10 Weird Reasons You Can't Stop Eating.