This post may contain affiliate links. If you click a link and buy something, I may receive a small commission at no extra cost to you.
This 10 Best Women's Fitness DVD Workouts article came about after a bunch of us girls were sitting around chatting over coffee after work a couple of weeks ago.  The conversation turned to fitness and the gym.
While a couple of my colleagues are quite disciplined, attending gym classes three or four times a week, some of us are lucky to manage once or twice a week.
Two of the girls religiously renew their membership every year, determined to start going at least a couple of times a week.
Then there are those of us who have never even set foot inside a gym.  One thing we all have in common is a desire to be more fit and toned.
One of the girls asked if any of us had ever bought a fitness DVD.  And, if so, whether we'd stuck with it and what the results were.  We started throwing around names of DVDs we'd tried or had heard good things about.  We then came up with a plan.  Each of us would buy three fitness DVDs.  We would all test them out, then make a list of our top 10 best women's fitness DVD workouts.
We tested 27 fitness DVDs.  Not all of us have the same favorites.  But we were able to agree upon our top 10 best women's fitness DVD workouts.  Obviously, we haven't done the workouts long enough to see if they live up to their claims.  However, having chosen ones with positive purchaser reviews, we're quite confident that anyone who sticks with them will get the promised results.
So, with no further ado, I will list our picks in no particular order.  They're all great, and quite honestly this could be a top 20 list.  Choose the one that appeals to you the most, and I doubt you will go wrong.
Top 10 Best Women's Fitness DVD Workouts
Physique 57 New York: Express 30 Minute Full Body Workout
Hosted by Tanya Becker, this fitness DVD comes from Physique 57 NY, a gym and fitness company that has been around since 2006.  Renowned for unique and incredibly efficient techniques, Physique 57 NY workouts typically engage specific muscle groups, loading them to the point of fatigue, then relaxing them with stretches.
While your muscles will certainly be sore the morning after your workout, we found it to be a good type of sore.  The type that lets you know you've had a good workout, and you are on your way to becoming more toned.
A condensed version of their full 57-minute workout and costing a lot less than Physique 57's classes, this thorough workout will give you the results you are seeking, fast.
Some of us found the trainer's delivery to be a little cheesy.  Nevertheless, it's a great workout from one of the best in the business and well worth the modest asking price.

---
Jillian Michaels 30 Day Shred
Everybody seems to love celebrity trainer Jillian Michaels' workouts, and we are no exception.
Jillian Michaels 30 Day Shred consists of 3 x 20-minute total body workouts.  Each includes cardio, strength and ab exercises, with no break in between.  You will go straight from doing Push-Ups or using light weights, to doing cardio to doing ab exercises.  According to Jillian, this non-stop pace tones muscles faster and burns a lot more calories.
While the workouts are quite tough due to their fast pace, Jillian's enthusiasm and encouragement will help see you through.  With separate workouts for the beginner, intermediate and advanced level exerciser, this DVD has something for everyone.  And the format will allow you to progress to the next level in stages, as your fitness improves.
Bargain priced, you can expect quick and impressive results with Jillian Michaels: 30 Day Shred, which has thousands of positive buyer reviews published online.

---
Personal Training with Jackie: Power Circuit Training
A demanding workout, Personal Training with Jackie: Power Circuit Training, is hosted by Jackie Warner, owner of the Sky, Sport and Spa Gym in Beverly Hills.  Anyone who has seen Jackie's show Work Out televised on Bravo will have a good idea of what to expect from this program and know there won't be any slacking off.
Comprising 4 x 15-minute high-energy circuit training workouts, included are segments for the abs, the upper body, the lower body and there's a total body workout.  There's also a 40-minute full body advanced level workout for those who can rise to the challenge.
Coming with a 5 Day Non-Cookers Meal Plan, this contains healthy, tasty and very easy to prepare recipes that promote weight loss.
Personal Training with Jackie: Power Circuit Training won't break the bank.  Check it out if you're looking for a program with short workouts that get excellent results, quickly.

---
Weight Loss Cardio Kick
Hosted by fitness professional Violet Zaki who holds a black belt in karate, this well-priced program, Weight Loss Cardio Kick, has a run time of around 50 minutes.  The DVD comprises an exercise tutorial and 2 x 20-minute kickboxing workouts.
The routines are high-energy, so you will tone your muscles quickly.  And, being combined as they are with a variety of cardio moves, boredom should not be an issue.  Also included is a 16-page book of low-fat recipes from Cooking Light.
Do one workout when time is short, or combine them into a 40-minute session that burns lots of calories.
One downside is that being a kickboxing workout; there's a lot of punching and kicking, so the training is not suited for tight spaces.  Another possible negative for those who don't have the equipment is that some of the exercises require the use of light weights.

---
X-TrainFit At Home Workout – Women's Complete Fitness – 8 DVDs
Hosted by Stephanie Oram, the X-TrainFit At Home Workout – Women's Complete Fitness – 8 DVDs is a high-intensity, 12-week fitness course that will put you through your paces as it sculpts lean muscles and shreds fat.
Ranging from 42 to 81 minutes, it comprises yoga workouts, cardio fat burning, total body toning, plus workouts for the core, chest, and back, and arms and legs.  You will need light weights or exercise bands for some of the moves.
All of the moves are demonstrated with four modifications, ranging from Level 1 for beginners, up to level 4 for advanced exercisers.  This makes it suitable for people of any fitness level.  Check it out if you want to get into shape doing a variety of exercises that will challenge every muscle group.
Excellent value for money, you won't go wrong with X-TrainFit At Home Workout – Women's Complete Fitness – 8 DVDs.

---
10 Minute Solution: Fat Blasting Dance Mix
Not the newest fitness DVD having been around since 2006, this award-winning DVD, 10 Minute Solution: Fat Blasting Dance Mix has stood the test of time, with fans still lapping it up to this day.
The DVD comprises 5 x 10-minute dance segments that will get you into great shape and help you shed body fat, as you have fun.  Three of the workouts are cardio-focused.  There's also a muscle-toning workout for the butt and thighs, plus one for the abs.
Depending upon your fitness level and how much time you have, you can do 1, 2, 3, 4 or all 5 segments.  Choose those that focus on the areas you want to improve or do them all.  Whichever way you decide to go, if you're anything like us you will find yourself smiling from start to finish.
Hosted by the very likable and highly motivational yoga and personal fitness expert Jennifer Galardi, 10 Minute Solution: Fat Blasting Dance Mix comes with a low price tag.

---
Denise Austin Body Makeover Mix
Denise Austin Body Makeover Mix is led by well-known fitness personality Denise Austin.  Designed to blast fat and tone the entire body fast, it consists of 3 x 15-minute workouts, with each focusing on a different area of the body.
Included are the so-called Upper Body Sculpt, the Lower Body Sculpt, and the Ab & Core Conditioning segment which, along, with some Pilates mat work, includes a range of Standing moves.  There's also the option of taking part in a customized interactive workout.
Denise Austin is likable and cheerful; the music is great and the exercises, while quite challenging, are doable.
Priced very reasonably, Denise Austin Body Makeover Mix will not break the bank.  Stick with the workouts, and you should quickly see results!

---
Fat Burning Fusion
Fat Burning Fusion is hosted by Fit TV instructor Ellen Barrett, regarded by many in the industry as being the leading women's mind/body fitness expert.  I had to play some of the DVDs a couple of times to get a feel for them, but I took to Fat Burning Fusion right away.
The moves are all love-impact, encompassing calisthenics, ballet, and Pilates.  This type of workout tones the muscles, without building bulk.  You won't get a particularly effective cardio workout, and you won't be left dripping with sweat, but by the time you get to the end of the session, your muscles will be feeling it.
Approximately 3/4 hour long, the background music throughout the DVD is pleasant, as is Barrett's fluff-free approach.  She gets straight to the point, explaining things well without preaching.
Great value for money, anyone who wants to tone their lower body, in particular, should consider getting Fat Burning Fusion.

---
Exhale Core Fusion: Pilates Plus
If you like Pilates but find it too slow and time-consuming, I think you're going to love Exhale Core Fusion: Pilates Plus.  Consisting of 5 x 10-minute workouts, it offers plenty of variety so boredom should not be an issue.  And, the workouts are short enough that even the busiest of people should be able to fit in one or two a day.
This award-winning DVD is hosted by the course creators, Fred DeVito, and Elisabeth Halfpapp, who are former Lotte Berk Instructors.  Along with Pilates, the workouts include various yoga and ballet moves and lots of stretches.
Being low-impact,  Core Fusion Pilates Plus is suitable for people of any age and fitness level.  It can also be undertaken by individuals who are rehabilitating from an injury.  The DVD moves along quite quickly, and the workouts will tone and shape your muscles fast.
Affordably priced and having some very positive reviews, it is definitely worth a look if you want to experience the benefits of Pilates without having to take classes.

---
Shiva Rea: Daily Energy – Vinyasa Flow Yoga
Shiva Rea: Daily Energy – Vinyasa Flow Yoga contains 7 x 20-minute yoga workouts, led by Prana Vinyasa Yoga teacher, Shiva Rea.  The workouts are interchangeable.  You can do a single segment if you're busy.  And, when times permits, combine two or three for a 40 to 60-minute session.
Anyone who likes variety and wants to try a new style of yoga should be happy with this DVD.  There are vigorous segments for energizing and slow-paced sessions for enhancing relaxation.
Along with working on balance and imparting a sense of well-being, with regular practice the exercises will tone your entire body and strengthen your core muscles.
The poses are quite advanced, so the workouts are best suited for people who are not entirely new to yoga.  If you have at least some experience, you should be able to adapt the most difficult poses to suit.  Available for a great price, Vinyasa Flow Yoga has a lot of very positive purchaser feedback.

---
Final Words on 10 Best Women's Fitness DVD Workouts
So there you have it; our 10 Best Women's Fitness DVD Workouts, any of which should get you into great shape, fast!
Fitness DVDs provide a convenient way for busy people and those who prefer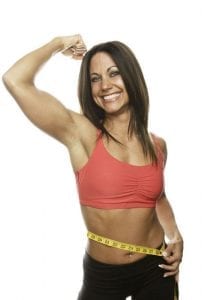 to exercise in privacy, to get fit at home.  They enable you to vary your workouts and create muscle confusion, so you will shape up faster.
Being very affordable, you won't have to stop at just one fitness DVD either, so the likelihood of becoming bored decreases.  They're also a great way to try different styles of exercise without having to outlay a lot of money.
To read an article on the positives and negatives of at-home fitness DVDs, click here.
Click this link to read reviews of other popular fitness programs and DVDs