This post may contain affiliate links. If you click a link and buy something, I may receive a small commission at no extra cost to you.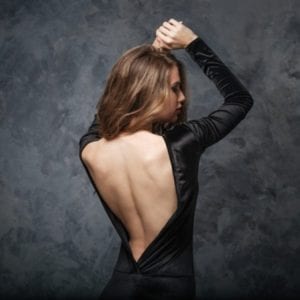 If you're looking for information on how to lose back fat, you've come to the right page.
Back fat is unattractive, difficult to hide, and it can be hard to eradicate if you go about trying to do this the wrong way.
A common problem, back fat afflicts both males and females, and not just those who are overweight.  Even people who are otherwise slim can have back fat.
When this is the case, it is usually attributable to poor diet and slack muscle tone caused by a lack of exercise.
The bad news is that we can't spot-reduce.  The good news is that reducing body fat in a specific area involves the same process, wherever you carry the excess weight.
It consists of a combination of diet modification and cardio training to reduce overall body fat, and strength or bodyweight exercises to tone your muscles.  The only thing that changes is the exercise you will need to do to hone in on your trouble spot.  For example, losing back fat will involve doing upper body exercises.
In this article on how to lose back fat, we will look at some of the best back fat exercises.  We will also touch on the dietary and cardio requirements that will help you to achieve your goal.
How to Lose Back Fat through Diet and Portion Control
It is not possible to out-train a bad diet.  To lower your body fat, you will need to eat healthy food, eliminate junk food, and practice portion control.  Center your meals around lean protein such as skinless fish, chicken, turkey, pork, or legumes if you are a vegetarian.
The bulk of your plate should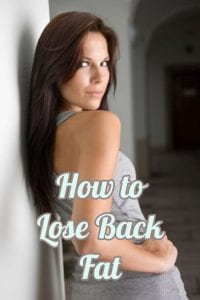 be vegetables such as dark leafy greens like kale and spinach.  Eat fruit in moderation, and limit sugar-laden foods and processed carbs such as pasta, white bread, and white rice.
Steer clear of fad diets.  They don't work long term and losing back fat and keeping it off is a long-term goal.  This is not to say you will never be able to indulge in your favorite treats again.  You will be able to, provided you don't go overboard, and you eat healthy food most of the time.
Be creative with your meals by adding herbs and spices and "healthy" will become exciting rather than bland.  If you tend to overeat and you are not a fan of weighing your meals, your hand can be the best tool for portion control.  Use your fist as a guideline when measuring carbs.  Your palm can measure proteins, and the circumference of your hand vegetables.
Once you've sorted out your diet, it will be time to engage in back fat exercises.  There are plenty of options available.  Take advantage of this by mixing them up.  Doing so will bring you faster results.  It will also help to keep your sessions fresh, and you will be less likely to become bored.
Exercise to Lose Back Fat
For the best and fastest result, do cardio exercise for between 20 minutes and 60 minutes, at least three to five times a week.  Any cardio will help you to lower your body fat and ultimately lose back fat.  If the cardio also works your upper body, even better.  Swimming, boxing, and rowing are perfect examples of workouts that strengthen back muscles as they burn calories.  Other good activities include biking, walking, jogging, running, using an elliptical trainer, and even dancing.
EXPLORE INTERVAL TRAINING:
Engaging in HIIT (High-Intensity Interval Training) can speed up your results considerably.  HIIT involves alternating between exercising at a regular pace, then increasing the speed and intensity for a pre-determined period.  Exercising in this way will boost the rate at which your heart beats and keep it elevated for some time after you finish your workout, burning a lot of calories in the process.
Many forms of exercise are compatible with HIIT, examples being running outdoors or on a treadmill, using a stationary bike or an elliptical trainer, jumping rope, or doing just about any cardio activity you wish.  There are also many variations to the format and length of time you exercise.  Generally, your sessions will be a lot shorter than when doing steady-state cardio.
Click this link to read How to Create a HIIT Cardio Workout that Works for You
Do these Back Fat Exercises
Next, we will look at some of the best exercises for losing back fat.  One uses bodyweight as resistance, one uses a barbell, one dumbbells, and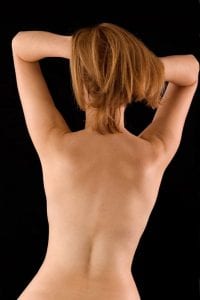 you will need access to a Low Pulley Machine and V-Bar Handle or a Straight Bar to do the last one.
Do the exercises three or four times a week.  When working against resistance, if you struggle to maintain correct form use a lighter weight.  A weight that is too heavy will not give you the most benefit, and you could injure yourself.
We tend to think of Push-Ups as being arm and chest exercises, but they are also excellent for strengthening and toning the entire back.
Follow these steps to do Push-Ups correctly.
Lie on the floor face done with your hands by your sides and your feet approximately hip-width apart.
Lift your chest, hips, and thighs off the floor allowing your palms and toes to support your weight.  At this point, your arms should still be bent.
Exhale as you straighten your arms and lift your body upwards.  Your ankles, hips, and head will now be in a straight plank position
Pause briefly, then inhale as you lower yourself back down.  This will complete one rep.
Do 10 reps, gradually increasing this to 15 and adding another one or two sets as your fitness improves.
---
Stand upright with your knees slightly bent holding a dumbbell, your arms shoulder-width apart, and your palms facing upward.
Bend forward from the waist, making sure to hold your back straight until it is almost parallel to the floor.  Keep your head up for the duration of the exercise.  At this point, the barbell should be hanging in front of you, and your arms should be perpendicular to your body and the floor.  (This is your starting position.)
Keeping your body stationary, exhale and lift the barbell.  Your elbows should be close to your body.  When the barbell is at its highest position, squeeze in your back muscles, holding this pose for one to two seconds.
Inhale and slowly lower the barbell to your starting position.
Start with 8 to 10 reps, building to 15 over time.
NB Avoid this exercise if you have a bad back.  Do Seated Low Pulley Rows instead. 
---
Low Pulley Rows work the center and lower back as well as the biceps, rhomboids, and the rear deltoids.  They can be done at the gym or using home gym equipment.
Sit on the lower bench of the Low Pulley Machine with your feet on the foot crossbar or platform.  Keep your knees slightly bent, making sure not to lock them.
With your back straight, your torso still, and your palms facing inwards, grasp the V-bar handle or Straight Bar and exhale as you pull on it until your back is at a 90-degree angle.  Your shoulders should be back so that your chest is sticking out.  (This is your starting position.)
Keeping your back straight and your elbows close to your sides, pull the V-Bar handle towards your abs.  Contract your shoulder blades to work your rhomboids and rear deltoids.
Inhale as you slowly return to your starting position.
Do 8 reps, increasing this to 15 over time.
Click here to read reviews of popular home gyms
---
Chicken Wings is another one of my favorite back fat exercises.  A modification of shoulder fly exercises, Chicken Wings primarily target the back bra strap area.
Stand upright holding a dumbbell in each hand with the weights pointing out at hip level and your wrists facing each other
Draw your elbows upwards and outwards to the side until they are slightly above shoulder-height.
Slowly lower your arms and hands to your starting position.  Your elbows should be all that moves.
Start with 8 reps, building to 2 or 3 sets of 8 to 12 reps as you become stronger.
---
Lose Back Fat Summary
Now that you know how to lose back fat, start working towards your goal.  Modify your diet if need be, increase your level of physical activity. and do the above exercises every second day.  If you are consistent, you should start losing back fat in around four weeks.
Varying the back fat exercises you do will give you the best and fastest result.  Here are some more exercises to try.