This post may contain affiliate links. If you click a link and buy something, I may receive a small commission at no extra cost to you.
This article looks at 9 common workout mistakes to avoid.
It's frustrating and discouraging to put in the time and effort and months down the track still see little or no improvement in your fitness.
The good news is that overcoming a fitness plateau is usually just a matter of tweaking your workout and creating the right balance.
To improve your fitness, make aerobic activities the primary focus of your workouts.
Include muscle-strengthening activities by regularly doing bodyweight exercises or using weights or resistance bands.
And, if you're overweight, take in fewer calories.
This three-pronged approach will help you shed your excess pounds, lower your body fat, and improve your muscle tone.
If you're not already doing so, start following the F.I.T.T. principle of exercise.  F.I.T.T. stands for Frequency, Intensity, Time, and Type.
Frequency represents how often you train.  For the best result, aim for 3 to 6 days a week.
Intensity is how hard you exercise.
Aim for 65 to 90% of your maximum heart rate, or within the recommended target heart rate zone for your age.
As your fitness improves, increase the intensity of your sessions so that you remain in your optimum training zone.
Time is the duration of your workouts.
Most fitness trainers recommend doing 20 to 60 minutes at a time, or a minimum of 150 minutes of physical activity a week.
Type is the exercise you do, be that walking, jogging, running, biking, swimming, or another form of aerobic activity.
If you're already doing everything outlined above and following the F.I.T.T. principle, one or more of the following common workout mistakes could be the reason your progress has stalled.
9 Common Workout Mistakes to Avoid
#1. You never vary your workout
It's easy to become comfortable with an exercise routine, but it's important to change things up from time to time if you want to keep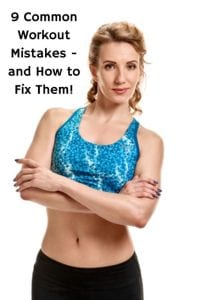 progressing.
If you've been walking for months on end, try jogging.  If you usually jog, try running, cycling, or any other aerobic activity that appeals.
When strength training, increase the weight or fitness band's resistance; mix up the rep range, or do more reps in less time.
This will keep your body challenged and keep you moving forward.  If you don't push yourself, your results will taper off, and you could even hit a fitness plateau.
#2. You're inconsistent
Exercise regularly and consistently.  You will get a far better result doing two workouts per week than exercising daily for a month, then not doing anything for several weeks.
The key to being consistent is to find a few workouts that you enjoy doing.  The variety will make it easier to stick with a program.  If you hate the exercise, you will struggle to do it and eventually give up.
#3. Your form is poor
Poor form is among the most common workout mistakes that can dramatically slow your progress.
Pay attention to your technique.
If your form is incorrect, the exercises you do will not hit the right spots, and you will increase your risk of sustaining an injury.
If you're not sure how to do a particular exercise, drop into your local gym for a session with a personal trainer.  Alternatively, Google the movement, or search for it on YouTube.
#4. You let your mind wander
One of the biggest fitness mistakes people make is to train without focusing.  When we do this, our form can suffer, and we put in less effort, so we get inferior results.
Think of your workout as a form of therapy.  Immersing yourself in it will help you to clear your mind of some of life's problems.
#5. You don't warm-up
If you warm up before working out, you will significantly reduce the risk of getting an injury that could prevent you from
exercising for weeks.
A slow, five-minute jog or a few minutes jumping rope followed by some stretches will be sufficient for you to limber up your muscles and hydrate your connective tissue.
Warm-Ups also give you the time to fire up your mind-body connection, which will result in improved coordination.
#6. You don't cool-down
Another of the biggest fitness mistakes most of us have been guilty of is not taking the time to cool down.
As with Warm-Ups, Cool-Downs go a long way towards preventing injury.  They can also reduce post-workout muscle soreness.
Cooling down can be as simple as slowing your pace and the intensity towards the end of your workout, then doing some stretches.
#7. You reward yourself with unhealthy food after every workout 
Some people think it's okay to treat themselves to a cookie, potato chips, or other junk food after working out.  If you've been doing that, put a stop to it now.
Make the reward your workouts and what they are doing for your health, fitness, and body shape.
The best post-workout fuel to quell the munchies is fresh vegetables, a small serving of lean protein, and plenty of water to rehydrate.
#8. You're always sleep-deprived
If you work out when you're sleep-deprived, you will not have the energy to perform at your best.  You will also risk injuring yourself.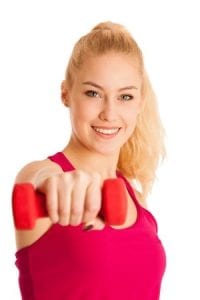 Additionally, sleep produces hormones that help us to burn fat.
Studies have shown that people who get fewer than 7 hours of sleep each night gain weight more readily than those who sleep 7 or 8 hours a night.
So switch off your computer and the television and hit the hay at a reasonable hour!
For more information on how a lack of sleep can impact weight, read tip 7 in the article 10 Weird Reasons You Can't Stop Eating.
#9. You think of exercise as punishment
Your approach to training plays a significant role in helping you reach your fitness goals.
If you catch yourself thinking, "I really need to exercise today," change the word "need" to "want."  This shift in mindset will boost your enthusiasm so that you look forward to your workouts rather than look for ways to avoid them.
9 Common Workout Mistakes Summary
Our most precious commodity is time.  Don't squander yours by doing half-hearted workouts that will get you mediocre results.
Fix the common workout mistakes above, and you will get the most from your training sessions and reach your fitness goals faster.
You may also like this article on common running mistakes to avoid to prevent injury.