This post may contain affiliate links. If you click a link and buy something, I may receive a small commission at no extra cost to you.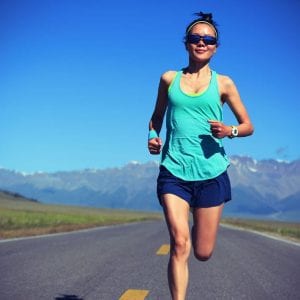 In this article, we will discuss the advantages of Fartlek Training and the disadvantages.  We will also look at some examples of Fartlek workouts to help you decide whether or not you want to try it.
Before undertaking any new form of exercise, Fartlek training included, it's a good idea to think about the short and long term goals you wish to meet.
If you are looking for a fitness program that will improve your performance in the sporting arena, the start-and-stop nature of Fartlek is worth considering.
This formula also promotes fat loss by burning calories for hours after the workouts' conclusion.
Next, I will answer the question, "What is Fartlek Training?", for those who are unsure.  We will then look at the advantages of Fartlek training, the disadvantages of Fartlek training, and some examples of Fartlek workouts for runners.
What is Fartlek Training?
Fartlek is a Swedish term which implies "speed play."  Developed in 1937 by Olympian athlete Gösta Holmér, workouts are most commonly associated with running, but Fartlek can be incorporated into almost any type of sport.  Football, basketball, soccer, hockey, cycling, and swimming are just some sporting endeavors that can benefit from Fartlek training.
Encompassing elements of structured and unstructured training, it is fun and more free-flowing than interval and tempo training.  While similar to the latter two types of exercise in that the speed and intensity of sessions vary throughout, with Fartlek training the athlete chooses these on the fly.  This makes it ideal for people who want the benefits of interval training with fewer rules.
What is the Fartlek Workouts Schedule?
Ideally, Fartlek workouts should be undertaken once or twice a week, with other fitness activity done at least two or three times a week.
According to sportsfitnessadvisor.com, Fartlek training for
multi-sprint sports should be approximately 30 minutes long.  This includes a 10-minute Warm-Up and a 10-minute Cool-Down, both comprising a steady-paced jog.
The workout itself should consist of jogging and sprinting intervals of varying intensity, with each interval being 10 to 60-seconds long.
As with other forms of interval training, your sessions can be made more challenging by increasing the number of intervals you do or the length of your sessions.  Alternatively, you can spend longer working at high intensity and less time at low intensity.  For a less challenging workout, reverse this protocol.
Fartlek Training – Running
Advantages of Fartlek Training
By regularly undertaking Fartlek training you will increase your VO2 Max and stamina.  This will enable you to train for
longer, and therefore take your fitness to new levels.
Improves sporting performance
Most sports require varying levels of intensity throughout each game.  When playing basketball, for example, maximum energy is required while running a fast break, but almost no effort is needed while standing at the foul line.  When playing tennis, you will usually be active for one minute or less before you get a brief rest.
By structuring your Fartlek training to mimic the varying intensities of your sport, you will improve your results.
Due to the varied intensity of Fartlek workouts, it burns more calories than steady-state cardio done for the same duration.  This makes Fartlek training particularly efficient when it comes to weight loss.
Another of the noteworthy advantages of Fartlek training is that because it alternates between high and low-intensity movements, you will keep burning calories long after you finish your workout.
According to The American Council on Exercise (ACE), Fartlek provides injury prevention benefits that can come from doing repetitive aerobic exercise.
As with any form of interval training, it is crucial not to overdo things.  Start slowly, making your high-intensity intervals short, interspersed with more extended periods done at low intensity.  Gradually increase the time and frequency done at high intensity as you become stronger and fitter.
One of the main advantages of Fartlek training is its versatility.  Some aerobic workouts become tedious after a while due to their repetition, but you are unlikely to tire of Fartlek workouts.  This is because you can include an unlimited variety of intervals in your workouts.
Disadvantages of Fartlek Training
Potential for injury in beginners
Fartlek is not suitable for people who are new to exercise, so you should acquire some fitness before trying it.  Failure to heed this can lead to injury.
The potential to burn muscle
As with overdoing any form of intense cardio, undertaking Fartlek training too often or for extended periods can result in muscle being burned along with fat.
Next, we will look at some Fartlek workouts for runners.
Fartlek Training for Runners Workouts
These Fartlek workouts for runners offer something for everyone.  Each begins with a 10-minute Warm-up jog and ends with a 10-minute Cool-Down jog.
Astrand Fartlek training will most benefit 800m runners.
Run at maximum effort for 75 seconds, then jog or run for 150 seconds at a moderate pace.  Run at maximum speed for 60 seconds, then jog or run for 120 seconds.  Repeat this sequence three times.
Whistle Fartlek  
Whistle Fartlek involves exercising on a grassed area with an 800-meter circumference.  One person controls the session using a whistle to indicate when it's time to change pace.
Sessions are done in a pyramid format.  This comprises 4 minutes, 3 minutes, 2 minutes, then 1-minute, followed by 2 minutes, 3 minutes, then 4 minutes done at maximum intensity.  Each of these ends with 60 seconds of jogging.
Saltin Fartlek is ideal training for 1500m, 5k, and 3k runners.
Go hard for 3 minutes, then do a 1-minute recovery jog.  Repeat this sequence six times.
Watson Fartlek will benefit 3k, 5k, and 10k cross country runners.
Go all out for 4 minutes, then jog for 1-minute.  Repeat eight times.
When combined with steady-state cardio runs, Gerschler improves fitness quickly.
Got at full pace for 30 seconds, then jog for 90 seconds.  Repeat, decreasing your recovery jog by 30 seconds.  In other words, the next sequence comprises going hard for 30 seconds, then jogging for 75 seconds.  Continue to go hard for 30 seconds every round and decrease your recovery jogs so that they are 60 seconds, 45 seconds, 30 seconds, then 15 seconds.  Repeat three times.
Map out a 2-mile hilly course.  Run up and down the first hill at full-pace twice, then jog to the next hill.  Repeat this sequence until you've covered a distance of 2 miles.
Final Thoughts on Fartlek Training
The advantages of Fartlek Training far outweigh any disadvantages, particularly for people who use it to improve their sporting performance.  It is one of the best forms of training if you want to be able to quickly change speed and direction as is required in many games and sports.
It is also a great option if you are already reasonably fit and looking to become fitter doing HIIT for weight loss and to burn body fat.