This post may contain affiliate links. If you click a link and buy something, I may receive a small commission at no extra cost to you.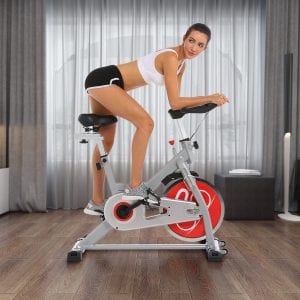 In this review, we will look at the specs, an overview, the key features, pros, and cons of the Ancheer Indoor Cycling Bike B3008.  I have updated the review to reflect the improved features of the latest 2019 model.  Included among these is a larger, softer seat, toe cages, and a higher user weight limit.
Road cycling provides an excellent aerobic workout that improves cardiovascular function, tones the muscles of the lower body, and promotes weight loss.
If bad weather, polluted air, or a lack of time makes it hard for you to use a road bike, a quality stationary bike, such as this one from Ancheer, offers the perfect alternative.
Compact and sturdy, the B3008 upright bike doesn't require much space.  Its fully adjustable seat and variable resistance cater to people from short to tall of just about any fitness level.
Keep reading this Ancheer B3008 review to find out more about this low/mid-priced spin bike.
Ancheer Indoor Cycling Bike Specs
Dimensions – The Ancheer Indoor Cycling Bike measures 42.9″ (L) x 18.9″ (W) x 43.3″ (H)
Clearance – Leaving 2 feet of free space all around the bike will enable you to exercise without restriction
Distance from pedals to seat – The distance from the pedals to the seat adjusts to anywhere between 27.5″ and 36.2″ to suit people of most heights
Distance from handlebar to pedals – The handlebar to pedal distance is adjustable to between 33″ and 37″
Seat dimensions – The seat measures 9.8″ (L) x 7.9″ (W)
Handlebar length – The handlebar is 17.7″ long
Monitor – The monitor measures 3.9″ x 6.3″
Weight – The bike weighs approximately 90 lbs
Flywheel weight – The flywheel weighs 49 lbs
User weight – The maximum user weight for this model is 275 pounds
User height – The bike is recommended for people between 4′ 9″ and 6′ 2″ tall
Color choices – It comes in a choice of black, silver & red, or yellow & black
Battery – 1 x AA battery is needed for the monitor
Ancheer Exercise Bike B3008 video
Who will the Ancheer B3008 best suit?
This model will suit people of almost any height and all fitness levels from beginners to the very experienced.
Being adjustable, it would be great for couples, or anyone looking for a bike to share with others.
Ancheer Indoor Cycling Bike Overview
The Ancheer B3008 is incredibly sturdy and durable.  Its frame and handlebar posts are electroplated steel finished in anti-corrosive scratch-resistant paint to ensure that the bike will look as good as the day you bought it for years to come.  The bike's seat post, handlebar post, and flywheel are chrome-plated.
A front belt-drive system and heavy inertia-enhanced flywheel weighing 49 lbs offer smooth, comfortable, and natural-feeling workouts.  The bike's front and rear stabilizer bars ensure smooth, wobble-free workouts.
Reverse pedalling is possible, and you can also use the bike from a standing position.
Adjustable resistance enables you to start easy and increase the resistance as you become fitter.  It also allows you to vary the pace throughout each workout.  The resistance adjusts by turning a knob that also acts as a brake that will immediately stop the bike's motion.
The Ancheer B3008 Exercise Bike has a user-friendly digital monitor that allows you to track your progress.  Workout metrics displayed include time, speed, distance covered, total distance (odometer) and calories burned.  There's also a scan function that when activated displays each metric for six seconds.  The monitor activates as soon as you push a button or start to pedal and turns off after detecting a few minutes of inactivity.
The 2019 version Ancheer B3008 boasts an upgraded ergonomic seat that is larger and more padded than its predecessor.  The seat adjusts up, down, backwards, and forwards to suit people of different heights and level of comfort.  Its rear contains two springs that help to absorb shock, and it has a centre cutout that allows airflow, helping to keep the seat cooler.
Padded, height-adjustable slip-resistant handlebars and large non-slip pedals with adjustable toe cages and safety straps add to the comfort, safety, and efficiency of workouts.
And if you have any questions about the bike or run into a problem, you can contact customer service who will reply within 18 hours.
Assembly is quick and easy.  The instructions are straightforward, and there is also a step-by-step video.  The necessary tools are supplied, and because the bike arrives partially assembled, it should take around half an hour or less to finish the job.
Included with your purchase is a large phone holder that attaches to the top of the handlebar.  A water bottle holder is located on the right-hand side of the bike.  Both accessories are accessible during workouts.
The bike comes with a 12-month warranty.
The next section of this Ancheer B3008 review looks at its features and pros, followed by its cons.  

Ancheer Indoor Cycling Bike B3008 Key Features & Pros
Comfortable, adjustable seat 
A standout feature of the Ancheer Indoor Cycling Bike B3008 is its large, well-padded, comfortable seat. 

Ergonomically designed, the seat features durable faux-leather upholstery with double-stitching.  It adjusts backwards and forwards and up and down to help you get the best position for your height.
If you would like to use a different seat, you can do so, providing it is the same size as the original one.
Comfortable, adjustable handlebars
Height adjustable sweat-resistant padded handlebars provide a comfortable and secure grip.  The distance between the handlebars and the pedals adjusts to suit people from short to tall.
The latest Ancheer Indoor Cycling Bike B3008 comes with adjustable toe cages.  These will allow you to go harder and faster without fear of your feet slipping off the pedals.
Variable felt pad resistance & Quick braking
Select the resistance level of your choice by turning a conveniently situated knob.  If you are new to exercise, you can work with no or low resistance.  The higher levels of resistance will challenge even the most experienced cyclists.
The resistance knob also doubles as a brake.
A one-button, easy-to-operate fitness meter tracks basic workout stats and displays them on the screen.  This feature enables you to check your progress and set new fitness goals.
A wide base ensures secure, wobble-free workouts no matter how hard or how fast you pedal, while stabilizers enable the user to level the bike for safe use on uneven floors.
The flywheel's drive technology ensures that your workouts will be incredibly quiet.  You won't have to turn up the volume on your television, and you will be able to work out without having to worry about disturbing others in your household.
The Ancheer Exercise Bike comes partially assembled.  Completing the job is simple.  Follow the instructions in the assembly manual (or watch the video) and use the provided tools.  Your bike should be ready to use in under thirty minutes.
Transport wheels in the front base bar enable the bike to be moved by tipping it and then rolling it.
Handy accessories include a cell phone holder and a water bottle holder, both of which are easily accessible.
The Ancheer B3008 comes with a 1-year warranty that covers faults and broken parts.
Cons
A few customers reported having received faulty parts.  Unfortunately, this can happen from time to time.  Should you be affected, contact the manufacturer who will send you a replacement bike.
Lacks a heart rate monitor 
The Ancheer B3008 doesn't come with a heart rate monitor.  If you wish to track your pulse rate during workouts, you can use an HR watch or chest strap.
The monitor does not have a backlight, so its screen could be hard to read in a dimly lit room.
This Ancheer Exercise Bike does not fold to store.
Ancheer Indoor Cycling Bike B3008 Summary
If you're in the market for a compact and reliable top-quality stationary bike and you don't have a lot of money to spend, check out the Ancheer Indoor Cycling Bike B3008.
This versatile bike is comfortable, and smooth, quiet, and secure to use.  By varying the resistance you work you can do interval training.  And, you will be able to increase the intensity of your sessions as you become fitter and monitor your progress and view your workout statistics on the LCD screen.
An adjustable seat and handlebars enable people of various heights to use the Ancheer B3008.  Toe cages will keep your feet secure.
The bike can be assembled quickly, and it has transport wheels which make for easy relocation if required.
Not the bike for you?  Click this link to read reviews of other quality upright bikes.
For more information and to read more reviews of the Ancheer Indoor Cycling Bike, click on the link below.