This post may contain affiliate links. If you click a link and buy something, I may receive a small commission at no extra cost to you.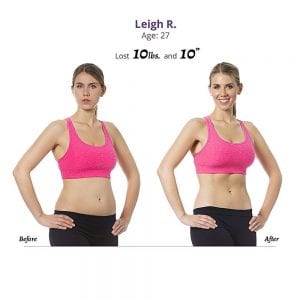 This Autumn Calabrese's 21 Day Fix review looks at everything you may want to know about it to help you decide if it will be right for you.
This includes the 21 Day Fix workouts, the 21 Day Fix workout schedule, the 21 Day Fix Eating Plan, and more.
Autumn Calabrese's 21 Day Fix Essential Package from BeachBody is a nutrition and fitness program fronted by celebrity fitness trainer Autumn Calabrese.
The program contains 7 workouts, each of which is around 30 minutes long.
Do one a day and follow the recommended diet, and you can transform your body in three weeks.
If you have more weight to lose, repeat the program until you reach your desired weight.
Whether you want to lose a few pounds to look your best for an upcoming social engagement or kick-start serious weight loss, this program makes getting into shape a straightforward process.  Stick to the plan, and you will quickly see results, with a 10 to 15-pound weight loss being typical.
The next part of this 21 Day Fix review covers the style of the program.
Autumn Calabrese's 21 Day Fix Workout Overview
Anyone who wants to improve their fitness and body shape can do the program.  However, very advanced exercisers may not find it challenging enough.
The program offers plenty of variety, with the primary focus being circuit training plus strengthening and toning exercises.
The vast majority of the sessions include a lot of legwork because this type of exercise burns a high number of calories, enabling you to strip fat faster.  The workouts are mirror-cued, making it very easy to follow along.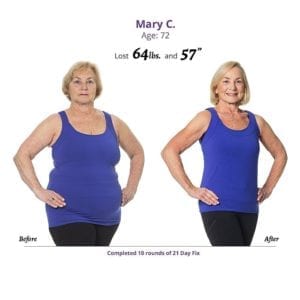 Autumn's manner is encouraging and motivating, without being annoyingly so.  She alternates between demonstrating the exercises and walking around the class giving helpful pointers.
Modified moves are demonstrated by Cat, whom you may recognize from having featured in Weight Watchers fitness videos.
A timer on the screen shows your progress.  This simple feature is very useful, as knowing how much longer there is to go can help keep motivation high.
It's common for fitness programs to run over the stipulated time.  This can be an inconvenience if you have to fit your workouts into a busy schedule.  Most of the 21 Day Fix workouts are around 32 minutes, long including the Warm-Up and Cool-Down.
Next, we will look at the 21 Day Fix Workout Schedule.
21 Day Fix Workout Schedule
The 21 Day Fix Workout Schedule is easy to follow, but something to be aware of is that the workouts should be undertaken daily.
You will do workout 1 on Monday, workout 2 on Tuesday, etc., through until the end of the week.  The following week, you will start again, doing the same workout each Monday, Tuesday, etc.
The exercises you will be doing are designed to burn the maximum number of calories.  Each workout is around 30 minutes long, so even busy people should be able to fit them into their schedules.
At the three-week mark, to maintain your results and see further improvement, it's recommended you start at the beginning again.  If you want to lose weight and tone up even faster, you can do two workouts a day.
Video Overview of Week 1 of the 21 Day Fix
What's in the box?
Autumn Calabrese's 21 Day Fix Essential Package includes two fitness DVDs comprising 7 workouts (see details below).  There are 7 x BPA-free portion control containers and 1 shaker cup.  The portion control containers enable you to know how much you can eat without counting calories.  The shaker cup delivers the recommended liquid serving size.
You will also receive 3 guides, one of which can help you lose as much as 15 pounds in three weeks.  These are as follows:
21 Day Fix Start Here – This quick start guide and workout calendar details how to quickly and easily achieve your fitness and weight loss goals.
21 Day Fix Eating Plan – 

A step-by-step guide describing how to use the food containers, the 21 Day Fix Eating Plan also contains some delicious and easy to prepare recipes.
3 Day Quick Fix – Got three days to get into shape for a special occasion?  If so, try the 3 Day Quick Fix diet.  Many reviewers who have undertaken it have reported dramatic weight loss and said they feel great.
The next part of this 21 Day Fix review covers the 21 Day Fix Workouts.
The Workouts
Following is a brief overview of the 21 Day Fix Workouts that make up Autumn Calabrese's 21 Day Fix Essential Package:
Total Body Cardio Fix – Designed to elevate your heart rate both during and after the workout, Total Body Cardio Fix is the ultimate calorie burner.
Upper Fix – Targeting the back, shoulders, chest, arms, and abs, Upper Fix is based on resistance training.
Lower Fix – Lower Fix focuses on the lower body, firming and toning your muscles as it reduces body fat.
Pilates Fix – 

Pilates Fix works on strengthening the core and elongating the muscles to shape and tone the thighs and hips effectively.
Cardio Fix – Cardio Fix is a high energy workout that will get your heart pumping, as it whittles away pounds and inches.
Yoga Fix – Yoga Fix promotes relaxation as it improves your strength, balance, and flexibility.
Dirty 30 – The exercises in Dirty 30 will burn fat and carve your muscles, creating strong, lean lines.
Keep reading for information on the 21 Day Fix Eating Plan.
The 21 Day Fix Eating Plan
Dieting has never been easier than it is with the 21 Day Fix Eating Plan.  Instead of calculating the weight of your food and the number of calories it contains, just follow the instructions in the guide and use the color-coded containers, filling them with the relevant food type.
Your food allowance will vary depending on your height, current weight, and how much weight you want to lose.  After determining your daily calorie intake, it's simply a matter of eating your allocated number of containers full of food each day.
The 21 Day Fix Containers consist of the following:
Green for veggies – 1 cup capacity
Purple for fruit – 1 cup capacity
Red for protein – 3/4 cup capacity.  Vegetarians and vegans can use this container for beans, lentils, and quinoa, etc.
Yellow for carbs and starches – 1/2 cup capacity
Blue for healthy fats and cheeses – 1/3 cup capacity
2 x Orange for oils and seeds – each container has a 2 tablespoon capacity
1 shaker bottle – this is for mixing protein shakes
* A teaspoon is needed to measure nut butter and other oils.  
Click this link to view the BeachBody Portion Control Containers on Amazon
Equipment Requirements
For some of the workouts, you will need light resistance bands or dumbbells.  Neither are included, so if you don't already have these, order them along with your 21 Day Fix kit.  Alternatively, you can get Autumn Calabrese's 21 Day Fix Extreme Ultimate Package, which, along with everything in the Essential Package, comes with a few extras.
If you buy the Ultimate Package, you will receive a second set of food containers.  You will also get two containers that aren't included in the Essential Package.  You will also get a resistance band, a tote bag, and two additional workouts.  The first workout, entitled Ultimate Flat Abs Fix, will tighten your core, abs, and waistline as it burns your belly fat.  The second workout, Barre Legs, will shape your glutes, hips, and thighs.
Final thoughts on Autumn Calabrese 21 Day Fix
Autumn Calabrese's 21 Day Fix offers a simplified and reliable approach to diet and exercise that brings
quick results.
The containers that come with the kit eliminate the tiresome and time-consuming task of calculating your daily food allowance.
The workouts are a bit different to a lot of other recent releases, which tend to focus predominantly on dance moves.  This makes 21 Day Fix a great choice for anyone wanting a change from this type of workout.
Catering to everyone from new to relatively experienced exercisers, Autumn Calabrese 21 Day Fix is less intense than some other BeachBody workouts.  While it is an excellent workout, it might be too easy for anyone who is already fit.  If you fall into this category, the Masters Hammer and Chisel Workout could be a better option.  (Click the previous link to read a review.)