This post may contain affiliate links. If you click a link and buy something, I may receive a small commission at no extra cost to you.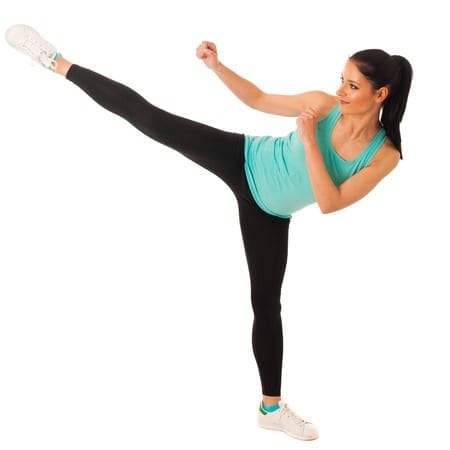 The BeachBody Core de Force Workout is a 30-day high-intensity fitness program that will help you to burn body fat and lose weight as you sculpt your muscles.
Workouts range from 5 to 47 minutes, and no equipment is needed to do them.
Led by fitness trainers Jericho McMatthews and Joel Freeman, the workouts comprise mixed martial arts and Muay Thai kickboxing-inspired moves that target the entire body.
Every move in each of the ten workouts will work your entire midsection, so if you want to nip in your waistline and strengthen and sculpt your core, it would be difficult to find better than the Core de Force DVD.
In this Beachbody Core de Force Workout review, I will cover everything you may want to know about it.
We will look at the Core de Force schedule, whom the program will suit, what it involves, and more.
We will also look at how the Core de Force Base Kit and the Core de Force Deluxe DVD differ.
Who Will the Beachbody Core de Force Workout Suit?
The Beachbody Core de Force Workout will suit you if you want to get rid of your muffin top, strengthen and tone your lower abs, improve your overall physicality, and lose weight.
As with most Beachbody workouts, this one caters to people of all fitness levels.  It can be as challenging as you want it to be.
Or, if you are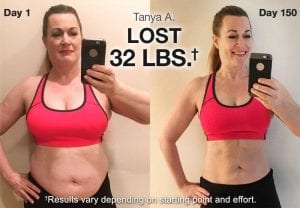 new to exercise, you can follow along with the modifier who demonstrates an easier version of the moves.
If, however, you are very out of shape, you will probably do better with a more manageable program, such as Autumn Calabrese's 21 Day Fix or YOUv2.  Then, when you are more fit, you can progress to Core de Force.
Some Core de Force moves are high-impact, so the unmodified version won't suit anyone with joint problems.  It could also be too intense for anyone who is pregnant.
The modified version should be fine for people in these categories.  However, it is advisable to check with your doctor before undertaking this or any other fitness program.
Next, we will look at the Core de Force schedule.
What is the Core de Force Schedule?
The Core de Force schedule is slightly more time-consuming than some other Beachbody programs.  The results, however, speak for themselves, so it's worth putting in the extra time.
You will be working out once or twice a day throughout the course.  You will get one day of rest per week, during which you will be required to do some stretching exercises.
On the days you do two workouts, your second session will be a short 5 or 15-minute ab routine.  This means that you will be working out for around an hour in total on some days.
How long will it take to see results?
As with any fitness program, your results will depend on the amount of effort you put in and whether or not you modify your diet.
If you commit to the program, you can expect to lose at least two pounds per week.  Anyone carrying a lot of excess weight may initially lose considerably more than this.
If you are already exercising and eating sensibly, your main benefit is likely to be a further reduction of body fat and improved muscle tone.
Beachbody Core de Force Workout Demo & Results
Core De Force Workout DVD Overview
The Beachbody Core De Force Base Kit is a 3-DVD set comprising four full-length MMA workouts, two bodyweight sessions, and two stretch and recovery segments.
There are also two short ab workouts.
The Core de Force Deluxe DVD Kit contains the workouts outlined above, plus three additional strength and agility workouts on a fourth DVD.
Each workout in the series starts with a comprehensive step-by-step breakdown that will enable you to learn the moves quickly.
The full-length sessions will elevate your heart rate so that you burn a lot of calories.  Comprising two 3-minute rounds of intense exercise, you will keep going until a bell signals you to stop.
Each segment consists of 60 seconds of "fighting" moves, followed by a 30-second cardio spike.
The cardio spikes include uppercuts, punches, Squat Jumps, moving Push-Ups, and the like.  You will then get a 30-second rest period before moving on to the next round.
The workouts:
In the next section of this Core de Force review, we will briefly look at the individual workouts, their runtimes, and what they entail.
MMA Speed is a six-round boxing-style workout that focuses on the upper body and core.  While it is the shortest of the full-length workouts, it is no less effective than the longer ones.
MMA Shred is a nine-round Muay Thai-inspired total body workout that ups the challenge.  This session involves kicking and using your elbows in moves that strip body fat fast!
MMA Power is a twelve-round high-intensity total body workout that incorporates rapid-paced "defense" moves.  The explosive movements in this session will improve your cardio-conditioning as you sculpt tight, defined muscles.
MMA Piyo is a challenging twelve-round full-body workout that combines boxing, Muay Thai, and plyometrics.  If you're looking for a workout that will rapidly torch calories, this is it!
Power Sculpt (37 minutes)
Power Sculpt is a nine-round explosive power and interval training session that builds lean muscle by working against your body's natural resistance.  This segment will work your muscles from head to toe and improve your endurance.
Dynamic Strength (47 minutes)
Dynamic Strength is a twelve-round low-impact/high-intensity complete body workout that will improve your strength and sculpt your muscles using your body's resistance without stressing your joints and knees.  If you think it takes high-impact moves to build muscle, this workout throws that concept out the window.
Active Recovery (21 minutes)
Active Recovery is a light session that will help you to recharge on your rest day.  Along with stretching your muscles, it will improve your flexibility.
Core de Force Relief (5 minutes)
Core de Force Relief is a 5-minute stretching session that you can do at any time.  It feels good, and it will help to prevent your muscles from getting sore and stiff.
Core Kinetics (15 minutes)
Core Kinetics is an innovative core workout that incorporates mixed martial arts movements to strengthen and sculpt your entire midsection.
5 min. Core on the Floor (5 minutes)
5 min. Core on the Floor is a challenging 5-minute workout based on plank movements that will flatten and define your abs and waistline.
What else is in the kit?
The following components also make up the Core de Force Kit:
Quick-Start Guide
The Quick Start Guide provides useful information, tips, and a 3-step formula to help you achieve your fitness and weight loss goals.
30-Day Calendar
The 30-Day Calendar contains your daily workout schedule and enables you to track your progress.
The Core de Force Eating Plan
The eating plan contains delicious recipes, sample menus, and advice on how to rev up your metabolism so that you can lose weight without starving yourself.
How do the Core de Force Base Kit and the Deluxe Kits differ?
The primary difference between the Beachbody Core de Force Base Kit and the Core de Force Deluxe DVD Kit is that the latter comes with
some extras.
You will receive everything contained in the base kit, plus three additional workouts.  Also included is an agility ladder and a 7-piece portion control container system.
The agility ladder is used in one of the Deluxe workouts.
The portion control containers provide an easy way to manage how much you eat.  Add the appropriate food to the designated container, and you will have the perfect portion size without weighing it.
The three extra workouts you will receive with the Core de Force Deluxe DVD Kit are:
Agility Strength (37 minutes)
Agility Strength is a nine-round cardio and strength training session.  Quick footwork and your body's resistance ensure results and a high calorie burn.
Agility Power (27 minutes)
Agility Power is a 6-round high-intensity multifunctional MMA workout that incorporates the agility ladder.
A total-body workout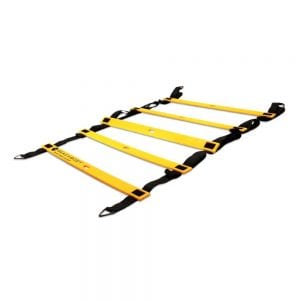 with a particular focus on the lower body, it will help you to shred body fat and improve your muscle definition.
MMA Kick Butt (37 minutes)
MMA Kick Butt is an intense 9-round kickboxing-inspired workout that will give you the lean legs and sculpted glutes of your dreams.
This quick-paced session includes powerful kicks and calorie-torching conditioning spikes.
Beachbody Core de Force Workout Summary
If you're looking for a high-intensity fitness program that will help you sculpt your body and lose weight and you have a low to intermediate level of fitness, Beachbody Core de Force should be on your shortlist.   It would also be an excellent choice if your waist and core are your problem areas.
While your workouts on some days will be longer than those of some other programs, they will be on par with most.  They will almost certainly take less time than traveling back and forth to a gym to work out,  and you will get just as good a result.
I hope you found this Core de Force review helpful.  If it's not what you're looking for, be sure to read my other fitness program reviews, as there will almost certainly be one that will suit your requirements.