This post may contain affiliate links. If you click a link and buy something, I may receive a small commission at no extra cost to you.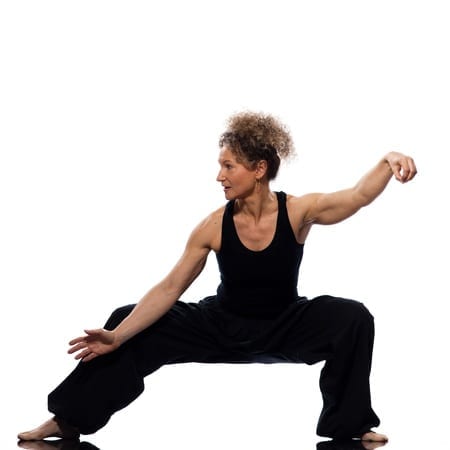 Tai Cheng is a 90-day restorative fitness program based on Dynamic Motion Control.  Using gentle, low-impact flowing movements, these deliver various health and fitness benefits.
A Beachbody Program, it is named after its creator Dr. Mark Cheng, a doctor of Chinese medicine and a Tai Chi master with over 30 years of experience in the health and wellness industry.
Comprising 18 basic Tai Chi moves, the program is suitable for people of any age and fitness level.
Everything you need to improve your health and body shape is in the kit.  If you have a free space of 6′ by 6′, you will be good to go.
Available in base and deluxe versions, we will look at both in this Beachbody Tai Cheng review, along with the extras that come with them, what the workouts involve, and the exercises you will be doing.
What is Tai Cheng, and What are its Benefits?
Tai Cheng is based on T'ai Chi Ch'üan or Tai Chi, a style of Chinese martial arts defense training.  Comprising 18 Tai Chi movements, these can be combined in several different ways.  While perfect for seniors, anyone can benefit from the workouts.
Undertaking the exercises regularly can provide a variety of health benefits.  The powerful yet gentle movement combinations aim to deliver the following:
Improvement in functional fitness
Enhanced balance and agility
Improved range of motion and coordination
Promotion of healthy weight loss
Improved blood circulation
Reduction of muscle and joint aches
Next, we will look at the Tai Cheng DVD Workout Base Kit and the Tai Cheng Deluxe Kit components.
What's in the Tai Cheng DVD Workout Base Kit?
The following components make up the Tai Cheng DVD Workout Base Kit:
THE DVDs
The Beachbody Tai Cheng DVD Workout Base Kit comprises 5 DVDs.
One DVD introduces you to the program and contains two short travel and sport-related segments.
The other four comprise 12 low-impact, easy-to-follow workouts, with modified versions of each demonstrated.
Dr. Cheng and the other trainers also demonstrate the moves on a foot placement grid, with each filmed from three different angles.
The Workouts
Tai Cheng Master Scroll
Tai Cheng Master Scroll provides a breakdown of each of the 18 exercises featured in the program.  Watch it first to get an overview of the program.
This DVD also teaches you the breathing techniques you will be using throughout the course.
You will also receive two bonus 10-minute workouts.  One is entitled Applied Travel, and the other, Sport.
Applied Travel is useful for loosening tight muscles and relieving tension after a long trip.
Sport demonstrates movements that will relax your muscles after participating in sporting activities.
Phase 1 DVD
In Phase 1, you will learn 6 moves which you will then combine into an easy-flowing routine that will improve your strength and increase your range of motion.  The moves will also ease painful joints.
Phase 2 DVD
In Phase 2, you will learn 6 more moves that will increase your energy level and burn calories as they improve your balance, strength, and stability.
Phase 3 DVD
In Phase 3, you will learn the last 6 moves that combine all of the program's elements.
Phase 4 DVD
In Phase 4, all of the moves you've learned are combined into a powerful and graceful routine that will leave you feeling great.
The Additional Tools
Next, we will look at the tools that come with the Tai Cheng DVD Workout Base Kit, followed by the extras included with the Tai Cheng Deluxe Kit.
The Easy Does It Guidebook will teach you about the health and wellness benefits of undertaking regular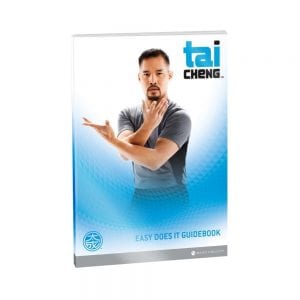 Tai Cheng exercise.  It also contains information on the Tai Cheng course and how to get the most from it.
The Feel Better Food Plan contains meal and snack recipes that are tasty, quick, and easy to prepare.
Just Eat This is a week-long menu plan formulated to jump-start your weight loss.
The Daily Workout Calendar is an easy-to-follow guide that will enable you to see which combination of movements you should be doing on
any given day.
One low strength and one medium-strength resistance band are included for you to use if you want to increase the challenge when doing some of the muscle strengthening exercises.
The Quick Relief Foam Roller will help you to relax by easing tension and eradicating muscle knots.
A floor tape measure is provided for you to use as a guide for positioning yourself as you learn the various movements.
FREE access to the Team Beachbody® online community will enable you to communicate with others doing the program.
It also provides 24/7 access to a support team of coaches and fitness experts who will answer your Tai Cheng exercise-related questions. 

What Extras come with the Tai Cheng Deluxe Kit?
Along with everything in the Tai Cheng DVD Workout Base Kit, the Deluxe Kit contains two additional DVDs, a second calendar, a pair of weighted gloves, and an extra-strength band, all of which will look at below.
The Qi Gong DVD contains breathing exercises and techniques that can enhance your mental clarity and enable you to gain more benefits from the workouts.
Master Class DVD (30 minutes)
The Master Class DVD will teach you how to combine the 18 moves into a routine, the pace of which varies from slow to medium to fast to boost your health and mobility.
The Master Calendar contains all of the base kit workouts, plus the Qi Gong exercises.
A pair of weighted gloves come with the Tai Cheng Deluxe Kit.  Use them to increase the challenge of your workouts, gain strength faster, and develop muscle control for improved performance.
High-Resistance Strength Band
The Tai Cheng Deluxe Kit contains a strength band that provides greater resistance than the bands supplied with the base kit. 

Tai Cheng Workout DVD Summary
The Beachbody Tai Cheng Workout DVD has a lot going for it.  The movements are gentle and geared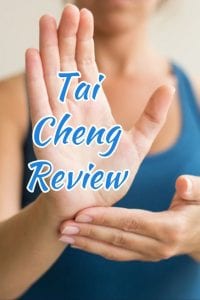 toward those who are aging, enabling them to build strength, improve their agility and balance, and reduce the aches and pains that can occur with advancing years.
However, anyone can benefit from the workouts by seeing improvements in their functional fitness, stability, and agility and increasing their strength, and energy.
Regular Tai Cheng workouts will also improve your circulation and coordination, reduce stress, and encourage steady fat loss.  Detailed instructions and clear demonstrations enable the moves to be mastered quickly.
The bonuses that come with the kit increase its potential benefits.  The resistance bands will allow you to take things to another level.
And, if you haven't used a foam roller before, you will be amazed at how effective this simple tool can be to ease out muscle kinks and impart a sense of relaxation.
The travel and sports segments are a valuable addition to the course, as is the calendar, which provides a different and well-thought-out routine for each week.
The meal plans offer a no-fuss way to improve your health and drop some pounds without resorting to strict calorie reduction or having to source obscure ingredients.
The one minor negative I can see with the Tai Cheng Workout DVD is the Beachbody product advertisements featured throughout.  However, their inclusion should not deter you from buying this quality product that provides many benefits.
Click this link to read an article on the benefits of Tai Chi exercise
For more information on the Tai Cheng DVDs, click on the relevant link below.