This post may contain affiliate links. If you click a link and buy something, I may receive a small commission at no extra cost to you.
The Beachbody YOUv2 Workout is a four-week dance fitness/muscle sculpting program designed for women who are new to exercise and those who have fallen off the exercise bandwagon and want to get back onto it.
Whatever your age, shape, and fitness level, you will love this workout and what it does for your health and figure.
A collaboration between Beachbody and celebrity fitness coach Leandro Carvalho of Brazil Butt Lift fame, the workouts are fun, and the moves are easy to learn.  So easy that you could even do them if you have two left feet!
This BeachBody YOUv2 review will look at an overview of the program, the workouts, its pros, cons, and more.
BeachBody YOUv2 Workout Overview
Though short at between 29 and 34 minutes long each, BeachBody YOUv2 workouts are very effective.  Each targets the areas most women want to trim, this being our legs, thighs, buttocks, and midsection.  Designed to elevate the heart rate and keep it up throughout each session, you will burn calories and body fat from start to finish.
The 6 low-impact workouts are set to catchy 80s and 90s hits, including Cher's "Believe," The B-52s "Love
Shack." and Pat Benatar's "Hit Me With Your Best Shot".  Other songs you'll be grooving to are "Donna Summer's "She Works Hard for the Money," "Let's Get Loud" by Jennifer Lopez, and Marky Mark and The Funky Bunch featuring Loleatta Holloway singing "Good Vibrations."
Four of the workouts are cardio-based, while the focus of the other two is bodyweight muscle sculpting.  One of the latter two workouts is done standing, while the other is floor-based.
Instead of a modifier demonstrating an easier version of the exercises as with most other fitness programs, with YOUv2 along with the regular version, an intensifier shows more challenging moves for those who want a tougher workout.
Whichever version you do, all of the moves will be low-impact.  One of your feet will be on the ground at all times, and you won't need to use any equipment.
When you finish the program, you can start at the beginning again.  This will enable you to maintain your newfound shape and fitness, improve on it, and continue to lose more weight.  For faster and better results, when your fitness improves, follow along with the intensifier.
If you choose to do the intensified versions of the workout, Leandro recommends that you do so wearing weighted gloves.

What else is in the kit?
When you buy the BeachBody YOUv2 DVD, you will also get the following:
K.I.S.S. (Keep It Super Simple) and JUST EAT! Meal Guide
Small changes can make a big difference over time.  Follow the four easy steps in the KISS Meal Guide to change your health for the better.
When starting the program, it's recommended that you make three simple dietary changes.
These include increasing your water intake, not eating after 8 p.m., and making one of your snacks a healthy one each day.
You should then swap one unhealthy lifestyle habit for a healthy one each week.
Changes include replacing your usual morning meal with a YOUv2 breakfast, adding a YOUv2 lunch the following week, and a YOUv2 dinner the week after.
The recipes for these are in the guide.  All are easy to make, and according to people who have left feedback, they taste delicious.
Along with being quite simple, these changes are also gradual.  This makes them easy to implement, and the likelihood of you sticking with them will be greater.
Motivational Wall Art Calendar
The Motivational Wall Art Calendar contains inspirational quotes and delivers positive reinforcement from Leandro to help you stick to the plan.
The Oh Hello YOUv2 Journal will help you identify your fitness and weight loss goals and track your progress.  There's also a place for you to record your daily habits and how you feel along the way.
What is the Workout Schedule?
Each YOUv2 workout is approximately 30 minutes long, and you get two exercise-free days a week.
What Results Can I Expect?
Your results will depend on how consistent you are with the workouts, how much you put into them, and whether or not you also follow the principles in the K.I.S.S. Meal Guide.
Doing the exercises alone, you can expect to lose between three and five pounds by the time you get to the end of the course.  Change your diet as well, and follow along with the intensifier during workouts and you could double or triple that.  Repeat the program until you reach your goal weight.
Next, in this YOUv2 review, we will look at its pros, then its cons.
YOUv2 DVD Infomercial
YOUv2 Workout Pros
At approximately half an hour each, YOUv2 workouts are relatively short.  And, you'll only have to do them 5 days a week!
All of the YOUv2 DVD workouts are low-impact.  None of the moves is strenuous, so even people with bad knees or ankles or other joint problems should be able to do them.
NB: If you suffer from joint problems, check with your doctor before undertaking this or any other fitness program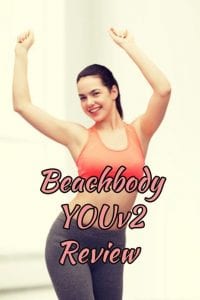 If you've never worked out before, or you're very out of shape, YOUv2 will suit you to a T.  YOUv2 will also suit you if you've tried other dance fitness programs and haven't been able to do the steps or keep up.
YOUv2 is an acronym for "you version 2" (in other words, the new you), and it certainly lives up to its name.  Undertake the workouts regularly, and you will lose weight, tone your muscles, and feel great too.
Many will recognize the songs and music as those we grew up with or have heard on the radio.  So you will probably find yourself singing as well as dancing to the tunes, which adds to the fun.
YOUv2 Workout Cons
Not for experienced exercisers
If you're looking for a very challenging workout, this isn't it.  Intermediate-level exercisers could benefit from it by following along with the intensifier.  If, however, you've been working out for some time already, you may find the workout too easy.
BeachBody YOUv2 Workout Summary
If you're a new exerciser looking for a fun and simple low-impact dance workout that will enable you to lose weight, tone up, and improve your strength, flexibility, coordination, and endurance, it would be hard to find better than YOUv2.
Some workouts quickly become tedious.  With this one, you will stay engaged for the entire month.  And if you're like most purchasers, you will then be happy to start at the beginning again.  Remember, being consistent is key to losing weight, toning up, and improving your health.
After spending a few months on the program, you may find that you are ready to move on to something more challenging.  21 Day Fix would be a good choice or Focus T25.  (Click on either of the previous two links to read a review.)  If neither of these appeals, click here to read about some other options.