This post may contain affiliate links. If you click a link and buy something, I may receive a small commission at no extra cost to you.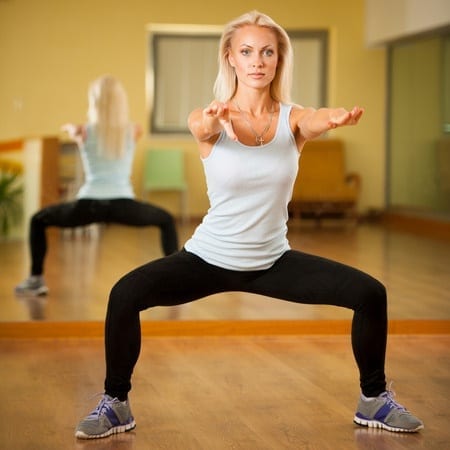 There are several benefits of bodyweight training.  The most notable of these is that it doesn't require the use of exercise equipment.
You may think you couldn't possibly get an effective workout without using weights or machines.  This is simply not the case.
With this type of workout, using your body weight alone, you will be able to improve your cardiovascular health, muscle tone, and athleticism.  You will also enhance your balance and increase your range of motion.
If you've ever done Push-Ups, Squats, or Lunges, you will know how effective these bodyweight exercises are.  These are just a few of many exercises that fall into this category.
Bodyweight training benefits can be experienced by people of any fitness level.  The moves are easy to learn, making it an ideal form of exercise if you are just beginning your fitness journey.  And, with many of the moves being low-impact, the risk of injury is low providing you use the correct form.
Put in the effort and be consistent, and bodyweight training can get you into the best shape of your life.
In this article on the benefits of bodyweight training, we will look at the benefits and drawbacks of bodyweight exercises.  We will also discuss what this form of exercise can and cannot do for you.
5 Benefits of Bodyweight Training
1. No equipment requirement
One of the primary benefits of bodyweight training is that it doesn't usually require any equipment.
You won't have the expense of buying fitness tools or machines or joining a gym, and you won't have to find room to house
exercise equipment.  This makes bodyweight exercises without equal if you are living in accommodation with extremely limited space.
Another benefit to this type of workout is that with no need to assemble exercise equipment, you will be able to get started right away.  Your workouts will be shorter too, as you will be able to transition between the various exercises without needing to move from one exercise machine to another or swap fitness tools to target a different muscle group.
Bodyweight exercises such as Tricep Dips or beginner level Split Squats will benefit from incorporating a bench, a chair, or a bed.
2. Low-impact
While not all bodyweight exercises are low-impact, many are.  Examples include Lunges, Squats, Push-Ups, Wall Sits, Planks, Side Planks, Mountain Climbers, Tricep Dips, Bear Crawls, and Stair Sprints.  These exercises are gentle on the joints for most people, even those who suffer from inflammatory disorders and joint pain.
NB If you suffer chronic knee, ankle, hip, or back pain, proceed with caution.  If in doubt, consult with a medical professional before undertaking this, or any other type of exercise.
3. Suitable for all fitness levels
People of any fitness level can undertake bodyweight training.
Most bodyweight exercises are simplistic in nature, so even a complete newbie will be able to accomplish the moves by adding modifications to the tougher ones, if necessary.  An example is to do Bent Knee Sit-Ups, rather than regular ones.
More experienced exercisers can get a greater challenge by performing advanced moves, increasing the pace at which they work out, and the number of reps they do.
4. Versatile
Bodyweight exercises can be used to help you build muscle, lose weight, improve your fitness, and more.  There are literally hundreds of bodyweight exercises.  This makes it is easy to create a routine that will suit your requirements and help you to achieve your fitness goals.
For example, to improve the tone of your core and abs, try Crunches, Bicycle Kicks, Planks, and Superman.  If you want to target your upper body, include Push-Ups, Reverse Leg Lift Push-Ups, Pull-Ups, and Tricep Dips.  To develop your lower body, add Air Squats, Squat Jumps,
Walking Lunges, and Jumping Lunges.
To lose weight and improve your fitness, do high-intensity bodyweight exercises such as Mountain Climbers, High Knees, and Burpees.  Skipping works very well too.
Along with the other associated benefits, bodyweight exercises such as Pistol Squats (single-leg squats), help improve balance by forcing us to use focus and control to perform the movement.
5. Convenient
Another of the major benefits of bodyweight exercises is that they can be done virtually anywhere, indoors or outdoors.  Many just require a small area of free space.  You won't even have to step outside your front door if you don't want to, so there are no excuses for not being able to fit in some toning, strengthening, and cardio moves on even the busiest of days.
If the weather is nice, you can do your workout in your yard or a park.  And with no equipment requirements, you will be able to keep up with your fitness regimen while on vacation.
Muscle Toning Bodyweight Workout for Women
2 Drawbacks of Bodyweight Training
While bodyweight training has some excellent benefits, it also has a couple of drawbacks, which we will look at below.
1. Limited muscle building potential
Traditional weight training sessions will enable you to improve the tone of your muscles significantly.  To create bulk when doing bodyweight training, you will also need to use a weight machine, free weights, kettlebells, or similar.
2. Limited muscle power enhancement
If your sole aim is to build explosive muscle power to improve your form for other sporting endeavors, lifting free weights will be far more beneficial in helping you achieve your goals than bodyweight training.
Final Thoughts on Bodyweight Training
Bodyweight training will provide you with an effective workout even if you don't have access to exercise
equipment.  Convenient and versatile, bodyweight exercises enable you to work out virtually anywhere you have a small area of free space.
Whether you are looking to increase your strength and muscle tone, improve your joint function or general health and fitness, bodyweight exercises will enable you to do all of these and more.
People of any fitness level can experience the benefits of bodyweight training.  This makes it an excellent option for all but those wanting to pack on a lot of bulk and develop their explosive muscle power.