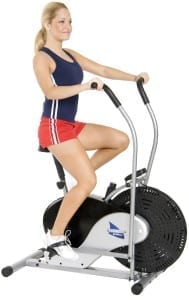 The Body Rider Fan Bike (BRF700) is an appealing alternative to a traditional exercise bike.  Along with delivering an effective lower body workout, by moving the machine's dual-action arms back and forth as you pedal, you will burn more calories and your arms, upper body and core will get a workout.
Commonly known as an elliptical bike, it provides low-impact cardio exercise, the intensity of which can be varied by turning the resistance dial.
Made by long-established fitness equipment manufacturer Body Champ, known for their affordable, quality fitness products, the Body Rider Fan Bike is solid and durable.  The seat has been upgraded to make workouts more comfortable.
With hundreds of positive purchaser reviews published online, it is worth considering if you've been thinking about buying an exercise bike or an elliptical machine.  Keep reading to find out more.
Body Rider Fan Bike Specs 
Bike dimensions – Relatively compact and lightweight for a machine of its type, the Body Rider Fan Bike measures 41 3/4″ x 22″ x 46 1/2″.
Handlebar dimensions – The height of the handlebars from the base is 46″.  The gap between the handlebars is 22″.
Pedal dimensions – The pedals are 4″ wide and 4 3/4″ deep.
Seat dimensions – The seat is 11″ wide an 10 1/2″ deep.  It's minimum height is 27″.  Its maximum height is 33″
Weight – The bike weighs approximately 47.3lbs.
User weight – The upper user weight limit for this model is 250 pounds.
Color – The Body Rider Fan Bike is black with silver highlights
Body Rider Fan Bike Key Features
Equipped with a 3 1/2″ digital display monitor, this will help you stay on track and make it easier for you to  achieve your workout goals.  Stats displayed include Time, Distance, Speed, and Calories Burned.
Adjustable resistance 
The difficulty level of workouts can be increased or decreased by turning a dial.  This is conveniently located in a position that can easily be accessed during workouts
There is no option to set the bike's handlebars to a stationary position.  However, they are attached in a way that will enable you to exercise just your legs, if desired.
The fan wheel of the Body Rider Fan Bike creates a gentle breeze, that will help cool you as you work out.
Body Rider Fan Bike Infomercial
Pros of the Body Rider Fan Bike
The Body Rider Fan Bike has a sturdy, stainless steel frame that ensures the bike will endure repeated, long-term use.
Updated seat
The seat of this model has been upgraded with softer cushioning to make workouts more comfortable.
A convenient time-saver, with the Body Rider Fan Bike you can combine an upper and lower body workout with cardio.  This will cut your exercise time considerably.
This model has a telescoping seat that can be adjusted to cater to people of different heights.
Very reasonably priced, this model is great value for money.
You will probably need to turn the volume up on your television if you want to watch it as you work out.  It is not overly-noisy though, so it shouldn't disturb other occupants of your household.
The bike is easy to assemble, with most people saying it takes around 30 to 60 minutes.  The required assembly tools are included.
The Body Rider Fan Bike comes with a 1-year warranty for its frame and 90 days for parts.
Cons of the Body Rider Fan Bike
While the seat of this model has been upgraded for more comfortable workouts, some users still find it uncomfortable.  This is a common complaint with exercise bikes, and certainly not exclusive to this model.  While some people get used to it, most opt to buy a bicycle seat cover to make their workouts more comfortable.
Possible height limitations 
Users under 5 feet tall have left positive reviews of the bike, as have some over 6 feet.  However, the consensus is that it is best suited to people under 6 feet tall.
The breeze created by the fan is not very strong.  Again, this is not exclusive to this particular model, but common with exercise bikes across the board.
The Body Rider Fan Bike doesn't have a water bottle holder or a magazine rack.
This model utilizes belt resistance, not magnetic resistance.  It will still give you an effective workout, but over time, exercise bikes that use this type of resistance tend to wear more.
Is the Body Rider Fan Bike Worth Purchasing?
If you're in the market for a sturdy, reasonably priced exercise bike with basic functions, check out the Body Rider Fan Bike.  If, on the other hand, your preference is an exercise bike with built-in programs and accessories, you will find this model lacking.
The majority of people who buy exercise bikes end up getting a bicycle seat cover to make their workouts more comfortable, even those who purchase models far more expensive than the Body Rider Fan Bike.  By ordering a seat cover at the same time as you order the bike, you will be able to work out comfortably right away.
A seat cover Amazon recommends to use with the bike that has a lot of positive feedback is the Schwinn Cruiser Gel Seat Cover.