This post may contain affiliate links. If you click a link and buy something, I may receive a small commission at no extra cost to you.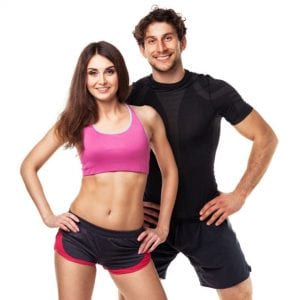 If you're in the market for a weight stack home gym and your space is limited and your budget reasonably modest, take a look at the Body Solid Powerline BSG10X Home Gym.
Providing sufficient resistance and access to enough exercises to suit new and intermediate level users, it comes with a range of accessories that will increase your workout options.
The unit is robust and durable.  Smooth and quiet to use, the gym's stable platform makes for safe and comfortable workouts.
Assembling it is a quick and straightforward process, so you can be working out within thirty minutes of removing the parts from the box.
In this Body Solid Home Gym review, we look at its specs, an overview, its pros, and cons.  I will also list some of the exercises you can do on it.
Who does this model suit?
Coming with a 160 lbs weight stack, this model is best suited to new and intermediate level users who are looking for an affordable, user-friendly, versatile home gym.  If you're looking to add a lot of bulk, it won't be for you.
Body Solid Powerline BSG10X Home Gym Specs
Dimensions – The Body Solid Powerline Home Gym BSG10X measures 42″ (W) x 80″ (H) x 70″ (D)
Weight – It weighs 344 lbs
Body Solid Powerline BSG10X Home Gym Overview
Body Solid, the manufacturer of the BSG10X, prides itself on the strength and durability of their fitness equipment, as is evident with this gym.  From your first workout, you will notice and appreciate its solid cable system which provides smooth movement, making for more enjoyable training sessions.
Another positive of the cable system is that it will enable you to switch between low and high pulley exercises without making any changes.  This is a rarity with budget-priced home gyms.
The Powerline Home Gym BSG10X is among the most compact home gyms on the market.  At three and a half feet wide and under six feet long, it is worth considering if you don't have a lot of room at your place.  It is heavy, however, so keep in mind that once set up it will be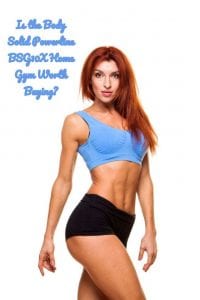 cumbersome to move.
Also, it will need to be placed on a sturdy surface, preferably concrete.  A basement or garage would be ideal.
An adjustable seat post ensures you will get the most comfortable and efficient workout for your height.  Providing access to more than forty different exercises and variations of these, this model will allow you to get a total body workout.
Accessories include a Lat Bar, High Pulley, Low Pulley, an Ab Harness, and a Low Row Bar.  There's a Multi-grip Vertical Chest Press with three grip options, an 8-position adjustable Press Arm, and a Leg Developer station.
You will also receive a cable handlebar, an ankle strap, and a gym mat.
The Body Solid Powerline BSG10X Home Gym comes 90% pre-assembled.  To complete the job, you will only need to attach and tighten nine bolts, which should take you around thirty minutes.  This is a big plus, as the assembly time for many machines of its type is far longer and more complicated.
Body Solid supplies a ten-year warranty for the frame, which is longer than most warranties for home gyms of its price.  The standard manufacturer's warranty on moving parts is just one year, but there's the option of purchasing a 2 or 3-year extension to covers parts and labor.
A downside of this model is that its maximum resistance is 160lbs and there is no facility to increase this.  For this reason, it will not be the best choice for advanced trainees and people looking to build a lot of muscle mass.
Another negative is that it does not come with a Leg Press Attachment.  If you want to use one with the machine, you will have to purchase it.

What exercises can I do on the Body Solid BSG10X?
Exercises you can do on the Body Solid BSG10X, include the following:
Arms & Chest –
Back & Shoulders –
Abs and waistline –
Buttocks and Legs –
Leg Presses (with additional attachment)
The next section of this Body Solid Home Gym review discusses its pros, followed by its cons.
Body Solid Powerline BSG10X Home Gym Pros
Durable 2,200 lb. tension strength cables
This model has an 11-gauge mainframe
Military-grade aircraft cables sport swiveling ends
No cable changes required
Its bench seat is adjustable to accommodate people of different heights
Doesn't take up much space
Provides access to over 40 different exercises
Accessories include a Low Row Bar, a Lat Bar, an Ab Harness, and a Multi-Grip Vertical Chest Press
Comes with a long warranty for its frame
Body Solid Powerline BSG10X Home Gym Cons
Weight stack can't be upgraded
Leg Press attachment not included
The gym is quite heavy so it won't be able to be moved without being dismantled
Short warranty for moving parts
Body Solid Powerline BSG10X Home Gym Summary
Established over twenty years ago, Body Solid is known for commercial-quality fitness equipment.  While the Body Solid BSG10X is their entry-level offering, it is well-built, and it gets the job done.  It doesn't have all of the extras that pricier home gyms offer, but it has enough to satisfy most users.
Its small footprint, 160 lb weight stack, and varied range of exercise options make it a great choice for all but very experienced fitness fans who will need a model with a more substantial weight stack.
Not the model for you?  Click this link to read reviews of popular alternatives.