This post may contain affiliate links. If you click a link and buy something, I may receive a small commission at no extra cost to you.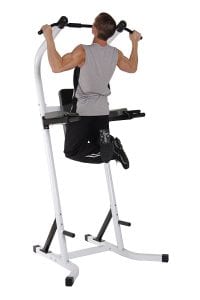 The Body Vision PT600 Power Tower is a free-standing multi-workout station designed to strengthen the muscles of your upper body, lower body, and core.  It will enable you to do everything from Dips to Pull-Ups, Vertical Knee Raises, Leg Raises, and more, and do them comfortably.
While not gym-quality, this very affordable fitness aid has some features that put it head and shoulders above some similarly priced devices of its type.  The most useful of these to many is its multiple-grip option capability.
This feature adds to the comfort of workouts and makes it easy to find the position most suited to the exercise you want to do.  It also allows you to continually target slightly different muscle groups for a more thorough and effective workout.
One of the most popular Pull-ups and Dip Station Towers in its price range, the vast majority of purchasers who have left reviews online have nothing but praise for the Body Vision Power Tower.
Keep reading to learn more about the Body Vision PT600 Power Tower, including its specs and key features and how it can help you achieve your fitness goals.
Body Vision PT600 Power Tower Specs 
Dimensions – The Body Vision PT600 Power Tower measures 43″ (L) x 42″ (W) x 85″ (H)
Weight – It weighs 64 lbs
User weight – The maximum user weight limit for this model is 250 pounds
Color – It comes in light gray with black highlights
Body Vision PT600 Power Tower Key Features
Versatile –
The range of exercises you can do on the Body Vision Power Tower is quite impressive.  Boasting 5 stations, it is excellent for working the core.  It also delivers a very effective workout for the lower abs, triceps, biceps, shoulders, and back, as well as the pecs and quads.
Compact –
The Body Vision PT600 is compact for a device of its type. It is designed to enable the user to do all of the exercises facing in the same direction. This means the unit can be positioned in a corner to save space.
* Being on the tall side, the unit will not suit your intended space if the room has low ceilings, so be sure to check the measurements before purchasing.
Solid construction –

Having a very solid base, the Body Vision PT600 Power Tower can be set up virtually anywhere you have room for it, knowing your workout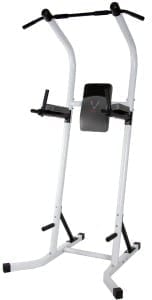 platform will be secure and stable.
Single Pull-Up bar –
A single Pull-Up bar, rather than two separate bars, allows for an almost unlimited grip from very wide to very narrow, enabling you to target more muscles.
Foot grips –
Its foot grips are handy for shorter exercisers to use as a brace.  They can also be used to work your pecs and triceps at another level during Push-Ups.
Adjustable height –
Adjustable height further adds to the equipment's comfort and versatility.  This feature also allows you to hone in on the muscles you want to target precisely. 

Pros
This model is surprisingly affordable considering all it offers.
If you've ever used exercise equipment that digs into you with every movement, you will know how uncomfortable and demotivating that is. With the Body Vision PT600 Power Tower, this will never be an issue.  Its thick padding and ergonomic design will support your arms and back during even the most intense workouts.
Slip-resistant hand and foot grips are sturdy, making for safer workouts.
Assembling the machine takes most people around 30 minutes.  You will need a Phillips screwdriver, a wrench, and a spanner to complete the job.
Cons
The gap between the armbars is a bit wide for some people's comfort. 
Some exercisers weighing over 200 pounds said the device wobbles slightly when they do dips.
A number of purchasers received machines that had a strong chemical-like odor.  Some said that this dissipates over time.
Body Vision PT600 Power Tower Video Overview
What Purchasers are saying about the Body Vision Power Tower
With hundreds of Body Vision Power Tower reviews published online to date, it has, in the main, a high customer satisfaction rating.
Most reviewers have said they find the Body Vision PT600 Power Tower solid and great value for money.  Most also agree that it provides a very effective workout.
A number of reviewers said they've been using their Power Tower regularly for years, without a problem.  Some of these people also mentioned that it shows no visible signs of wear following repeated use.
Everyone who commented on the assembly process said this was quick and easy.
A few heavier people noted that the bar wobbles a bit when doing Dips.  Some very tall people stated that they have to be careful not to hit their head on the Pull-Up bar when doing Chin-Ups.  To prevent this, do the exercise facing away from the unit.  Being a corner unit, it is, in fact, designed to be used this way.
Some purchasers complained of a chemical-like odor emanating from the device.
Final Thoughts on the Body Vision PT600
If you're in the market for compact and inexpensive strength training equipment, the Body Vision PT600 Power Tower is worth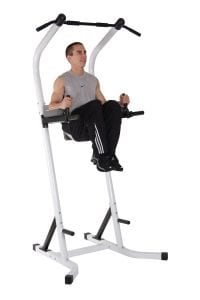 considering.  Providing a total body workout, this versatile device will save you money over what it would cost to buy multiple pieces of equipment, and you will be able to use it in a smaller area.
Safe, reliable, and durable, this versatile fitness aid is all you will need to transform your body shape.  Assembly is a fast and straightforward process, so you will be able to start using it quickly.  And, being comfortable to use, you will look forward to your exercise sessions rather than seek excuses to avoid them.
A small number of taller and heavier purchasers have had some minor issues with the Body Vision PT600 Power Tower, but these were definitely the exception.  In fact, many buyers of a similar height and build have nothing but praise for it.
My advice to larger people is to click on the link at the bottom of this page and read some more reviews on Amazon to help you decide whether or not this Power Tower will be right for you.  This being said, it should suit most people's needs and be a worthwhile addition to most home gyms.
Not what you had in mind?  Click here to read reviews of popular benches and workout stations.