This post may contain affiliate links. If you click a link and buy something, I may receive a small commission at no extra cost to you.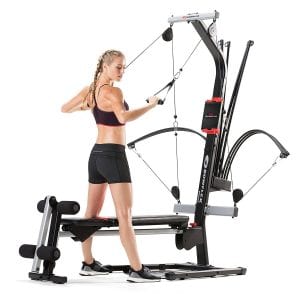 If you're shopping for home exercise equipment that will give you an effective total body workout, take a look at the latest Bowflex PR1000 Home Gym.
This affordable model is among the best-rated home gyms in its price range.  Providing access to 25 plus strength exercises, you can target your legs, butt, abs, arms, shoulders, chest, and back.
The device also offers excellent cardio workouts.  These come courtesy of its adjustable-angle bench, which converts to become a rolling seat that will enable you to do aerobic rowing.
Whether you want to work with as little as 5 pounds of resistance or as much as 210 pounds, the Bowflex PR1000 Home Gym can accommodate you.
Providing a full range of motion, you will get the maximum benefit from the exercises you do, and you will be able to lift without the need for a spotter.
The latter is due to the machine's design, which will allow you to let go of the weight if you have to, without risking it dropping onto you.  This significantly reduces the likelihood of an injury occurring.  It also makes for more comfortable workouts.
Keep reading this Bowflex PR1000 review to determine if this model will be right for you.  Along with its specs, you will find an overview, its key features, and an exercise list.
Whom will it best suit?
The gym should appeal to new and intermediate-level users who want to improve their fitness and endurance and get toned rather than buff.
With its relatively small footprint and ability to fold, it would be a great option for people with limited space.
Experienced strength trainers with a health club membership could use the machine to work out at home so they don't lose condition when they can't get to the gym.
Bowflex PR1000 Home Gym Specs
Dimensions – The Bowflex PR1000 measures 81″ (H) x 84″ (L) x 38″ (W)
Folded dimensions – Folded, it measures 100″ x 78″
Media rack dimensions – The media rack measures 7″ (W) x 3.2″ (D)
Space requirement – During use, the gym requires a minimum space of 100″ x 78″ and a minimum ceiling height of 7′
Weight – It weighs approximately 131 lbs
User weight – The user weight limit for this model is 300 pounds
Overview
Finish –
Made of steel with an anti-corrosive scratch-resistant finish, it is robust, stable, and built to last.  High-quality materials and industrial-quality ball bearings throughout further increase the machine's life.
Smoothness, Noise Level, and Stability –
Workouts are smooth and low-impact, and the operation is quiet.
The unit's heft and three base stabilizers provide excellent stability.  They have rubber feet to prevent your floor from becoming marked.
Use and components –
This model utilizes Bowflex's patented power rods.  These provide adjustable weight similar to dumbbells while substantially reducing the risk of joint strain or pain.  Made of high-tech composite material, the rod's quality and durability are exceptional.  Strong and flexible, they won't wear out, even with regular, heavy use.
Typical Bowflex PR1000 workouts for the upper body involve pulling on the comfortable to hold padded handgrips.  As you do this, the rods will bend, creating resistance.
The more rods you hook up to the pulley system, the greater the resistance will be.  Resistance on offer is equivalent to 5, 10, 20, 30, and 50 lbs per handgrip, for a total of 210 lbs.
When you purchase the gym, you will receive three pairs of handgrips.  These include standard, cuff, and foot grips to allow you to do various exercises, including Lat Pull Downs to target the back.  Foam-padded, the grips are fashioned from heavy-duty polyurethane.
The leg press belt can be used to implement various exercises, and there's a horizontal bench press that you can rotate to use as a decline or incline bench.
Four roller cushions will enable you to perform exercises such as Leg Extensions; however, there's no facility for Leg Curls. The cushions have four inches of padding to enhance comfort.
The gym's seat and backrest are upholstered in resilient black and red faux leather, which has 2 inches of padding, making for comfortable workouts.  The seat adjusts, enabling you to set the backrest at an angle of between 45 degrees and 180 degrees.
Incorporating a rowing machine rail that locks into one of several different positions, enabling you to get in some cardio.  The seat glides smoothly, allowing comfortable workouts.
Folding and unfolding –
The rail can be folded up and secured to the lat bar using the safety pin when it's not in use.  When you want to use the gym, remove the safety pin, unfold the rail, and you will be ready to work out.
Transport wheels –
If you want to store the gym after folding it, tilt the unit and use the transport wheels to roll it away to store.
Accessories –
An integrated media rack gives convenient access to a tablet or other electronic device so you can use apps or stream fitness programs as you work out.  Seven workouts are included to get you underway.
Assembly –
Assembling your Bowflex PR1000 Home Gym will take an hour or two, though some buyers have said that it took them longer.
The assembly instructions are easy to follow, and the process isn't complicated.  You will, however, need two different-sized wrenches in the vicinity of 3/4″ and a Philips head screwdriver.
Warranty –
The Bowflex PR1000 Home Gym comes with a 1-year warranty on its frame, 5 years on the power rods, and 60 days on parts.
The next section of this Bowflex PR1000 review covers its key features.
Bowflex PR1000 Infomercial
Key Features
Variety of exercises
Capable of over 25 exercises – at least 30 including variations – the Bowflex PR1000 Home Gym comes with everything you will need to get into shape.
The gym comes with a user manual containing 7 trainer-created workouts.
The angle of the bench adjusts from flat to 45 degrees, depending on the exercise you want to do.
3 cable pulley position options 
Low, medium, and high cable pulley options allow extra muscles to be targeted.
A sliding seat rail enables aerobic rowing sessions that burn a lot of calories.  The rail can also be used to do Warm-Ups and Cool-Downs before and after cardio and to do Seated Leg Extensions and Leg Presses.
Able to be used as either a hand grip or ankle cuff to increase the toning benefits of your workouts.
A reference guide lists the Bowflex PR1000 workouts, enabling you to see them at a glance, helping you to stay on track.
The media rack will enable you to have your tablet, smartphone, or similar device at hand so you can listen to your favorite sounds as you work out or follow along with the workouts.
If you need to free up space, you can fold the gym and lock it in position or wheel it away to store.
Transport wheels in the base facilitate moving the machine if need be.  Not using a weight stacking system, moving it is less cumbersome.  

Bowflex PR1000 Home Gym Exercise List
Following is a list of Bowflex PR1000 exercises and the main muscle groups they target.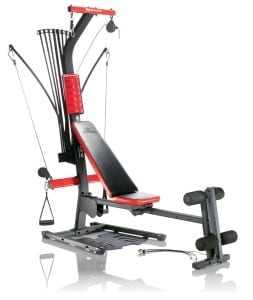 Bench Press – Pecs, shoulders, and triceps
Decline Bench Press – Lower chest, shoulders, and triceps
Incline Bench Press – Upper chest, shoulders, and triceps
Seated Shoulder Press – Front and middle shoulders, upper trapezius, and triceps.
Front Shoulder Raises – Front shoulders and front/ middle shoulders
Crossover Seated Rear Delt Rows – Rear and middle shoulders, posterior rotator cuff, upper back, trapezius, and rhomboids.
Scapular Retraction – Middle trapezius and rhomboids
Narrow Pull-Downs – Lower back, outer shoulder blades, rear shoulders, and biceps
Stiff-Arm Pull-Downs – Lower back, outer shoulder blades, rear deltoids, and biceps
Seated Lat Rows – Back, rear shoulders, and biceps
Reverse Grip Pull-Downs – Lower trapezius
Seated Low Back Extensions –  Lower trapezius
Triceps Pushdowns – Triceps
Lying Triceps Extensions – Triceps
Standing Biceps Curls – Biceps
Standing Wrist Curls – Biceps and forearms
Seated (Resisted) Abdominal Crunches – Abs and obliques 
Trunk Rotations – Abs, obliques, and sides of the chest
Calf Raises – Backs of calves
Seated Hip Adductions – Inner thighs and buttocks
Seated Hip Abductions – Buttocks
Standing Leg Kick-Backs – Buttocks
Bowflex PR1000 Home Gym Summary
With a Bowflex PR1000, you will be able to do gym-quality workouts in the comfort of your home, whenever you feel like it.
The gym is very reasonably priced, high-quality, and versatile and it has excellent buyer feedback.  It won't take long for your Bowflex PR1000 to pay for itself, with the money you will save on gym fees.
Three 20-minute workouts a week are all you will need to do to start seeing results.  From there, you can build up to longer sessions if desired.  Missing a day between workouts is recommended to allow your muscles to recover and grow.
If you are a new or intermediate-level user looking for an affordable gym that will enable you to burn body fat, increase lean muscle mass, and improve your cardiovascular fitness and endurance, I highly recommend this model.
Not the right home gym for you?  Click here to read reviews of alternatives