This post may contain affiliate links. If you click a link and buy something, I may receive a small commission at no extra cost to you.
If you're thinking about getting into free weight training and you've been looking at fitness equipment for home use, you've probably come across the Bowflex SelectTech Adjustable Bench Series 5.1.  Released to the public in early 2007, it quickly made its mark and it remains popular to this day.
Moderately priced, robust and durable and coming with a long warranty, with a Bowflex 5.1 Bench in your home, you will have immediate access to a workout as good as you will get at any gym, whenever you feel like it.
In this Bowflex 5.1 Bench review, we will look at a general overview of the product.  We will also discuss its pros, cons, and customer opinions, to give you an idea of whether or not it will suit your needs.
Bowflex SelectTech Adjustable Bench Series 5.1 Overview
Every year new exercise products are developed and introduced that promise better, easier and faster results than anything previously available.  Through it all, free weights have stood the test of time.  While effective on their own, when used in conjunction with a bench, exercise options expand.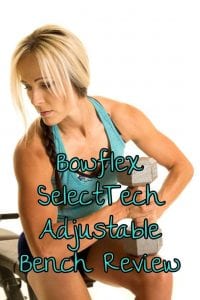 With this adjustable bench, you will be able to safely and comfortably do 30 different exercises.  Included among these is everything from Bench Presses to Chest Flies, to seated exercises and more, without having to step outside your front door.
The quality of the Bowflex SelectTech Adjustable Bench Series 5.1 stands out from a lot of its competition.  In fact, it's fair to say that Bowflex has skimped on nothing in the construction of this bench that comes with a 30-year warranty on its frame, guaranteeing years of use.
The Bowflex 5.1 Adjustable Bench inclines and declines, with six different positions available.  This versatility allows a broad range of exercises to target all of the body's major muscle groups.  And, because changing the inclination takes just seconds, your workouts will be finished faster.
The leg brace that comes with the Bowflex SelectTech Adjustable Bench Series 5.1 provides a high degree of balance and stability, even when working out on a decline.  The brace can easily be removed when it's not needed.
Bowflex Bench 5.1 Specs
Dimensions – The Bowflex Bench 5.1 measures 56″ (L) x 26″ (W) x 20″ (H).
Weight – It weighs 61.7lbs.
Load weight – The load limit for this machine is 480lbs.
Maximum incline – The maximum incline for this model is 90 degrees.
Maximum decline – The maximum decline is 17 degrees.
User weight – It has a user weight limit of 300 pounds.
In the next part of this Bowflex Bench 5,1 review, we will look at its key features and pros, followed by its cons.
Bowflex Bench 5.1 Features & Pros
A heavy-duty steel construction gives the Bowflex SelectTech 5.1 the strength and durability to withstand years of hard use.
The bench is adjustable to 6 different positions.  These include flat, a 17-degree decline, a 30-degree incline, a 45-degree incline, a 60-degree incline, and a 90-degree incline.
Safe  
The bench locks securely in place to prevent accidental movement and make for safe workouts.
Variety of exercise options 
With 30 different training options to choose from, the Bowflex SelectTech Adjustable Bench Series 5.1 will take care of all of your muscle-building needs.
A detachable leg brace provides extra support and stability when the bench is used declined.
Built-in transport wheels enable easy relocation if required.
The majority of those who left feedback regarding assembling the Bowflex Bench 5.1 said the process took them about 30 minutes.
The warranty for the Bowflex 5.1 Bench covers 30 years for the frame and 1 year for the upholstery.
Bowflex Bench 5.1 Cons
Slightly bulkier than some other home exercise benches, the Bowflex SelectTech Adjustable Bench Series 5.1 will not be suitable for anyone with a very limited workout area.  Before you purchase, refer to the unit's dimensions and compare them with your available space.
A number of buyers received some misshapen parts.  A few received parts that did not fit together properly.
Some purchasers said that their bench came in damaged packaging.  In some cases, this impacted negatively upon the contents.
Unfortunately, this sometimes happens during shipping, regardless of the item or company.  While an inconvenience, should you receive damaged parts, customer service will promptly replace them.  

Unboxing the Bowflex 5.1 Adjustable Bench
Bowflex SelectTech 5.1 Adjustable Bench Customer Opinions
With feedback from hundreds of purchasers published online, positive Bowflex Bench 5.1 reviews are plentiful.
Many people have commented on its solidity, durability, and wobble-free performance.  The flexibility in repositioning and the ease of changing between decline and incline levels has received many favorable comments.
Purchasers like the option of removing the leg brace as this means it doesn't get in the way when the bench is used upright.
Some reviewers stated that there's a small gap between the cushions when the bench is laid flat.  The fact is that without this gap the back of the bench would not be adjustable to 90 degrees.  So essentially, it is a trade-off that to be avoided would have required two separate benches or one bench with fewer adjustment options.
Final Thoughts on the Bowflex SelectTech Adjustable Bench Series 5.1
If you are looking for a functional utility bench to use with free weights, the flexibility of the Bowflex SelectTech Adjustable Bench Series 5.1 is difficult to match for the price.
Once solely the domain of males, the popularity of weight lifting for women has escalated in recent years, and this trend continues to grow.  As a result, the Bowflex Bench 5.1 has proven to be a big hit with females as well as guys.
A quality bench helps ensure correct exercise execution, maximizes effectiveness and minimizes the risk of injury.  This bench meets these requirements, and it does so with a solid construction and a long warranty that ensures you will be able to use your weight bench today, and for many years to come.