This post may contain affiliate links. If you click a link and buy something, I may receive a small commission at no extra cost to you.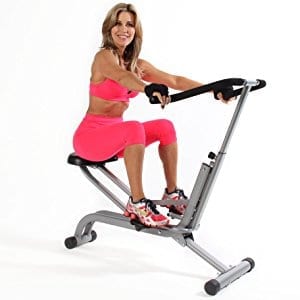 The Brenda DyGraf Fit Rider X Elliptical is a best selling elliptical trainer from Stamina Products.
Named after its creator, Brenda DyGraf, a former American Aerobics Champion who has worked in the fitness industry for many years, this affordable piece of equipment provides low-impact workouts for the home-user.
Suitable for people who are new to exercise or of intermediate level, it uses bodyweight as resistance.
Regular sessions will deliver the benefits associated with elliptical trainers including improved cardiovascular conditioning, and increased flexibility.  You will also be stronger, and your thighs, buttocks, arms, chest, back, and obliques will have better muscle tone.
In this Brenda DyGraf Fit Rider X Elliptical review, we will look at its specs, an overview, its key features, pros, and cons.
Who will the Brenda DyGraf Fit Rider Best Suit?
The Fit Rider Exercise Machine will be an excellent choice if you want to get a total body toning workout and improve your physical fitness.  Many seniors have left positive feedback for the Fit Rider, saying that their strength, stamina, and muscle tone have improved with regular use of the machine.
How Does it Work?
Workouts involve pulling the handlebar upwards while pushing down on the pedals with your feet.  This movement results in a smooth gliding motion that does not place undue impact or wear and tear on the joints.
Brenda DyGraf Fit Rider X Elliptical Specs
Dimensions – The Brenda DyGraf Fit Rider X Elliptical measures 36″ (L) x 34″ (W) x 40″ (H)
Weight – It weighs 40.9lbs
User weight – The maximum user weight limit for this model is 250 pounds
User height – With its height-adjustable handlebar, this elliptical can be used by people from around 5′ and up to 6′ tall.
Color – It is available in grey
Battery requirement – This model requires 2 x AA batteries for the monitor to function
Brenda DyGraf Fit Rider X Elliptical Overview
The Fit Rider X Elliptical doesn't come with a lot of bells and whistles, but it has enough to satisfy most people.  It is solid and stable, compact, and light enough to pick up and move to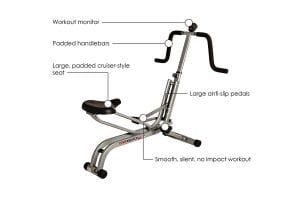 another room if this is required.  An integrated monitor displays workout stats, enabling you to track your progress.
A large, padded self-leveling "saddle-style" seat supports the hips, buttocks, and lower back for comfortable, strain-free sessions.  Anti-slip pedals offer comfort and security.
A foam-covered rotating handlebar allows multiple-grip positions so that you can target various muscles in your arms, shoulders, back, and chest.  Do the exercises outlined in the included user manual, and you will also be able to tone your abs.
The Fit Rider Exercise Machine comes partially assembled.  Finishing the job will take around about 15 minutes.  The tools needed for this are included.

Brenda DyGraf Fit Rider X Elliptical Key Features
Durable solid steel frame
A robust steel frame provides a stable workout platform.
The machine's multi-function monitor shows basic workout stats including time, stride count, and calories burned.  A scan function allows you to set it to cycle through these metrics automatically.
Padded self-leveling saddle-style seat
The Brenda DyGraf Fit Rider X Elliptical features a comfortable saddle-style seat which provides excellent support.  The seat automatically adjusts to your body, keeping your back and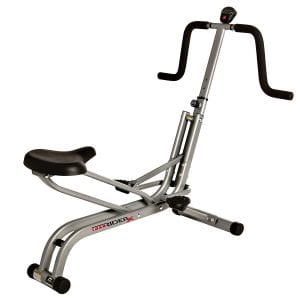 hips aligned in a position that won't place pressure on your joints.
Adjustable sweat-resistant handlebar
The machine's foam-covered handlebar provides a secure and comfortable grip, even if your hands sweat a lot.  The handlebar rotates, enabling you to find the perfect angle and change your grip to target different upper body muscle groups.  It is height adjustable by 8 inches.
The large pedals can accommodate feet of any size.  They have an anti-slip finish for safe and secure workouts.
The Brenda DyGraf Fit Rider comes with a 20-minute fat burning aerobic training DVD that is designed to tone the entire upper and lower body.  Brenda recommends doing the workout three times a week on non-consecutive days.
Next, in this Brenda DyGraf Fit Rider X Elliptical review. we will look at its pros, then its cons.
Fit Rider Exercise Machine Total Body Workout
Pros
No prior exercise experience needed
The Fit Rider X is perfect for new to intermediate level exercisers and seniors
Workouts place almost zero impact on the joints
You will start seeing results with just three x 20 minutes sessions per week
Totally body exercise plus cardio
This machine delivers cardio benefits and total body toning as it improves your strength, stamina, and flexibility
The integrated monitor enables you to track your progress easily and set new fitness goals
Many people who left feedback have mentioned how comfortable Fit Rider Exercise machine workouts are
This model will fit into most people's budget
It doesn't require much space, and it is quite easy to relocate
Workouts involve a smooth gliding motion that is noiseless, so you will be able to train without having to worry about disturbing other people in your household
Assembling the machine takes most people around 15 minutes
Cons
Not for people who are already very fit
The Fit Rider will not provide enough of a challenge for experienced athletes
At just 60 days, the warranty for the Fit Rider Exercise Machine is inadequate
Brenda DyGraf Fit Rider X Elliptical Summary
If you are new to exercise and you're looking for a reasonably priced fitness aid that provides low-impact total body-toning cardio workouts, check out the Fit Rider X Elliptical.
Workouts are smooth, quiet, and comfortable and you will start to see positive results doing just three x 20 minutes sessions a week.  To burn more calories and lose weight faster, increase the length and frequency of your workouts. 
To read reviews of other popular elliptical trainers, click this link.