This post may contain affiliate links. If you click a link and buy something, I may receive a small commission at no extra cost to you.
If you're just getting into yoga, you may be wondering how to choose a yoga mat.
In the old days, choosing a yoga mat was easy.  Most were PVC of identical size and thickness, and two colors were available.  The only decision was whether to buy a purple or a red one.
These days, with the number and different types of mats available, it can be hard to know which one to buy.  If you select one solely because it looks good, you could be disappointed.
Aside from visual appeal, there are some other more important factors to consider before handing over your money.  These include the mat's thickness and size, its "stickiness," its composition, and whether it is eco-friendly.
In this guide on how to choose a yoga mat, I will tell you everything you need to be aware of when choosing a yoga mat.
How to Choose a Yoga Mat Tips
Yoga mats vary in price, but even the most expensive ones are relatively cheap to buy.  If your budget is very tight, a plain 1/8″ thick PVC yoga mat may be your best choice.  However, the difference between one of these and a textured, patterned mat is often minimal.
Sometimes costing slightly more but usually still very affordable are eco-friendly mats, and those with an antimicrobial finish that resists mold, mildew, and nasty odors.
The standard size for a yoga mat is 68″ (L) x 24″ (W).  While this will suit most people, there are mats as long as
84″ to accommodate those who are very tall.
Most yoga mats are either 1/8″, 3/16″, or 1/4″ thick.  If you are slim, you may prefer to go with the thicker option which will provide more cushioning for your knees and hips.  Likewise, if you will be doing Yin or restorative yoga which involves many postures during which you will be either seated or lying down.
People who suffer from sore joints will also appreciate a thicker mat.  Those who carry some extra weight may find that a 1/8″ thick mat provides a sufficient buffer.
A 1/16″ thick yoga mat is another option.  These are excellent for travelers, as being thinner they are lighter and less bulky when folded.  They can also be a good choice for people who like to feel more contact with the floor during practice.
The best yoga mats are spongy enough to protect your joints and dense enough to offer a stable workout surface.  While comfortable, maintaining postures is difficult if the mat is too soft.  If your mat is too firm, holding poses will be easier, but your joints may suffer.
If you suffer from joint pain, you are a new yogi, or you are pregnant, a thicker mat will probably be your best option.
One of the most important considerations when choosing a yoga mat is its stickiness.  A sticky yoga mat will cling to the floor, enabling you to do yoga poses and maintain proper form without fear of slipping, even if you sweat a lot.
If you're okay with using a synthetic yoga mat, your best bet could be one made of PVC, AKA polyvinyl chloride.  Along with being sticky, PVC yoga mats are durable, so you can expect to get about ten years of use from it.  PVC is also spongy with plenty of give, and therefore comfortable.  The main downside of this type of yoga mat is that the material does not break down, so when you eventually discard it, it could sit in a landfill for years.
Foam and rubber are "greener" versions of PVC.  They offer similar benefits to PVC, without harming the environment.  One downside is that foam and rubber mats aren't suitable for people with a latex allergy.
The thermal plastic elastomer mat (TPE) mat is another eco-friendly option.  Made of carbon, this type of mat is free of PVC, latex, and toxic chemicals.
Organic cotton and hemp are two other solid choices.  Sometimes called a "traditional yoga mat," cotton mats are environmentally-friendly, and gentle against the skin.  Comprising an outer layer of cotton filled with kapok padding, this type of mat is cushy, it absorbs sweat well, and it has excellent traction no matter how wet it gets.  Hemp is the more durable of the two, and it is also more absorbent.
Jute is another eco-friendly option.  It is resilient and sticky, but not very absorbent, and it can feel rough against the skin.
Neither cotton, hemp, nor jute yoga mats offer a lot of support used alone, and they don't have as much "give" as other types of mat.  However, when used on top of a different kind of mat, they provide excellent support and stickiness.
Something to be aware of is that even the stickiest of yoga mats will lose traction when dirty.  For this reason, it's vital that you wash your mat regularly.
The texture of the mat you choose will also impact its stickiness.  The right texture will help to prevent you from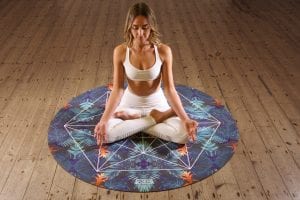 slipping and sliding, making for safer and more enjoyable sessions.  A plain PVC, rubber, or foam mat will provide enough traction for most people.
If you're looking for extra stickiness, choose a yoga mat with raised lumps, ripples, or ridges on its surface.  Alternatively, the texture can be a result of the material's natural qualities, as is the case with cotton, hemp, and jute.
Keep in mind that your feet, hands, and sometimes your forehead will be in contact with the mat, so buy one that is pleasant to the touch.
If you care about the environment, you will want to avoid PVC yoga mats as along with not readily breaking down; they are difficult and expensive to recycle.
As referenced above, your best eco-friendly options include mats made of natural or recycled rubber, foam, organic cotton, or jute.  All tend to be thicker and slicker than PVC mats.  Though not "sticky" in the traditional sense, a quality eco-friendly yoga mat will still provide sufficient traction.
Before choosing a yoga mat, check that the one you are considering is easy to clean.
Open-cell mats are popular as they provide excellent grip.  They are, however, quite porous.  This makes them more difficult to clean as they tend to attract dirt, absorb sweat easily, and they can stain.
Mats with a smooth, closed-cell surface can be slightly more slippery, but usually easier to clean.
Mat cleaners do a great job, but I find it just as easy to wash my mat in mild soapy water then air dry it.  
If you plan on taking yoga classes, make sure the mat you choose is portable.  Choose a yoga mat that is light and comes with a carry strap or carrying case.  This will make your commute so much easier. 
A thinner mat is usually easier to roll.  It will also take up less room, so it may be your best option, particularly if you will be traveling to and from the studio on public transport. 
Final Thoughts on How to Choose a Yoga Mat
With so many colors, styles, patterns, and materials available, choosing a yoga mat is a lot of fun.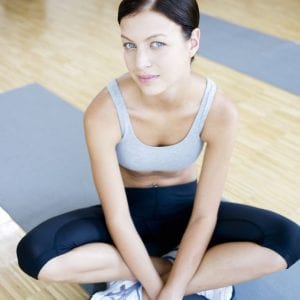 If cost is a factor, you will have no problem finding an inexpensive yoga mat that will enable you to practice in comfort.  If you have a little more money to spend, find a mat with the qualities you are seeking, and buy it if it comes in a color and pattern you love.
Two yoga mats I've owned and enjoyed using are the Aurorae Synergy Yoga Mat and the Jade Harmony Professional Yoga Mat.  The first of these is a yoga mat and towel in one, which is known as a combo mat.  The Jade mat has a rubber composition.  Both are awesome, and you won't go wrong with either.  Click on the previous links to read reviews.