This post may contain affiliate links. If you click a link and buy something, I may receive a small commission at no extra cost to you.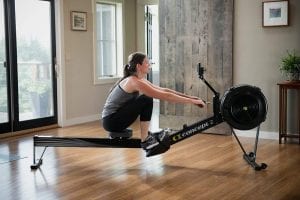 If you're a seasoned indoor rower, you've no doubt heard of the Concept 2 rowing machine, and you may be looking for information that will help you decide which model to buy.
If you're new to indoor rowing and researching your options, you can't go wrong with a rower from the Concept2 range.
Loved by indoor cyclists of all levels, many professional sportspeople consider it to be the best rowing machine for home use.
In this review, we look at two of the company's most popular offerings, these being the Concept2 Model D Indoor Rowing Machine (pictured above) and the Concept2 Model E Indoor Rowing Machine, (pictured below to the right).
Why Buy a Rowing Machine?
Long popular with the home exerciser, an indoor rowing machine will give you a low-impact workout that
will strengthen and sculpt your upper body, lower body, and core.  It also provides a cardio workout that will strengthen your heart and improve your lung capacity and endurance.
Rowing typically burns 300 to 500 calories per hour depending on your gender, weight and the speed you work at.  Done regularly, you will lose weight and strip your excess body fat.
The better rowing machines such as this one come with a monitor that will enable you to set goals, monitor your progress and track your heart rate to get the most from your sessions.
Concept 2 Rowing Machine Overview
Founded in 1976, Concept2 makes indoor rowing machines for everyone from the new and casual
exerciser to the elite athlete.  In fact, these are the same models Olympics athletes use for training purposes.
The Concept2 Model D Indoor Rowing Machine is the world's number 1 selling indoor rowing machine.  Professional rowers consider it to be the model that sets the standard for indoor rowing machines

With a few extra features that will appeal to those who want a machine with all of the bells and whistles and then some, the Concept2 Model E Indoor Rowing Machine is a staple in many gymnasiums, clubhouses, and fitness centers.

Sturdy and durable, every model in the Concept 2 rowing machine range has unsurpassed performance and features including a PM5 Monitor.
Sitting for extended periods can, quite literally, be a pain in the butt.  A quality seat pad such as this one (see below) from the Rowing Machine King makes for more enjoyable sessions.  It can be used with the Concept2 machines, plus some other rowers.  These include the NordicTrack, the WaterRower, Stamina and Sunny Health & Fitness models, among others.
Made of 3″ high-density memory foam covered with non-slip fabric, it is 12 1/2″ long, and 9 1/2 wide.  It weighs 15.7 oz. 
When you sit on the pad the foam will compress slightly, taking the pressure off your hip and thigh bones.  Straps are included to secure the pad to the rower's seat, but you can use it without the straps if preferred.  The pad cover can be unzipped, allowing you to wash the foam insert.  
The pad comes with a 30-day no questions asked money-back guarantee, so if for any reason you don't like it, you will receive a refund.
Textured rubber handles enable a firm grip, no matter how much you perspire.  Ergonomically designed for comfort, the handles feature a 10-degree bend that will allow you to maintain a natural arm and hand position throughout your sessions.
An aluminum monorail topped by a stainless-steel track and a seat that glides easily ensures smooth movement and a very comfortable workout.  Sized to fit up to a 36-inch inseam, for an extra charge a longer length can be purchased if required.
Each Concept 2 rowing machine in the range can be used by everyone from the shortest to the tallest of people weighing up to 500 pounds.  The footrests quickly adjust to fit any sized feet.
Assembling the rowers takes around 10 minutes.  Slide the fronts and backs together, attach the legs and you will be ready to start exercising.
Included with both models is a log card and a USB cable for connecting your PM5Monitor to your PC and accessing data stored on the log card.  You will also receive chain oil, a user manual, plus instructions and the tools needed to assemble the rowing machine.
While not cheap, with its superior quality, strength, durability and reliable performance, the Concept 2 rowing machine is amongst the best value rowing machines available.
Concept 2 Rowing Machine Comparison Video
Concept2 Model D & Concept2 Model E Specs
Dimensions & Space requirements – Assembled, each measures approximately 8′ by 2′, with 9′ by 4′ required during use.
Both separate into two pieces for storing, with Model D requiring a space of 25″ by 33″ by 54 1/2″ and Model E 27″ by 47″ by 54 1/2″.
Weight – With aluminum front legs and a steel rear, the Concept2 Model D weighs 57lbs.  With welded steel legs front and back to support its higher frame, the Concept2 Model E weighs 65lbs.
User weight capacity – Extremely sturdy and stable, both machines can support a weight of up to 500 pounds.
Color & Finish – Model D comes in either black or light gray with a powder-coated finish.
Model E is also available in light gray or black.  Its double powder coated finish has a clear overlay that further enhances its durability.
Batteries – Both models come with two D-cell batteries for the monitor.
Key Features of the Concept2 Model D Vs the Concept2 Model E
With a seat that is just 14 inch above the floor, Model D would be a stylish and
non-obtrusive addition to your home gym.  Equally sophisticated but easier to access for anyone suffering knee problems, Model E has a seat height of 20 inches.
Reliable and extremely accurate, every model in the Concept2 range comes fitted with a PM5 monitor.
These do not require an external power source.  As you work out, the battery automatically recharges.
*See PM5 details and inclusions below.
Both Concept 2 rowing machine models boast a spiral damper which allows the user to effortlessly adjust the airflow to the flywheel, altering the stroke feel.  The flywheel provides a smooth movement with minimal noise, resulting in very comfortable workouts.
The Concept2 Model D Rowing Machine has a partially enclosed chain.  Model E has a fully enclosed chain.
Both are corrosion-resistant and nickel-plated.  Extremely strong and durable, they have a low maintenance requirement, not needing to be oiled as often as the chains on most indoor rowers. 
The rowers have caster wheels that enable easy relocation if required.
Team Training and On-Water Simulation Options
The Concept2 Slide (sold separately) provides an on-water feel to your workout and allows compatible Concept2 models (C, D, and E) to be connected, allowing team training.
Both Concept 2 rowing machine models come with a limited 5-year warranty on the frame and a 2-year warranty on the Performance Monitor and moving parts.
Performance Monitors PM5 Details & Inclusions
Screen – The Performance Monitor PM5 has an easy-to-read 160 x 160
resolution display.  Its position can be adjusted to suit your desired viewing angle.
Easy menu-driven operation allows you to choose a preset workout at the push of a button.
You can also elect to do your own customized workouts.  A removable LogCard stores preferences and workout data for you and up to four other people.  This feature makes these models an excellent choice for anyone who will be sharing their rower with others.
USB – Self-calibrating, upon commencing your exercise session, the display screen will illuminate, and relevant data will appear on it without you having to press any buttons.
The information displayed will include your Distance, Pace, Speed, Calories Burned and Watts.  Five display options include All Data, Force Curve, Bar Chart, Large Print or Pace Boat/Pacer.
At the end of your session, you can save the data and compare your results to previous workouts.  You can do this via the computer's internal memory or by using a USB flash drive for portability.
The Concept2 rowers come with Concept2 Utility software that is compatible with a PC or Mac (for data transfer).  Downloadable, this can be used for training, logging data, venue racing, internet racing and to upgrade monitor firmware.
NB Compatible with FAT and FAT32 USB formats only.
Heart rate monitor – The PM5 supports wireless heart rate monitoring through ANT+ and Bluetooth Smart.  To utilize this feature, you will need to purchase a compatible chest strap.
NB: Bluetooth Smart is different from Bluetooth
Games & Racing – On those days when you need a little extra motivation or you want a break from your usual routine, check out the PM5 Games.  They're also great teaching tools for both kids and adults!  Choose from Fish, Darts, Target Training, and Biathlon.
Wiring Concept2 Rowing Machines together will enable you to train or compete with other rowers whether they're in the same room or on the other side of the world.  During your sessions, you and your team's progress is displayed on a large screen.
At the end of the race, you will be able to view your place compared to the others who took part.  This fun and motivating feature is accessed using Venue Race software, which is available for free from Concept2's website.
Concept 2 Rowing Machine Summary
There are many brands and models of indoor rowing machine to choose from in a variety of price
brackets.  Without a doubt, some of the best come from the Concept 2 rowing machine range.
These rowers' performance is second-to-none, and they can easily withstand long-term repeated use.  If you like to closely monitor all aspects of your workouts, you will love the Concept 2 Rowing Machine.
Having tested both the Concept2 Model D and the Concept2 Model E at the gym, I can't fault either.  Their movement is very smooth, and they feel solid and very stable.  I appreciate the variety of programs and the option of customizing workouts.  The games are awesome too!
To find out more, click on the relevant link below.
To read reviews of other popular rowing machines, click this link