This post may contain affiliate links. If you click a link and buy something, I may receive a small commission at no extra cost to you.
This Concept2 SkiErg review will cover everything you may want to know about the device to help you decide if you wish to purchase.
Cross-country, AKA Nordic Skiing, is challenging and exhilarating, but it isn't the most convenient form of exercise.  For a start, you will need snow or access to an indoor ski center.  To get the most from it, you will also need strength and balance.
If all of these elements are present, there is still the risk of falling and sustaining a broken bone, which is off-putting for many people, particularly those who are older.  And some people don't like the cold.
But what if you could experience the benefits of Nordic skiing in the safety and comfort of your home?  The good news is that with the Concept2 SkiErg you can!
A super-efficient machine that simulates skiing, it offers low-impact total-body workouts that will quickly improve your cardiovascular fitness, endurance, strength, and muscle tone.  Along with being extremely effective, workouts are safe and enjoyable, and they burn a ton of calories.
The manufacturer, Concept2, is renowned for its top-quality gold standard indoor rowing ergometers, which simulate outdoor rowing.  The replication is so close to the real thing that many professional rowers use the machines to train.
The company has applied the same technology to the SkiErg.  In doing so, they created a machine which provides an upper body workout similar to that of "poling", and a rigorous lower body workout.  The more effort you put in, and the faster you move, the more intense your session will be.
The device can be attached to a wall, or used on a stand or on the floor.  You can also buy a PM5 ( performance monitor) that will allow you to track your sessions and more.  It is also compatible with most Chest Strap HR Monitors.
Keep reading for more information.
Whom will it suit?
Anyone of any age and ability who wants a challenging low-impact workout to improve their fitness, strength, and endurance will benefit from using the SkiErg.
With the machine's primary focus being the upper body and core, workouts are very gentle on the hips, the knees, and the ankles.  If desired, you can isolate movement to your upper body only.  This makes the device ideal if you are rehabilitating from a leg injury.  You can even use the SkiErg while seated.
The SkiErg is also an excellent tool for adaptive athletes and Nordic skiers who want to practice their technique and keep in shape during the off-season.
Which muscles does it target?
The SkiErg provides a total body workout.  The primary muscles targeted are the triceps, the biceps, and the core.  The quads and the glutes are also targeted, though not to the same extent.
What's in the box?
When you buy a SkiErg, you will also receive wall mounting hardware, assembly tools, and an illustrated assembly guide.
If you buy the Concept2 SkiErg with PM5 and Floor Stand, along with the above components, you will get a Quick Start guide for the monitor, plus assembly instructions for the Floor Stand.

Concept2 SkiErg Specs
Wall-mounted – When attached to a wall the device measures 19″ wide across the bottom, and 20.5″ wide at the top.  It has a 16″ depth, and it is 85″ high.
Mounted on floor stand – When mounted on the floor stand, the SkiErg measures 24″ x 52″ x 85″
Base – The base measures 24″ x 52″
Machine weight – It weighs 46 lbs
Floor stand weight – The floor stand weighs 35 lbs
User weight – There is no user weight limit
Batteries – 2 x D batteries (included) are required for the monitor

SkiErg video review
Product Overview
The Concept2 SkiErg is a Y-shaped free-standing machine that takes up minimal space when attached to a wall.  If you have a rental property so don't want to attach it to a wall, or you don't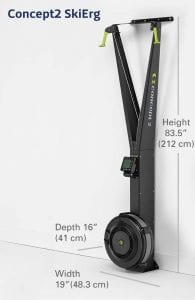 have enough wall space, it can be set up on the floor.  The stand can also be used by people who use wheelchairs.
The machine has a resilient powder-coated aluminum construction.  Using a flywheel and a damper for resistance, it incorporates a dual-pulley system. Workouts involve rhythmically pulling down on one or both cords to turn the machine's flywheel.
The cords are lightweight, strong, and durable.  They have handles which are sweat-resistant, secure, and comfortable to grip.  If you want to work with higher resistance, you can do so by adjusting the damper to decrease the flywheel's airflow.
The SkiErg has four different modes.  These are Single Poling, Double Poling, Standing, and Sitting.  When using the machine while standing, bending your knees into a squatting position will work your lower body.  The lower your squat, and the more effort and speed you use, the more challenging your session will be.
If you would prefer that the machine was portable, or it's not convenient to attach it to a wall, you can buy a floor stand.  Made of steel and laminated wood, the stand is stable and durable.  Transport wheels allow easy relocation of the unit if desired.
If you are serious about your training, you will love the Concept2 SkiErg with PM5.  The PM5 is a backlit state-of-the-art monitoring system that automatically powers on and relays your workout metrics when you begin to use the machine.
Operated using batteries which recharge as the flywheel spins during workouts, the monitor gives access to preset programs and enables you to save your preferred workouts.
You can view your Distance, Pace, Speed, Watts, and Calories Burned.  There are five display options to choose from, including All Data, Force Curve, Bar Chart, Large Print, and Paceboat.  At the end of your sessions, you can view a detailed breakdown.  This information lets you track your performance and set fitness goals.
You can race and compete against other users of the machine, near and far, through wired machine-to-machine racing.  There's also the option to play games including Darts, Fish, Target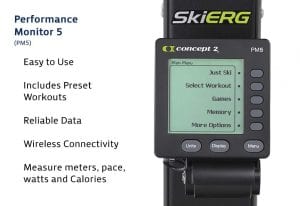 Training, and Biathlon.
The SkiErg PM5 supports Bluetooth and ANT, enabling you to connect to wireless devices such as fitness and smartphone apps, or a heart rate monitor.
It can also be used with the manufacturer's IOS and Adroid compatible ErgData app.  The app will enable you to sync to an online Log Book to save your workout stats.  Setting up the log takes approximately two minutes.
Alternatively, you can save your stats to the monitor's internal memory.  Or, if you'd prefer a portable option, you can use a USB flash drive.  When used in conjunction with Concept 2's free Utility Software, your data can be saved to the Cloud or transferred to an electronic device.  (Compatible with FAT and FAT32 USB formats.)
The PM5 also supports wireless heart rate monitoring via a chest belt.
Assembling the machine is a straightforward process that one person can complete in less than an hour.  Having a second person to help will make the procedure faster.  Tools required for the job are included, but having a set of wrenches on hand will make the job easier.
The SkiErg comes with a Limited 2-year warranty for moving parts and the PM5, and a 5-year warranty for the frame.
Final Thoughts on the Concept2 SkiErg
Whether you're looking for a way to tone and strengthen your core and upper body or get a total body workout, the Concept2 SkiErg can help.  It's not the cheapest fitness aid, but it's far from the most expensive, and it flat out works!
While you can get an excellent workout without the Performance Monitor, this will allow you to set new goals as you become fitter.  It is also a great motivational tool that can help you to achieve your best possible result.  For this alone, it is worth buying.
To read reviews of other top-rated cardio equipment, click this link.
To find out more about the Concept 2 SkiErg with PM5 and Floor Stand on Amazon, click this link