This post may contain affiliate links. If you click a link and buy something, I may receive a small commission at no extra cost to you.
The Conquer Vertical Climber is a budget-friendly, simple-to-use vertical climber exercise machine.  Delivering aerobic and anaerobic benefits, it provides a high-intensity, low-impact total body workout.
Short workouts done regularly will bring results, including improved muscle tone and a reduction of body fat.  If you have a lot of weight to lose, do longer workouts to burn more calories.
A solid and durable A-frame construction provides safe, stable workouts.  Adjustable handlebars can be raised or lowered to accommodate users of different heights.
If you are short on space, the device can be folded to store, then rolled out again the next time you want to use it.
Keep reading to find out more about this vertical climber, including its specs, key features, pros, and cons.
Conquer Vertical Climber Specs
Dimensions – The Conquer Vertical Climber Fitness Climbing Machine is approximately 52 inches long and 84 inches tall when extended to its highest position.  This includes its movable handles, one of which will always be above head height when you are using it.  The climber measures approximately 37 inches across when assembled and 20 inches across when folded.
Weight – It weighs 29 lbs.
User Height – This vertical climber can be used by people between the heights of 5 feet and 6 1/2 feet tall.  The taller you are, the more ceiling clearance you will need.
User weight – It has an upper user weight limit of 275 pounds.
Who Can Use the Conquer Vertical Climber?
Just about anyone who wants to improve their fitness can use a Conquer Vertical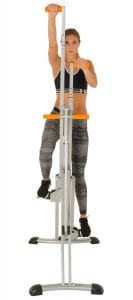 Climbing Machine.  Providing low-impact workouts, the user determines the intensity by the amount of effort they put in.  This makes it suitable, even for people who are new to exercise.
What Muscles Does the Conquer Vertical Climber Work?
Workouts target the muscles of the lower body, including the glutes, quads, and hamstrings.  Your arms and shoulders will also be worked and, to a lesser extent, your abs and core.  To exercise your lower body only, grip the static handlebars instead of the movable ones.
Is the Resistance Adjustable?
The Conquer Vertical Climber does not have adjustable resistance.  When using the device, resistance is created by the exerciser lifting their body weight up and down.  This movement closely mimics that of rock climbing.  For a tougher workout, take deeper steps and increase your pace.
What Height Ceiling Will I need?
A standard 8-foot ceiling is more than adequate to be able to work out on the Conquer Vertical Climber Exercise Machine.

Conquer Vertical Climbing Machine Video Demo
Conquer Vertical Climber Key Features
A stat counter enables you to see how long you've been working out and how many calories you've
burned.
Ergonomic dual handlebars 
Dual handlebar sets include one that moves and one that is static.  By adjusting the height of the movable arms to suit, the climber can be used by short or tall people and everyone in between.  Using the static handlebars, you can exercise just your legs and lower body.
The machine's footpads are roomy and comfortable.  They have a textured rubber finish that is slip-resistant.
This model folds flat enough to fit into a closet or under most beds, for storage.  This makes it a great option for anyone who wants to undertake effective workouts at home, in limited space. 

Pros
Affordable
Very reasonably priced, the Conquer Vertical Climber Fitness Climbing Machine will be in most people's budget.
Generous user weight capacity 
Accommodating up to 275 pounds, the Conquer Vertical Climbing Machine has a higher user weight capacity than most other budget-priced exercise machines of its type.
Effective, low-impact workout
This fitness aid combines muscle toning with aerobic exercise that is easy on the joints.
This vertical climbing machine has a sturdy steel frame that can withstand long-term regular use.
Four rubber, non-slip foot pads ensures stable workouts that are free of unwanted movement.  The machine's feet will protect your floor from scratches and wear marks.
The Conquer Vertical Climber is quiet to use, so it won't disturb anyone else in your household.
The machine will arrive 90% assembled.  Completing the assembly is quick and easy, taking most people around 10 minutes or less.
Cons
The resistance of the Conquer Vertical Climber Exercise Machine isn't adjustable.  To increase the difficulty of your workout, you will need to take deeper steps and/or increase your pace.
No eating plan or workout CD 
The Conquer Vertical Climber doesn't come with an eating plan or workout CD.
The warranty for this model covers just 60 days against defects in materials and workmanship.
Conquer Vertical Climber Purchaser Opinions
Feedback for the Conquer Vertical Climber is, in the main, very good.
Most purchasers are happy with the machine's performance and stability.  Its small footprint and low price-point have been praised.
Numerous reviewers said that the workouts are tougher than they'd expected and that they'd gotten great results.
A small percentage of reviewers rated the original version way down due to the nylon pulley and plastic covered metal cable on their machine fraying.  This issue has been addressed in a recent upgrade, with the system being replaced by a cable similar to that on a bicycle.
Some purchasers who found the assembly instructions inadequate left negative feedback.  Others were unhappy the machine didn't fold to smaller dimensions.
Some people received machines with damaged parts or parts that did not fit, and a few found the Conquer Vertical Climber uncomfortable to use.
A handful of people complained of hearing the sound of metal grinding against metal and paint shearing off.  A few also complained of a nasty odor emanating from their vertical climber's handlebar covering.
Conquer Vertical Climber Summary
I don't own a Conquer Vertical Climber, nor have I ever used one.  I do, however, own and use a similar fitness tool, the Maxi Climber Vertical Climber, and I love it.  (Click the previous link to read a review.)
With a good vertical climber exercise machine, short workouts undertaken regularly make a big difference.  Since using my Maxi Climber, my thighs and buttocks look and feel a lot firmer.  I consider it to be excellent value for money and a worthwhile addition to my fitness regimen.