This post may contain affiliate links. If you click a link and buy something, I may receive a small commission at no extra cost to you.
Zumba Toning Sticks can increase the benefits of a Zumba workout, resulting in improved strength and muscle tone and a calorie burn beyond that of Zumba workouts done without toning sticks.
Suitable for people of any fitness level, toning sticks also increase aerobic capacity.  And, they add even more fun to Zumba workouts, by allowing you to give your moves individual style and flair.
Available in weights of between 1 and 2 1/2 pounds, toning sticks' soft finish makes them comfortable to hold.  Filled with sand, this flows in the direction of the exerciser's arm movements, reducing impact and preventing jarring when changing direction.
Toning sticks are light, so they do not restrict Zumba moves.  In fact, their composition gives them a fluid movement, enabling you to shake and rattle them rapidly.  And, since timing and coordination are needed to keep them moving in time with the music, your brain gets a workout, along with your body!
14-Minute Workout Incorporating Toning Sticks
Can I use Regular Free-Weights Instead of Zumba Toning Sticks?
Quite similar in appearance, you maybe be wondering if there's a difference between Zumba Toning Sticks and free-weights.
Free-weights usually have a solid metal core, which makes them harder to hold than Zumba sticks.  They lack a centrifugal force, so they should not be shaken.  If you want to try using them during Zumba workouts, don't work with anything heavier than 3 pounds.  Heavier weights will, at the very least, slow you down.  They could even result in you injuring yourself.  For this reason, during class, Zumba instructors will only allow their students to perform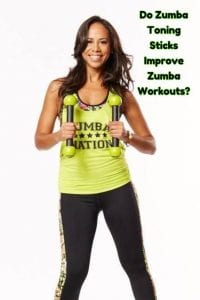 basic lifting movements with free-weights.
While toning sticks have valuable benefits, being light, they do not provide the benefits of overload that dumbbells do.  With their weight varying little, toning sticks do not deliver "muscle confusion," either.  This means that while regular use of Zumba sticks will enable you to improve the muscle definition of your arms, shoulders and upper back, they will not allow you to build muscle to the extent you can when lifting free-weights.
To obtain maximum muscle-sculpting, traditional free-weights work on the principle of overload.  The weight you use should be heavy enough that the last rep is difficult to do while maintaining form.  Similarly, when using lighter weights and doing more reps, completing the last one should be a challenge.
To prevent injury, when using traditional weights your movements should be slow, and proper body alignment should be observed.  For example, you should work with tucked hips and slightly bent knees.  This being the case, it is not possible to build as much muscle using toning sticks as you can when using heavier free-weights.
Zumba Toning Sticks Summary
There's no doubt that toning sticks can increase the benefits of Zumba by delivering a better cardio workout and burning more calories.  They are also a lot of fun to use, and they can add considerably to the challenge of workouts.
If you are just starting out with Zumba, I recommend you familiarize yourself with the moves before introducing toning sticks.  This will allow you to get up to speed and build some strength and cardiovascular fitness, without the extra challenge of doing so while working with Zumba sticks.
When you are ready to add Zumba toning sticks to your workouts, if you don't have a lot of upper body strength, it's best to start with the lowest weight and progress from there when you can.