This post may contain affiliate links. If you click a link and buy something, I may receive a small commission at no extra cost to you.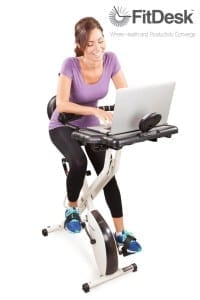 If you've been feeling guilty because you know you should exercise more, but you just can't seem to find the time, the FitDesk 2.0 Exercise Bike could be the answer to your dilemma.
A combination desk/exercise bike, it is ideal if you have a desk job or spend a lot of time on a computer, as it will allow you to exercise while working, answering the phone, gaming, or surfing the net.
Skeptical as to whether you will be able to type or use a mouse while cycling?  I must admit I was too until I tried it.  It did take a bit of getting used to, but not as much as I'd anticipated.
The potential for a very intense workout surprised me too.  Engage one of the higher resistance levels, pedal quickly, and you will soon be puffing and sweating.
In this FitDesk 2.0 review, we will look at the machine's specs, key features, pros, and cons.  We will also discuss what purchasers are saying about it.
Who will the FitDesk v2.0 Suit?
Fit people usually look better, feel better and enjoy better health than those with a sedentary lifestyle.  We know this, but the reality is that for many, work and family commitments leave little time for exercise.
With a fitness aid such as the FitDesk 2.0 in your home or office, you can get in some exercise while working on your computer or pedal away while playing a video game or watching a movie.  This makes it an excellent buy for busy people who like to multi-task.
This model will also suit anyone with limited space.  Being compact, the FitDesk 2.0 Exercise Bike will fit into most apartments, homes or offices.  When you've finished using it, you can fold it to store, if desired.  One of the most inexpensive pieces of exercise equipment of its type, it is also one of the most popular with purchasers, so be sure to check it out if you're on a budget.
FitDesk 2.0 Exercise Bike Specs
Dimensions – The FitDesk 2.0 measures 45″ x 28″ x 16″.
Desktop dimensions – The desktop measures 18″ x 14″.
Weight – It weighs 45 lbs.
User height – The FitDesk Exercise Bike can accommodate users from 4′ 10″ to over 6′ tall.
User weight – The recommended upper user weight for this model is 300 pounds.
FitDesk 2.0 Exercise Bike Key Features

The desktop of the FitDesk 2.0 is the perfect size to hold a laptop or magazine.  It has a non-slip surface, and a strap
for securing your laptop.  There's also a small drawer that is suitable for holding a cell phone, stationery and the like.
Attaching an extender to the desktop will double its width.  Slip-resistant, it has a cup holder, and it comes with a mousepad.  Click here to buy the extender on Amazon
Adjustable Seat & Backrest 
The FitDesk Exercise Bike is adjustable to a position that is the most comfortable for you, including an upright or semi-recumbent position.
The FitDesk v2.0 Exercise Bike has 8 levels of magnetic resistance, any of which are accessible at the turn a knob.
An easy to view and read digital resistance meter located on the back of the desk tracks mileage, calories burned and time spent pedaling.
The FitDesk folds upwards for more compact storage.
A resistance band with handles is included with your purchase of the FitDesk 2.0.  It can be used to exercise your arms and upper body when you're not doing hands-on work.
An adjustable armrest houses contoured padded massage rollers that are useful for relieving forearm stress during long typing sessions.
FitDesk 2.0 Video Overview 
FitDesk 2.0 Exercise Bike Pros
While quite lightweight, the FitDesk 2.0 has a solid feel.  Its durable powder-coated steel frame and aluminum and steel gearbox components should provide security and years of reliable operation.
A well-balanced flywheel, twin belts, and precision sealed bearings, ensure smooth pedaling that won't impede your online activities.
The high-velocity flywheel also guarantees whisper-quiet performance, so people in your vicinity will not be distracted when you pedal.
Assembling the FitDesk 2.0 Desk Exercise Bike with Massage Bar takes most people between 30 minutes and an hour.  The required tools – a screwdriver and a wrench – are included.
The FitDesk comes with a 1-year warranty for parts and labor.

FitDesk 2.0 Cons
The bike's saddle will probably feel very uncomfortable at first.  This is a prevalent issue with bikes, regardless of the brand or model.  Using a bicycle seat cover will help.  One that works well with the FitDesk 2.0 is the Sheepskin Bicycle Seat Cover Cruiser USA MADE Wiltjer.
Another alternative is to place a cushion on the seat or wear padded bicycle shorts.  Whichever you choose to do, be assured you will soon adapt and be able to use the seat without feeling discomfort.
If you want to replace the seat with another one, there's the option of buying a Fitdesk Saddle Adapter Universal Exercise Bike Seat.  Suitable for models FDX 2.0 and FDX 3.0, it allows you to swap out to any saddle with rails. (You will also need a standard bike saddle clamp.)
Made of solid steel, the adapter is very durable.  It weighs 1 1/2 lbs.  When in use, the post will add 3 1/2″ inches of height, making it ideal if you have long legs.  Shorter users who need a lower position can shorten the posts.
What Customers are Saying about the FitDesk v2.0
With feedback from well over 1,000 purchasers of the FitDesk 2.0 currently published online, it's evident that this simple but ingenious fitness aid has made a very positive impact.
Numerous purchasers have said they've lost weight using the FitDesk regularly, without making changes to their diet.  Many have stated that they are now fitter and have better muscle tone.  The vast majority of purchasers regard it as being excellent value for money.
Most purchasers have said that the instructions for setting up the FitDesk 2.0 are easy to understand and the assembly process is quick and straightforward.  They've also commented on how easy it is to fold, then wheel away to store.
Numerous buyers have commented on the machine's stability and how quiet and smooth it is to use.  Some reviewers have said they appreciate the addition of the exercise bands, which are useful for upper body toning.  The grip of the desk's surface has received praise, as has its ability to slide back and forth to accommodate people of various heights.
The seat's comfort has received mixed feedback.  Some customers stated that they found it comfortable from their first use.  Others said that they initially found it uncomfortable but that they adapted over time.  A gel seat cover or a cushion or folded towel placed on the seat will make your workouts more comfortable right away.
A number of reviewers said that the included tools for assembling the FitDesk 2.0 are not of high quality.  While they do the job, most people find it easier to use their own screwdriver and wrench.
Final Thoughts on the FitDesk
It's ironic that even with all of the time-saving devices that are available these days, many of us feel we have "no time"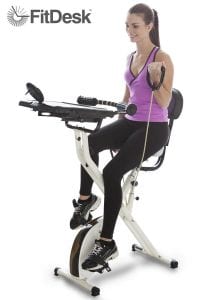 for ourselves.  Work and life can keep us very busy, with our resolution to regularly exercise getting put on the backburner.  The FitDesk 2.0 offers the ultimate solution to this perennial problem, enabling us as it does to work – or play – and exercise at the same time.
If you already use a regular stationary bike, this fitness aid is probably not for you.  On the other hand, if you lead a sedentary lifestyle and would like to be more physically active, regular use of the FitDesk 2.0 will enable you to improve your health, lose weight, and get fit while seated at your desk.
Prefer a treadmill desk?  Click this link to find out about the TrekDesk Treadmill Desk