This post may contain affiliate links. If you click a link and buy something, I may receive a small commission at no extra cost to you.
This article looks at the Satiating Diet Plan.  Included is an overview, so you know what to expect.
We will also look at its pros and cons and the reasons it works well.  And I will  include a typical Satiating Diet meal plan and a Satiating Diet foods list.
With new diets coming out all the time, it's difficult to know which one will work for you.
If you've tried to lose weight before and failed, you may feel defeated before you even start.  But it may not be your fault.
Some diets are unrealistic and virtually impossible to stick to long-term, no matter how much willpower you have.
These fad diets may help you to drop a few pounds rapidly, but you will regain the weight just as quickly as soon as you stop following the diet.
The most reliable way to lose weight and keep it off is to choose satisfying foods that provide the right nutritional balance, eat smaller portions, and exercise regularly.  This approach works, and it is the basis of the Satiating Diet Plan.
Satiating Diet Plan Overview
Satiety means "a feeling of satisfaction and fullness", and, the Satiation Diet lives up to its name.  With its focus on nutritious foods that keep you feeling full between meals, another benefit of this plan is that it boosts the metabolism for easier weight loss.
A 2017 Cambridge University study looked at the success of 69 obese male dieters.  Thirty-four of the men followed the Satiating Diet for 16 weeks, including a 20% to 25% protein component each day.  The other thirty-five followed a standard healthy diet with 10% to 15% protein, as recommended by the Canadian National Guidelines for healthy eating.
Those following the Satiating Diet Plan lost considerably more weight and lowered their body fat to a higher degree than those on the standard diet.  They also claimed to feel fuller for longer. This is not surprising, considering the diet's balanced approach, which does not involve eliminating entire food groups as some diets do.  As a result, only 8.6 percent of those on the Satiating Diet Plan quit before the trial was over, while 44.1 percent of the men following the other diet broke it.
The Satiating Diet incorporates aspects of the Mediterranean diet and the Ketogenic diet, but with more flexibility and fewer restrictions.  Along with promoting weight loss and a reduction in body fat, the diet will help to lower your blood sugar level and control your blood pressure.
What foods are allowed?
The focus of the Satiating Diet Plan is nutritious and satisfying foods.  These include lean proteins such as fish, dairy products like yogurt, vegetables, fruits, whole grains, and moderate amounts of healthy fats, including olive oil.  The hot pepper compound capsaicin also features.
The Satiation Diet Plan and the Mediterranean Diet both recommend that approximately 30 to 35 percent of your daily calories come from fat.  However, the Satiation Diet allows slightly more lean protein and slightly fewer carbs.
While the Keto diet advocates a generous fat allotment, carbs are limited to around 5% of the daily calorie allowance.  This restricts the amount of fruit and vegetables you can eat.
When following the Satiating Diet around 20 to 25 percent of your food will come from protein, and as mentioned above, 30 to 35 percent will come from healthy fats – saturated, trans, and hydrogenated fats should be limited.  And 45 to 50 percent of your calories will feature carbohydrates.  You should also eat a minimum of 25 grams of fiber per day.
Click here to read an article on the truth about carbs and weight loss.
Why this approach works well
The eating plan's balanced approach and combination of foods make it easy to adhere to the diet over the long haul without feeling starved and without endangering your health.
Instead of stipulating when and how many calories you should eat, the Satiating Diet advises that you pay attention to what your body craves and listen to its hunger cues.  This does not mean you can fill up on candy, French fries, and junk food, but it gives you the freedom to choose from an array of tasty and wholesome meals.
Instead, you will have the freedom to choose nutritious foods that work well for you, and won't leave you craving junk.
These principles are far from new.  However, recent scientific research has confirmed that the Satiation Diet Plan and those with a similar format are highly effective for weight loss.
Next, we will look at a typical day on the Satiating Diet Meal Plan.
Satiating Diet Meal Plan
The following foods should be eaten daily while following the Satiating Diet Plan: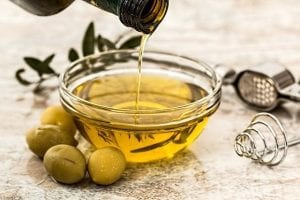 Four servings of any whole vegetables.
Four servings of fresh fruit.
Five servings of any whole grains/high fiber food containing at least 4 grams of fiber.
Four servings of any lean protein, such as meat, poultry, or fish – this should be four ounces, and it can be broken up into several snacks.
Eat one or more snacks per day.
One meal per week should be based around legumes such as lentils, beans, of dried peas.
Include a moderate quantity of mono and polyunsaturated fats.
Include capsaicin-containing foods, including red and hot peppers regularly.
Next, we will look at a typical Satiating Diet foods list.
Satiating Diet foods list
Here are ten foods you can eat when following the diet.
Broth-based vegetable soups containing fiber-rich vegetables are low in calories and filling.
Studies have found that eating soup before a meal can cut calorie intake by as much as 20 percent.   Any broth-based soup will work, with chunkier soups found to be the most satisfying.
Salads contain a lot of bulk per calorie, so it can be satisfying without packing on calories.
The Journal Appetite published a finding in 2012 asserting that eating a salad together with pasta can reduce calorie intake by as much as 11 percent.  Furthermore, the article stated that having a salad as an appetizer or as a part of your meal can increase your vegetable intake by as much as 23 percent.
While this comes with many health benefits, it's important to keep an eye on the amount and type of dressing you put on your salad to avoid negating the benefits and adding unwanted calories.  Avoid adding bacon, croutons, cheese, and other salad toppings.
Lean protein such as meat, poultry, and fish is an integral part of the Satiating Diet.  Fish, in particular, is recommended as it has fewer calories than most other red or white meats and less fat.
One 4-oz serving of white fish contains approximately 20 grams of protein and just 90 calories.  A 4-oz portion of turkey meat provides 19.36 g of protein and around 118 calories.
One 4-oz serving of skinless chicken breast contains 31 grams of protein and around 130 calories.  A 4-oz serving of broiled pork tenderloin has 31.6 g of protein and approximately 185 calories.
One 4-oz serving of Grilled beef steak contains about 26.6 g of protein and around 176 calories.  The same amount of grilled lamb chop provides 29.2 g of protein and 213 calories.
Hot peppers are an important part of the Satiating Diet Plan because they contain a compound called capsaicin which,
according to this article published in the International Journal of Obesity in August 2016 control appetite and speed up fat loss.  The evidence for this isn't conclusive, but if you love hot food, it's another reason to include more spice in your life.    
A one half-cup serving of white beans provides 6 g of fiber, 8 g of protein, and just 110 calories.
A review of 21 trials published in the May 2016 issue of The American Journal of Clinical Nutrition concluded that dieters should eat one serving of pulses such as beans, dried peas, or lentils daily.  It was found that people who do this lose almost one pound more in a six-week period compared with those following other diets.
For years we were told that carbs, and bread, in particular, are a big no-no if we want to lose weight or maintain it.  This is primarily due to the Keto and similar diets.
The reality is that to be healthy; we need carbs.  Along with fruits and vegetables, whole grain bread is a nutritious source that contains another essential macronutrient, that being fiber.
Whole grain should not be confused with wheat bread.  A slice of 100 percent whole grain or whole wheat bread typically provides around 3 grams of fiber.  Wheat bread, on the other hand, is highly refined, and it offers approximately 1.2 grams of fiber per slice.  Along with containing a lower level of fiber, it usually also contains lower levels of vitamins and minerals.
The results of a randomized, double-blind, placebo-controlled 12-week study published in the September 2018 issue of Plant Foods for Human Nutrition revealed that Japanese adults who ate whole wheat bread daily for 12 weeks reduced their waistlines by more than 1 1/2″ compared with other participants who consumed the same quantity of refined wheat bread.
Whole oats, such as steel-cut oats, with their high level of fiber, are generally a healthier option than instant oats.  However, if you only have time to microwave instant oats, these are also beneficial and they will reduce your hunger to a greater degree than cold oat cereals.  (You can read more about this in this study published in the Journal of the American College of Nutrition.)
Oats are rich in beta-glucan, a type of sugar that gives oatmeal its thick and gooey texture that leaves us feeling full.  For the healthiest option, choose a variety that does not contain added sugar.
Apples are rich in fiber and low in calories.  According to the USDA (U.S. Dept. of Agriculture), an
average- sized apple contains around 100 calories and 4g of fiber.
One study found that participants who followed a healthy diet that include three pears or apples daily dropped 2 pounds over ten weeks.
Egg whites are recommended in unlimited amounts along with 3 to 4 egg yolks per week.  One large egg white contains close to 4 grams of protein.
The reason for limiting egg yolks is due to the American Heart Association's recommendation that we restrict how many we eat as they contain saturated fat, which can increase cholesterol levels.
Yogurt provides, among various other nutrients, proteins, and active and live bacteria that encourage the growth of other good bacteria.  Studies have shown that a healthy gut can regulate the appetite of the obese.
Pros
The Satiation Diet gives you more control over what to eat compared to many other diets
Most people report feeling satisfied after eating and full until their next meal
You won't have to count calories
Reduced food cravings make it easier to stick to the diet
The foods are affordable and accessible for most people
The menu is sustainable for extended periods
Few foods are off-limits
It is safe for most individuals
It consists of familiar foods you will probably already be comfortable eating
Cons
No calorie allocation is given
People who prefer a structured plan may not be happy following the Satiating Diet Plan
Final Thoughts on the Satiating Diet Plan
The Satiating Diet is an excellent option if you want to improve your health and shed your excess pounds without feeling hungry.  It is a realistic dietary pathway because it is easy to incorporate with no weird or hard to source foods required.
Those who need to follow a clearly defined eating plan may find the diet challenging.  However, this is more than made up for, in my opinion, as you won't need to measure or weigh your food or count calories.
The best way to get started is to begin basing your meals around lean proteins, whole grains, fruits, vegetables, and healthy fats.  The best proteins for this diet are lean meats, turkey, chicken, pork, and fish.  White fish is good, as is fatty fish such as mackerel, tuna, and salmon.
Good whole grain sources include oats, brown rice, quinoa, and farro.  Making these a part of every meal will help to stabilize your blood pressure.  Good fats include extra virgin olive oil, avocados, and nut butter of any kind.
To read 10 Safe and Healthy Weight Loss Tips, click here.
If the Satiating Diet Plan isn't for you, click here to read reviews of other popular diets.