This post may contain affiliate links. If you click a link and buy something, I may receive a small commission at no extra cost to you.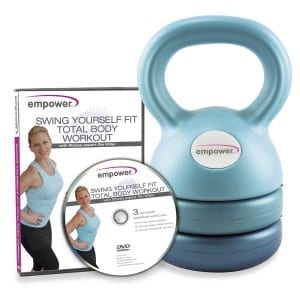 Designed for women, the Empower 3 in 1 Kettlebell is a compact, value-for-money strength training and fitness aid that can be loaded with 5, 8, or 12 pounds of weight.  A patented click and twist system makes attaching and removing the weights a fast and simple process.
The kit comes with 3 workouts.  One is cardio-based, one focuses on the arms and upper body, the other on the legs and lower body.
Each starts with a 7-minute Warm-Up and ends with a Cool-Down.  Fun to do, the workouts will burn fat and calories and whip you into shape fast!
Sand-filled, the kettlebell's soft-to-the-touch plastic shell is gentle on the hands and fingernails, as is its wide-grip handle.  The latter enables smooth, controlled movement with a lower risk of injury occurring.
In this Empower 3 in 1 Kettlebell review, we will look at its features, positives, and negatives.  We will also look at its extra inclusions and purchaser opinions.
Whom does it suit?
The kit best suits those just starting with kettlebells.  It is also ideal for anyone who doesn't have the budget or room to accommodate individual kettlebells.
Empower 3 in 1 Kettlebell Overview & Inclusions
Pale teal in color, the Empower 3 in 1 Kettlebell measures approximately 6″ by 10 1/2″ by 11 1/2″. 

It is manufactured by Fitness EM, a company specializing in quality fitness products for women.  Designed to enable you to transition from one weight to another and get a total body workout using a single kettlebell, changing the weight takes a few seconds.
The "core" kettlebell weighs 5 lbs.  The other weights are 3 pounds and 4 pounds, giving a total of 12 pounds.  Use the one suited to your current fitness level, adding extra weight when your strength improves.
You can also use different weights to exercise different muscles groups.
Included is a 53 minute DVD hosted by fitness trainer Gin Miller, whom you may know from Step Reebok.  Entitled Swing Yourself Fit, divided into 6 segments, plus an introduction, it contains 3 workouts.
Workout 1, Swing Yourself Slender, is an 11-minute long cardio segment that uses the 8-pound weight.
Swing Yourself Strong, workout 2, is a 12-minute upper body and core workout that uses the 5-pound weight.
Workout 3, Swing Yourself Sexy, is a 14-minute lower body workout that uses the 12-pound weight.
Depending on your fitness level and free time, you can do one, two, or all three of the workouts.
Click this link to buy the Swing Yourself Fit DVD (without the kettlebell) on Amazon
Also included with the Empower 3 in 1 Kettlebell with DVD is an illustrated workout guide.  Exercises depicted include Double Arm Swings, Infinities, Bicep Curls with Heel Lifts, and Single Leg Dead Lifts.  There's also Alternating One Arm Swings, Plie Squats to Upright Rows, and Rows to Tricep Kickbacks.
A second guide demonstrates Arm Rows, Stiff-Leg Dead Lifts, Weighted Pullovers, Single-Arm Bicep Curls, Sumo Squats, Arm Chest Presses, Calf Raises, Backward Lunges, and Tricep Extensions.  Other exercises include Kettlebell Throws, Body Circles, Hip Hinges, lunges and Rows, Bowling Ball Lunges, and Angel Squats. 

Swing Yourself Fit with Gin Miller
Purchaser opinions of the Empower 3 in 1 Kettlebell
The Empower 3 in 1 Kettlebell with DVD has awesome feedback from buyers who have left reviews
on online fitness sites.
The vast majority of reviewers said that they were very happy with the quality of the kettlebell.
Its comfortable feel and the ease of changing the weights also received praise.
However, a few buyers said that they initially found changing the weight to be a bit fiddly.
Many reviewers said that the workouts are fun and effective.  Some people have reported considerable weight loss since undertaking the program.
Numerous reviewers said that they find the trainer, Gin Miller, to be personable.  They also like that she is a little older than the instructors on most fitness DVDs, as it makes her more "real."
A few reviewers said they would have liked the option of working with a heavier weight.  A few weren't overly keen on the workouts.
A couple of purchasers stated that the kettlebell's shape seems to change when weight is added or removed, making it feel off-balance.  One woman said she had to grip the bell tightly to compensate and that this required wrist strength.
The other reviewer expressed concern that the change in the feel of the kettlebell would negatively impact her form.
Empower 3 in 1 Kettlebell Summary
If you've been thinking of trying kettlebells, but a limited budget, restricted workout space, or not knowing what weight to start with has put you off, the Empower 3 in 1 Kettlebell solves all three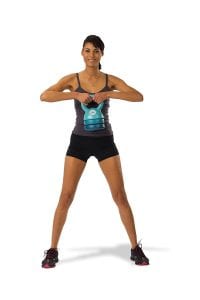 problems.
Very reasonably priced, with the Empower Kettlebell you will essentially be getting three weights that take up the same amount of space as one regular kettlebell.
If you decide to take things to the next level, you will need to buy additional kettlebells as you progress and become stronger.
However, if you plan on making kettlebell training just one part of a more varied exercise program, the Empower 3 in 1 Kettlebell could be all you will need to take care of your strength workouts.
Either way, it's an inexpensive way to test the waters and decide whether or not kettlebells are for you.
Click this link for information on kettlebells and their benefits