This post may contain affiliate links. If you click a link and buy something, I may receive a small commission at no extra cost to you.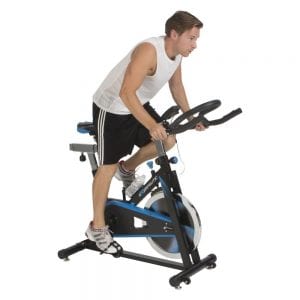 The Exerpeutic LX7 Indoor Cycle Trainer with Computer Monitor and Heart Pulse Sensors proves that you don't need to spend a lot of money to get an effective cardio workout.
Providing access to workouts similar to those you would get on a road bike, this model comes with a fully adjustable seat and three handle height options to cater to cyclists of varying heights.
This, combined with an upper user weight limit that is higher than many similar offerings in its price category, makes the Exerpeutic LX7 accessible to most people.
Robust, stylish, and powerful, the bike's solid metal and steel construction ensures smooth, quiet workouts.
An onboard computer and electronic heart rate monitoring ability makes it easy to monitor your workouts and exercise in your optimum training zone.
In this Exerpeutic LX7 review, we will look at its specs, key features, and benefits.  We will also look at buyer feedback to help you decide if it will suit your requirements.
Exerpeutic LX7 Training Cycle Specs
Dimensions – The Exerpeutic LX7 Training Cycle measures 49″ (H) x 20″ (W) x 47″ (L)
Weight – It weighs 90lbs
User Height & Weight – This model is designed for cyclists between 5'2″ and 6'2″ tall weighing no more than 300 pounds.  Some shorter and taller people claim to use it without a problem.
Color – This model comes in black with a bright blue trim.
Exerpeutic LX7 Indoor Cycle Trainer Key Features & Benefits
The Exerpeutic LX7 Indoor Cycle Trainer with Computer Monitor and Heart Pulse Sensors has a 40-pound iron, chrome-rimmed flywheel that provides consistently smooth pedaling.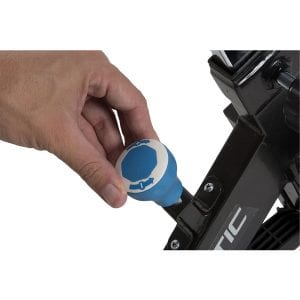 A robust 3-piece crank system with chain drive provides a road bike feel.
Turning the tension knob will enable you to increase the intensity of your workouts.
The bike can be pedaled backward as well as forward.
Use this model standing up to increase the challenge of workouts and simulate uphill cycling.
The emergency brake can be applied if you need to quickly alight from the bike.
An easy-to-read screen shows useful workouts stats including Distance Traveled, Calories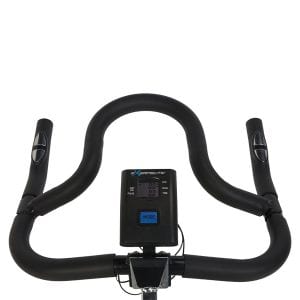 Burned, Time, and Speed.  It also displays and broadcasts your working heart rate.
The seat of the Exerpeutic LX7 can be quickly adjusted vertically and horizontally to suit the cyclist's height and comfort.
Soft foam covered handlebars adjust upward and downward to three different positions, catering to people with a longer or shorter arm reach.
Toe cages will hold your feet securely in position, allowing you to pedal harder and faster without fear of your feet slipping.
Integrated floor stabilizers will enable you to level the bike if your workout surface is uneven.easy relocation of the bike if required.
A conveniently located water bottle holder provides access to a drink during workouts.
The bike arrives approximately 80% assembled.  Completing the set up takes most people between 30 and 45 minutes.
The Exerpeutic LX7 Indoor Cycle Trainer comes with a 1-year frame warranty and a 90-day parts warranty.

Exerpeutic LX7 Indoor Cycle Buyer Feedback
The Exerpeutic LX7 Indoor Cycle has overwhelmingly positive buyer feedback, with most considering it to be excellent value.  Some purchasers have stated that the bike has exceeded their expectations.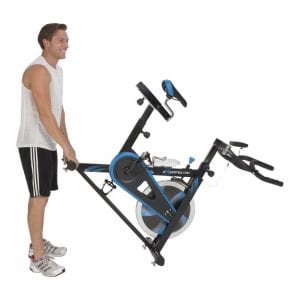 Customers have praised the bike's smooth performance and how quiet it is during use.
Numerous buyers have commented on how robust and dependable it is, saying that it can easily cope with long, hard workouts.  This includes long-term users and people at the upper end of the recommended weight range.
Frequent mention was made regarding the ease and speed of assembly.
With the bike being on the heavy side, customers appreciate that it has transport wheels which enable it to be easily moved.
On a less positive note, a small percentage of buyers received bikes that had sustained damage.
A few buyers have said that they find the bike's seat uncomfortable.
Exerpeutic LX7 Indoor Cycle Trainer with Computer Monitor and Heart Pulse Sensors Summary
The Exerpeutic LX7 Indoor Cycle Trainer with Computer Monitor and Heart Pulse Sensors is a stylish and affordable exercise bike.  Sturdy and durable, it operates smoothly and quietly.  A higher than average user weight limit and an adjustable seat and handlebars make it suitable for a broad range of people.
The most common negative comment relates to the bike's seat, which some people find uncomfortable. This is a common complaint about bike seats, especially from individuals who haven't used a bike before.  Over time, the majority of cyclists get used to the feeling.
For more comfortable workouts right away, place a cushion or a folded towel on the seat, or buy a bike seat cover such as the Zacro Gel Bike Seat.
Not the model for you?  Click here to read reviews of other popular upright bikes