This post may contain affiliate links. If you click a link and buy something, I may receive a small commission at no extra cost to you.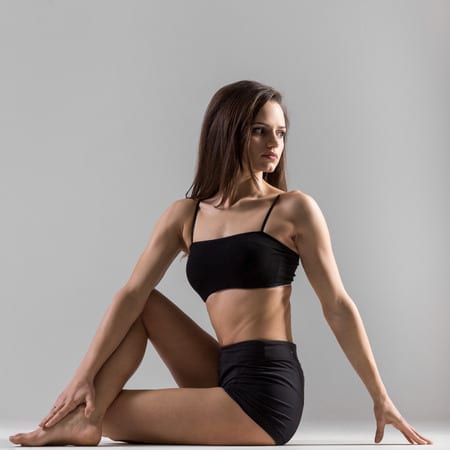 The Flat Belly Yoga DVD was created by Prevention magazine and yoga expert Kimberly Fowler.  Renowned for health and fitness programs that get results, Prevention needs no introduction.
Well-known and respected in yoga circles, Kimberly owns the YAS fitness center chain in California.
Over the years, she has helped thousands of people reach their fitness goals and in the process, became known as, "The Godmother of the Hybrid Yoga Movement."
The Flat Belly Yoga DVD No Crunch Workout Program combines yoga, light hand weight exercises, and cardio walking.
This innovative combination promises to give you flat, toned abs in four weeks.
The workouts are short, easy to learn, and enjoyable to do.  And, if you don't like Crunches, you will be pleased to know that you won't have to do any.
Along with losing pounds and inches and defining your abs, you will quickly notice an increase in your energy level and decreased stress with this program.  You will also become stronger and more flexible.
Keep reading to find out more about the Flat Belly Yoga DVD to help you decide if it's for you.
Who Will the Flat Belly Yoga Workout Suit?
The Flat Belly Yoga DVD Workout is suitable for people of any age and fitness level.
Equipment Requirements
You will need comfortable clothing to do the Prevention Flat Belly Yoga No Crunch Workout.
You will also need a yoga mat, two light hand weights, a DVD player, and walking shoes. 
Flat Belly Yoga DVD Overview
The right yoga workout done regularly will improve your strength, increase your flexibility, brighten your
mood, and help you to de-stress.
The wrong one will limit your benefits, and it could put you at risk of injury.  With this in mind, the Flat Belly Yoga DVD was designed to make it easy for you to customize your sessions to suit your comfort and fitness level.
You can choose to do either a 15-minute or a 30-minute core workout, both of which contain variations.  If a pose feels painful or very uncomfortable, experiment with the many variations, and you will find the perfect routine for your body.
When you are ready for a greater challenge, adding the 10-minute Core + Belly Blast segment to your routine will enable you to sculpt your abs and drop inches even faster.
The Flat Belly Yoga No Crunch Workout DVD comes with a book containing a Four-Day Jump Start program.  The Four Day Jump Start will ease you into the program and prepare you for the coming 28 days.
The book features tips that will help you to maximize your weight loss and avoid common workout injuries.  Also included are testimonials from people who have participated in the program.
The Workouts
The 4-Day Jump Start DVD comprises low-intensity yoga moves and walking cardio sessions that elevate your heart rate and burn calories, enabling you to drop pounds and inches and reduce the
size of your belly.
The yoga component during this phase consists of 15-minute sessions involving deep breathing and gentle stretching poses. (You won't use weights until day 5.)  On each of the four days, you will also do a 15 or 20-minute walk that includes a 3-minute Warm-Up and a 2-Minute Cool-Down.
On days 1 and 3, you will walk briskly for 20 minutes.  This workout is known as Fat Blast.  (As you progress through the program, the time you spend doing Fat Blast will increase.)
Days 2 and 4 include an interval walk called Calorie Torch.  This involves alternating between going at a fast pace and doing higher intensity "bursts."
The Diet
The Flat Belly Diet has sold over 1 million copies, inspired many to make healthier choices, and rapidly reduced the belly size of individuals worldwide without them having to do a single crunch.
The Flat Belly Yoga No Crunch Workout DVD complements the diet perfectly, enabling those who undertake it to burn even more fat and sculpt their abs.
If you are already at your ideal weight, the workouts alone may be all you need to shape your abs.  If, however, you are overweight, you will also need to lose weight.  You can do this by following the Flat Belly Diet, which comes with the DVD.
Flat Belly Yoga Summary
If you'd like to try yoga and you're looking for a low-impact workout that will help you to reduce your belly fat and sculpt your abs without having to do Crunches, the Prevention Flat Belly Yoga DVD should be on your shortlist.  The workouts are short, they're enjoyable to do, and you can customize the moves.  Do them as outlined, and you can expect flatter abs in around four weeks.
If you'd prefer a dance-based workout, you may like Hip Hop Abs.