This post may contain affiliate links. If you click a link and buy something, I may receive a small commission at no extra cost to you.
The Gaiam Kettlenetics Slim and Tone Kit is the result of a collaboration between respected fitness and lifestyle company Gaiam and the creator of Kettlenetics, the former professional dancer turned fitness coach and kettlebell authority, Michelle Khai.
Perfect for women who want to improve their shape without having to use heavy weights or do long workouts, it's effective, and it is great value for money.
Set to upbeat music, while quite challenging, Kettlenetics is also enjoyable.  And, when done regularly, it can transform your body and improve your fitness.
If you have reservations because you don't see yourself as athletic, cast your concerns aside.  This workout is gentle and newbie-friendly, even for those who have never exercised before.
Read on to find out what Kettlenetics involves, to help you decide if it's something you would like to try.
The Premise Behind the Kettlenetics Slim and Tone Kit
You've no doubt noticed that people who dance for a living usually have enviable legs and bodies.  A former professional dancer, Michelle was well-aware that dance works the entire body simultaneously, not the legs first, then the abs, butt, thighs, etc.  Michelle took this into account when creating the Kettlenetics system.  Along with getting you into great shape fast, with the system's focus on moves that engage the entire body, more calories are burned, and workouts are shorter.
Why Kettlenetics Works
Dance-inspired, Kettlenetics is a fluid aerobic workout that incorporates the use of a kettlebell.  It does so in a way that promotes maximum weight loss as it sculpts the upper body, core, and thighs.
According to Khai, the Kettlenetics system is extremely effective for muscle toning and weight loss.  The kettlebell provides resistance for faster toning.  It also delivers a better cardio workout and therefore a greater calorie burn, which results in more rapid weight loss.
Who is the Kettlenetics Slim and Tone Kit Workout Suited To?
The Kettlenetics Slim and Tone Kit is best suited to new and intermediate level exercisers.  A mid-paced workout, it will
enable you to improve your strength and tone your muscles.  With regular workouts, you will reduce your body fat, lose weight and improve your cardiovascular health.
If, like me, dancing doesn't come naturally to you and the word kettlebell conjures up images of muscle-bound hulks, relax!  There are only 7 moves to learn and, believe me if I could learn them you can too.  As for the kettlebell you will be using, it weighs just 4 pounds.
While light, if you are new to exercising or if you haven't exercised for a while, you will find it challenging to work non-stop at a reasonably fast pace while swinging a kettlebell.  As your strength and fitness improve, the workouts will become easier.  You can then progress to a heavier kettlebell if desired. 

Kettlenetics Introduction and Demo
What's in the box?
There are a few versions of the Gaim Kettlenetics Slim and Tone Kit.  With some, all of the workouts are on a single DVD.  With others, they are split over 2 or 3 DVDs.  Regardless of which one you purchase, the workouts will be the same and are as follows:
The Workouts:
KB Elements – With an emphasis on the importance of maintaining correct form throughout, in this 20-minute educational segment Michelle demonstrates and explains the moves in the upcoming workouts.  She also teaches you how to safely and efficiently use the Kbell.
FlowMotion Basics – FlowMotion Basics is the first workout in the Gaiam Kettlenetics Slim and Tone Kit.  A 20-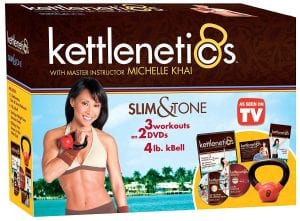 minute slow to medium-paced segment, it consists of one-of-a-kind standing and floor exercises and lots of flowing dance moves, set to unobtrusive background music.
Mirror-cued, following along is easy.  The more difficult moves start out slowly before picking up to full pace.  The easier moves are done at full pace from the start.
Aimed at the beginner, FlowMotion Basics is, nevertheless, somewhat challenging.  If you find the going too tough, follow the version demonstrated by one of the moderators.
Cardio Balanced – Cardio Balanced is a 40-minute long workout set to house/dance music.  Fast-paced and intense, it promotes maximum toning and fat burning.  The first 30 minutes comprises cardio moves, while the last 10 minutes consists mainly of floor-based exercises.
By the time you finish the workout, your muscles will be burning, and you will be perspiring.
The Extras:
Also included in the Gaiam Kettlenetics Slim and Tone Kit is a 4-pound KBell, the Weight Loss Success Guide, an exercise wall chart and a 30-day free membership to the Kettlenetics Slim & Tone Web Club.
The 4-pound KBell is designed to deliver maximum comfort.  Comfortable to hold, its handle is located off-center to ensure easy maneuverability.  You should find it light enough to swing without stressing your joints and weighty enough to deliver a level of resistance that will shape and tone your muscles.
The Weight Loss Success Guide contains a workout rotation plan, a shopping list, jump start tips, a conversion chart, and calorie requirement estimations.  There's also a 7-day diet plan, 10 valuable weight loss tips and information on the Kbell and the workouts.
A handy tool for days you want to get in some exercise but don't have time to do a full workout, the wall chart provides a visual reference of the moves, so you will be able to do them with or without playing the DVD.
Kettlenetics Slim & Tone Web Club – Your 30-day free trial membership will give you access to online support and enable you to interact with other Kettlenetics Slim & Tone Web Club group members.
Final Thoughts on the Gaiam Kettlenetics Slim and Tone Kit
One of my favorite things about Kettlenetics is its efficiency.  Some fitness programs I've bought have worked well, but they've taken up too much time.  As a busy working mom, it's been all too easy to start skipping workouts or stop exercising altogether.  With the Kettlenetics Slim and Tone Kit, three or four 20 to 40-minute workouts per week is all it takes to get into great shape.
The action of swinging a kettlebell provides a smooth and effective means of getting the strengthening, fat burning and muscle toning benefits of traditional weight training, with a greater range of motion.
Kettlebells tend to be easier to hold than dumbbells.  This makes more comfortable workouts possible.  One thing I must point out though is that the Kbell is quite small, so people with very large hands might find it difficult to hold.
The moves in the Gaiam Kettlenetics Slim and Tone Kit workout program flow and the lively music that accompanies the sessions makes them more enjoyable to do.
The Gaiam Kettlenetics Slim and Tone Kit has a lot of very positive reviews from purchasers who have had success with the system.  Check it out if you want to get into Kettlenetics!