This post may contain affiliate links. If you click a link and buy something, I may receive a small commission at no extra cost to you.
The Garmin Vivofit Fitness Band is a fitness tracker that will enable you to monitor your physical activity, as well as your sleep quality.
Essentially a pedometer that is worn on the wrist, it also functions as a watch with a date display.  Water-resistant, you will be able to wear it in the rain, in the shower or when swimming, without fear of damaging it.
In this Garmin Vivofit review, along with a general overview, we will look at its specs, features, pros, and cons.
Garmin Vivofit Fitness Band Overview
Coming with two bands – one for small wrists, one for large wrists – the Garmin Vivofit Fitness Band has a super-long battery life.  A simple LCD screen shows your workout stats, which are accessible by pressing a button.
Stats displayed include time, date, the number of steps taken over a 24 hour period, the number of steps remaining to reach your day's target, total distance covered (in miles) and calories burned.  By repeatedly pressing the button, you can scroll through all of these.
Pressing on the button and holding it, changes the tracking to sleep, sync or pairing mode, with the latter enabling you to attach any ANT+ Heart Rate Monitor Chest Strap (available separately) to measure your heart rate and monitor your heart rate training zones.
You can personalize your goals on the Vivofit, or start with the goal it sets for you.  Starting at 5,000 steps a day, if you meet this target, your goal for the following day will increase.  If you don't meet the target, it will decrease.  For some people the increase and/or decrease could be 250 steps, for others 350 steps, depending upon their previous day's activity level.  The increases are capped at 4%, and the decreases at 5%.
A red bar will appear on the display when the person wearing the band is inactive for an hour.  An extra bar appears every fifteen minutes.  The bar/bars will disappear after a couple of minutes of activity.
Garmin Vivofit Fitness Band Video Review

Measurements & Weight – The Garmin Vivofit Fitness Band measures 0.4 inches by 0.8 inches by 0.4 inches.  It weighs 1 ounce.
Batteries – Two Lithium Ion batteries are required for this fitness tracker to operate.  These are included.
Available colors – The Vivofit Fitness Band comes in a choice of six colors, including black, blue, purple, red, slate and teal.
Garmin Vivofit Fitness Band Key Features

LCD display
An LCD screen shows your steps, distance, and calories burned.  It also shows your sleep quality.
The inactivity indicator is a great motivator that provides a visual reminder for you to remain active.
This device is smart enough to detect your regular activity level.  It analyses this data, then assigns you a personalized daily fitness goal.  It even lets you know how far you are from achieving this.
Water-resistant to a depth of 164 feet, the Garmin Vivofit Fitness Band can be safely worn in the rain, while taking a shower, a dip in the pool, or even swimming.
Equipped with Bluetooth 4.0, this model is compatible with Android and iOS devices.
Garmin Connect Compatibility
Garmin has developed an app which makes tracking physical activity a straightforward process, with no need to download third-party applications.
The included USB stick can be synced to your Mac, Windows computer or mobile phone, at the press of a button.  Your workout data will then be accessible through iCloud.
Vivofit purchasers can also join Garmin's free online community and take part in online challenges to earn virtual badges. 

Pros
The Garmin Vivofit is one of the most reasonably priced physical activity/sleep trackers you will find.
The Garmin Vivofit Fitness Band gives a very accurate step count readout.  It also provides an accurate readout of calories burned and heart rate.
The wristband on the Garmin Vivofit Fitness Band is very comfortable.  A small and a large band are included with your purchase.  This makes the tracker suitable for slight and large-framed people, male or female.
Very simple to operate, a single button is used to switch between modes.  Customizing the tracker is as easy as downloading a program, entering your age, weight, and fitness goals, then syncing it to your electronic devices.
Changing the Vivofit's band takes about ten seconds.  Its clasp can be secured with one hand.
Most fitness trackers have rechargeable batteries.  This model is not rechargeable, but the batteries should last for one year, or longer.  At this point, you will need to replace them.
Cons
The Garmin Vivofit Fitness Band has an LCD, but it is not backlit.  This makes it very difficult to see your stats at night or in dim lighting.
Though comfortable to wear, the band on this model looks quite cheap.  Considering it is a fitness tracker/sleep monitor and not a dress watch, this should not deter anyone from purchasing.
This fitness tracker does not have an alarm function.
The Vivofit Fitness Band does not track steps that don't involve arm movement, for example, when you're using a stationary bike.
Not having GPS tracking, an accelerometer tracks your distance by the number of steps you take, with 10,000 steps being the equivalent of 4.7 miles.
Not having an altimeter, the functionality of the Garmin Vivofit Fitness Band will be limited for some people.  For example, while it will track your cycling and running data, it will not take elevation into account.
Garmin Vivofit Fitness Band Summary
Monitoring your fitness and achieving your workout goals will be a lot easier with a Garmin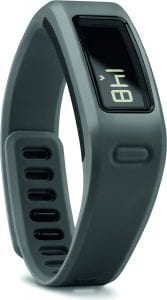 Vivofit Fitness Band.  Though fairly basic, it is one of the most popular fitness trackers on Amazon.  With feedback from several thousand purchasers published to date, the vast majority is very positive.
The Vivofit provides accurate workout data and easy-to-understand graphs that are viewable on a smartphone, PC or tablet.
Using a compatible heart rate strap will enable you to fill in the gaps when doing exercise that doesn't trigger the pedometer.  Combined, this information will allow you to efficiently monitor your current fitness level and achieve new goals as your fitness improves.
To read more fitness tracker reviews, click this link