This post may contain affiliate links. If you click a link and buy something, I may receive a small commission at no extra cost to you.
A workout bench is one of the most valuable pieces of fitness equipment you can buy to build strength and get buff at home, and the Gold's Gym XRS 20 Olympic Workout Bench is among the best in its price range.
The components are solid and durable, and the bench adjusts to several positions to cater to different exercises.
In addition to the bench, the package includes a leg development attachment, a preacher pad, and a yoke curl attachment, all detachable.
You will also get a set of adjustable safety spotters and an Olympic weight adaptor, and there's the option of an XRS 20 model that comes with a Squat Rack.
This stand-alone piece of equipment transforms what is primarily upper-body workout equipment into a total body weight fitness tool.
Keep reading this Gold's Gym XRS 20 review to learn its specs, key features, pros, and its cons.
Gold's Gym XRS 20 Olympic Workout Bench Specs
Assembled dimensions: 
Bench – Assembled, the Gold's Gym XRS 20 Workout Bench measures 72″ (L) x 26″ (W) x 22″ (H)
Squat rack – When assembled, the rack measures 32″ (L) x 48″ (W) x 64″ (H) – allow an extra 12″ or so at the front for comfortable use
The squat rack has two 9 1/2″ catch bars, which have four attachment position options
Post specs:
Distance between upright posts – The distance between the upright posts is 41 1/2″ on the inside and 48″ on the outside, so you will need a 7′ bar as a standard 6′ one will be too short
Maximum height – The maximum post height is 64″
Post settings – There are nine holes, each of which is approximately 3″ apart
Weight:
Total weight – The total weight of the equipment is 128 lbs
Weight capacity:
Rack –  The rack can support up to 300 pounds
Leg attachment – The leg attachment can also support 300 pounds
Bench – The bench can support up to 600 pounds, including a 300-pound user, and a 300-pound weight set
User height:
This model suits people of most heights, though those under 5′ tall may have to stretch their legs to the max when performing some exercises, including Horizontal Presses
Color:
The unit has a gray frame and black upholstery
Whom will it best suit?
The Gold's Gym XRS 20 Olympic Workout Bench best suits new and intermediate-level users who want to work with a light to medium weight load
What exercises will I be able to do?
Some exercises you can do on this workout station include Bench Presses, Incline Bench Presses, Decline Bench Presses, and Dumbell Presses.
Other exercises include Incline Dumbbell Presses, Decline Dumbbell Presses, Preacher Curls, and One-handed Preacher Curls.
You can also do Leg Curls, Leg Extensions, Squats, and more.
The squat rack's lateral posts extend 64″ upwards, so with a Standard or Olympic bar on top, you can also do bent knee Chin-Ups and Pull-Ups.
Overview
Construction –
The Gold's Gym XRS 20 Olympic Workout Bench frame comprises solid steel tubing, with a corrosion-resistant painted finish.
It won't tip, even when you are training heavy, and it won't tilt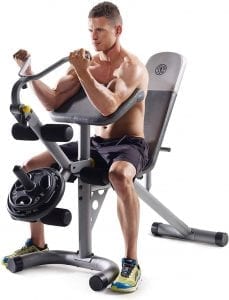 forward as you rack and unrack the bar.
The bench and preacher pad have vinyl upholstery that is double-stitched for durability.
At 3″ thick, the padding provides excellent support and comfort, whichever exercises you do.
Workout benches that are too wide limit movement when doing some exercises.
This is not a problem with the Gold's Gym XRS 20 Olympic Workout Bench, which allows natural, unrestricted movement.
Adjustability –
The backrest offers four incline positions, the highest being approximately 70 degrees.
It also declines slightly and can be used flat.
Adjusting the angles is easy.  Remove the bar from its slot to the desired position, and it will lock into place.
The unit comes with wide grip handles that allow a free curling motion.
When working with dumbbells or a barbell, the handles can be moved out of the way to accommodate this.
Accessories –
The Gold's Gym XRS 20 Squat Rack/Bench Press Rack is removable.
Incredibly stable to use, it allows a full range of motion.
It has 9 1/2″ height adjustable spotters.  This feature is especially beneficial when training on your own, as it provides peace of mind because you know that the bar will be caught if you aren't able to finish a rep.
The rack's uprights are adjustable to several heights.  The supports on which the bar sits hold it securely.
A low front lip allows you to lift the bar from the rack without obstruction.
And, if you want to use dumbbells, you can slide the rack out of the way.
The leg development attachment allows you to exercise your quads and hamstrings effectively.  It offers ample foot clearance from the floor for unrestricted movement and is quick and easy to attach and detach.
Its three sets of rollers are foam-rubber padded for comfort.
Its 1″ peg is compatible with standard weight plates.
If you want to use Olympic weight plates that require 2″ of thickness, slide the included sleeve over the plate holding bar, and you will be good to go.
A pair of weight plate holders on the back of the unit provide convenient storage. They also further stabilize the machine.
The robust preacher curl attachment has received excellent buyer feedback.  It has a fixed angle of 30 degrees and is quick and easy to attach and detach.
Though you can't alter its angle, the attachment's vertical post offers three different height positions.
Assembly –
Maintenance is minimal.  Other than checking and re-tightening any bolts and nuts that have loosened, the only other thing you should need to do is to spray on some lubricant if the mobile joint of the curl attachment develops a squeak.
Warranty –
The warranty for this model is 90-days.
Next, in this Gold's Gym XRS 20 review, we will look at its pros, followed by its cons.
Pros
The Gold's Gym XRS 20 Olympic Workout Bench is budget-friendly
All of its components are sturdy
The rack and leg attachment each have a functional weight capacity of 300 lbs
The bench can support a total weight of 600 lbs
A preacher pad and a leg attachment station are included
An adjustable squat rack is included
The bench adjusts, enabling you to perform incline, horizontal, and decline exercises
The bench and preacher pad feature thick, comfortable upholstery
The unit is reasonably easy to assemble
Maintenance requirements are minimal
Cons
There's just the one decline position for the bench
Gold's Gym XRS 20 Weight Bench Summary
The Gold's Gym XRS 20 Weight Bench is an affordable and functional fitness aid for new and intermediate-level users.  It is among the sturdiest you will find for the money.
Noteworthy features include a stand-alone squat rack/bench press rack, complete with safety spotters.  The preacher curl attachment and the leg extension/leg curl unit add to the benefits and value of the package.
If you're looking for robust and reliable home gym equipment, be sure to check out this model.
Not the weight bench for you?  Click here to read reviews of popular alternatives.