This post may contain affiliate links. If you click a link and buy something, I may receive a small commission at no extra cost to you.
In this review, we will look at the latest upgraded version of the budget-friendly Harvil Foldable Magnetic Exercise Bike from American owned family business Harvil.
If you're looking for a way to improve your shape and lose weight, you may have considered buying a stationary bike.
With so many brands and models, and a few different types to choose from, it can be hard to figure out which one to get.
One with a lot of positive feedback is the Harvil Folding Bike, which has gained a reputation for being one of the best and most versatile options in its price range.  Many also consider it to be one of the most comfortable.
A standout feature of this bike is that it can be changed from an upright cycling position to a recumbent, at the turn of a dial.  It also adjusts to suit everyone from older kids to tall adults.
Other handy features include an LCD monitor for tracking your progress, adjustable resistance, and built-in transport wheels.
In this Harvil Foldable Magnetic Exercise Bike review, we will look at everything you may want to know about it before purchasing.
Who will and won't this model suit?
The Harvil Exercise Bike will best suit new to intermediate level users weighing up to 330 pounds.  Very experienced cyclists may not find the upper levels of resistance challenging enough.
The bike's space-saving design makes it suitable for apartment living.
Being customizable, this model would be a great choice for households containing one or more people who want to use the bike.  It will also appeal to customers who want to buy an American-designed bike and support a family-run business.
Harvil Foldable Magnetic Exercise Bike Specs
Recumbent dimensions – Assembled in recumbent mode, the Harvil Foldable Magnetic Exercise Bike measures 26.4″ (L) x 20″ (W) x 46″ (H)
Upright dimensions – Assembled in upright mode, it measures 26.4″ (L) x 19,5″ (W) x 46″ (H)
Folded dimensions – Folded, the bike measures 19.5″ (W) x 54.3″ (H)
Seat dimensions – The seat measures 12″ x 12″
Handlebar width – The handlebars measure 17.5″ from end to end
Weight – The bike weighs 44l bs
User weight – The maximum user weight for this model is 330 pounds
User height – It can accommodate users from 3′ 10″ to over 6′ tall.
Color choices – It comes with either a black frame and aqua features, a white frame with peach features and black highlights, or all-black
Batteries – 2 x AA batteries (included) are required for the monitor
Harvey Exercise Bike Assembly Video
Harvil Folding Exercise Bike Overview
The heavy-duty Harvil bike has a sleek and modern appearance, and it is available in two

beautiful colors, these being aqua and peach.  There's also an all-black version.
Its large padded seat and backrest provide excellent support.  Both can be raised or lowered to accommodate people of different heights.
An easy-to-read digital monitor displays workout stats including distance covered, calories burned, current speed, and time exercising.  There's a scan function which when implemented rotates through the workout metrics at 6-second intervals.
Heart rate sensors built into the handlebars track the user's pulse rate and display it on the monitor.  This combination of features will help you to get the most from your sessions and make it easy to set new fitness goals.
Any of the ten levels of resistance can be engaged before or during workouts.  The levels on offer cater to everyone from new cyclists, to those of intermediate level and beyond, enabling them to get an effective workout.  This diversity will allow you to increase the intensity of your sessions as your fitness improves, and do HIIT workouts.
The Bike's flywheel is designed for smooth and quiet workouts.  You will be able to watch the TV while working out without turning up the volume.  And you won't have to worry about disturbing others in your household.
Wider than average base tubes mean this model doesn't have the balance issues that some other bikes (especially foldable models) can.
The bike's easy-to-grip padded handlebars remain comfortable and resist sweat, even during extended sessions.  A second pair of handles at the sides of the seat can be utilized in recumbent mode.
Slip-resistant pedals are larger than average to accommodate feet of any size.  Their anti-slip finish and adjustable safety straps make for secure workouts.  Your feet won't suddenly fly off the pedals and bump against the bike's frame.  Along with breaking your rhythm, this situation could result in an injury.
Transportation wheels in the front base enable the bike to be easily wheeled to another location.  And if you need to store it, it folds to around half of its assembled size, so it will fit into a corner or closet.
Most buyers find the assembly process to be quick and straightforward, taking around 30 to 45 minutes.  However, a small percentage of people who left feedback stated that they found the instructions confusing.  Should you encounter a problem, an online video explains the assembly process in great detail.
The Harvil Foldable Bike comes with the guarantee that it will arrive in perfect condition.  If it doesn't, any damaged or missing parts will be replaced.  The manufacturer will also supply a full refund up to a year after purchase in many circumstances.
On the downside, some shorter people have stated that they have to put a pillow against the backrest to be able to reach the pedals easily.  While most reviewers have said that the seat is comfortable, some claim that it is not.  This is a common complaint regarding exercise bikes.  Placing a bicycle seat cover, a cushion, or a folded towel on the seat will make for more comfortable workouts.  

In the next section of this Harvil Foldable Exercise Bike review, we will look at its pros, followed by its cons.
Harvil Exercise Bike Pros
Stable and quiet during use
Smooth and fluid pedaling motion
Adjusts to suit users from very short to tall
An LCD monitor enables you to track your progress
A heart rate tracking facility allows you to work in your optimal training zone
10 levels of

magnetic resistance

let you increase the intensity of your sessions as your fitness permits
Oversized anti-slip pedals with safety straps make for secure workouts
Built-in transport wheels enable easy relocation
An outstanding Guarantee lets you buy with confidence
Harvil Exercise Bike Cons
The angle of the seatback may not suit shorter users
Some people may find the seat uncomfortable
Harvil Foldable Magnetic Exercise Bike Summary
If you're in the market for an exercise bike, the Harvil Folding Magnetic Exercise Bike is among the best you will find for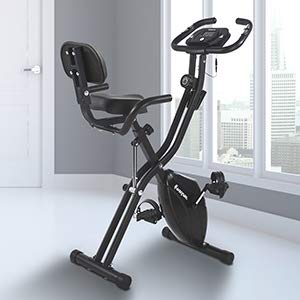 the price.
With its space-saving design and ability to fold and be wheeled away to store, it will suit new to intermediate level users who are on a tight budget and don't have a lot of spare space.
A workout monitor, heart rate tracker, and adjustable resistance will enable you to track your workouts and set new fitness goals.
The quiet flywheel won't distract you or others, so you will be able to read a book during your sessions if desired.
Easy to assemble, the bike comes with an excellent warranty.
If this isn't the bike for you, click here to read reviews of other popular upright bikes.  Or click here to read reviews of other recumbent bikes.
To find out more about the Harvil Exercise Bike, click on the link below.