This post may contain affiliate links. If you click a link and buy something, I may receive a small commission at no extra cost to you.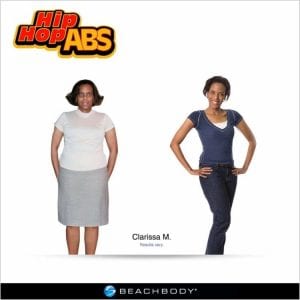 Less intense but no less effective than we've come to expect from Shaun T's and BeachBody's other workouts, Hip Hop Abs DVD Workout would be a great choice for anyone who wants to sculpt their abs.
And, with the included bonus workouts, you will also be able to tone your legs, hips, thighs, buttocks, and arms.
The BeachBody Hip Hop Abs DVDS are designed to target the core from a multitude of angles.  If you're bored with Sit-Ups and Crunches, you will be pleased to know that they are not a part of this 30-day program.
While the bonus workouts primarily focus on different body parts, each also engages the mid-section.  Stick with it, and taut, defined abs will soon be yours.
Likened to an advanced level aerobics workout, with its easy-to-follow and copy dance steps, even non-dancers will be able to pick up the moves and reap the fitness benefits of this fun program.
In this Shaun T Hip Hop Abs review, we will look at a detailed overview of the program.  I will also include a Hip Hop Abs video containing some incredible before and afters of people who have undertaken the program.
What's in the Box?
When you unbox your Hip Hop Abs DVD Set, you will find 3 DVDs containing the workouts.
There's also a Results on the Run Diet and Nutrition Guide and a 6 Day Slim Down Plan. 
Other inclusions are the Hip Hop Abs Workout Calendar, a measurement tracker card, and a measuring tape. 
We will look at each below, starting with the Hip Hop Abs DVD Workouts.
Hip Hop Abs DVD Workout Overview
The three Hip Hop Abs DVDs that make up the set contain a total of ten different workouts.  These include:
Secrets to Flat Abs – Information based, this 13-minute long segment features Shaun T  explaining his famous sculpting and fat burning exercises that focus on the upper and lower abs and obliques.  The moves, which center on tilting, tucking and tightening, will quickly give you the tight, toned and defined abs you've always wanted.
Fat Burning Cardio – A 30-minute workout, Fat Burning Cardio is designed to shed fat and burn the maximum number of calories, while you have fun performing cool dance moves to energetic and funky dance music.  The sequences alternate between high and low-intensity.  They are challenging enough to get a great result, but not so difficult that you will dread doing them.
Total Body Burn – Total Body Burn combines cardio and total body sculpting, for all-over muscle definition.  Do this workout regularly, and your reward will be a lower level of body fat and tight muscles you will be only too happy to show off at the beach or in your most form-fitting clothing.
Learn to Dance with Shaun T – This bonus DVD contains three full- length hip-hop dance routines.  These include Cardio Groove, Hip Hop Cardio and Take it to the Dance Floor.  Formulated to boost your metabolic rate, you will learn dance sequences from some of the best choreographers to the stars.  Even if you can't dance a step now, the expert guidance this DVD provides will change all that.
Hips, Buns, and Thighs Workout – Hips, Buns, and Thighs is a 25-minute bonus workout.  Very efficient, it targets stubborn problem areas we women can find difficult to tone.  No Squats or Lunges are required!
Last Minute Abs – A 5-minute bonus DVD that is ideal for those days when you don't have a lot of free time to exercise, but you still want to

work your abs

.
Last Minute Buns – Last Minute Buns will shape and tone your entire buttocks area.  A 5-five minute workout, it will help you achieve the butt of your dreams, without doing Lunges or Squats.
Shaun T Hip Hop Abs Dance Moves
Hip Hop Abs DVD Workout Extras:
To help you achieve the best result, the BeachBody Hip Hop Abs DVD Workout Kit contains the following extras:
Step-by-Step Nutrition Guide – This useful guide lists and explains the best food combination for accelerating weight loss.
6-Day SlimDown Plan – For the fastest result, follow the 6-day kick-start plan.  Some people who undertake it lose up to 3 inches off their waist within the first week.
Results on the Run Diet Guide – This handy guide contains valuable tips on how to make the best food choices when dining at your favorite fast-food restaurants.  Keep it in your bag, and you will never again agonize over what to order when eating out.
30-Day Workout Calendar – You can customize the Hip Hop Abs Workout to your preference.  If, however, you prefer a structured program, follow the recommended schedule in the Hip Hop Abs Workout Calendar.  Do so, and you will achieve visible results in the shortest possible period.
Measurement Tracker & Tape Measure – These handy tools will enable you to measure your progress and note how many inches you've lost.  They will also help to keep you motivated and accountable.
Are There Any Negatives?
While the program has a lot of excellent feedback, some purchasers find the workouts too easy.  Conversely, there are others, especially those in the older age group, who have difficulty keeping up.
A few purchasers who left feedback commented upon Shaun T's voice, which they found annoying.  Some reviewers also said that the music volume is too low.  Personally, I love the workout, and I find Shaun T to be an excellent motivator.  The music volume is lower than in some exercise DVDs, but louder music wouldn't make the workouts any more effective.
Hip Hop Abs DVD Workout Summary
If you're bored with highly-structured workouts, check out Hip Hop Abs!  It's less strenuous than some programs with the same aims, and it is fun to do.  The workouts are relatively short, making it ideal for busy people.
BeachBody Hip Hop Abs will flatten and define your abs, but it is far more than just a midsection toning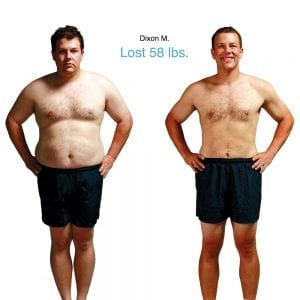 program.  The bonus workouts make it an excellent total body workout.  It is perfect for bikini weather, or any time you want to look your best wearing figure-hugging clothes.
As you can see by the picture to the right, the program works just as well for guys as it does for girls.  In fact, many of the positive Hip Hop Abs reviews I've come across have come from males.
Available now, the Hip Hop Abs DVD Set would make a great addition to your fitness program if you're into cardio dance.
Another popular ab workout checking out is Jillian Michaels 6 Week 6-Pack.
If you're looking for a gentler abs workout, take a look at Hot Hula Fitness.
(Click on either of the links above to read reviews of the relevant fitness program.)