This post may contain affiliate links. If you click a link and buy something, I may receive a small commission at no extra cost to you.
If you're in the market for a high- quality, functional mid-priced elliptical trainer, the Horizon Fitness EX-59-02 Elliptical Trainer is well worth considering.
Enabling you to work and tone your upper and lower body at the same time, the elliptical delivers an efficient and very effective low-impact cardio workout.  It is also enjoyable to use.
There are many elliptical trainers available in a variety of price brackets.
One of the best I've found for the money is the Horizon Fitness Ex-59, which has overwhelmingly positive feedback from purchasers.  Keep reading to see if it will suit your needs.
Why I Recommend the Horizon Fitness Ex-59-02 Elliptical Trainer
The Horizon Fitness Ex-59-02 Elliptical Trainer is one of the most fluid and user-friendly ellipticals I've
tried, and I've tried quite a few.
It feels solid no matter how hard you go, and its features will enable you to get the most from your workouts.  Designed to the specifications of a unique system known as SIXstarcertification ™ (details below), workouts on this model are smooth and very comfortable.
The trainer's wide range of workout programs can be monitored on an easy-to-read 5″ backlit LCD screen.  The monitor's console has push-button functions that simplify the program selection process, while the resistance levels cater to people of any fitness level.
Whisper-quiet to use, you won't have to worry that your workouts will disturb other occupants of your house.
Accessibility is an important consideration, particularly if you have mobility issues.  While not an issue for me, I appreciate the ease of access this model offers.  Its pedals are located just 10 inches above the floor, which makes getting onto and climbing off the machine very easy.
Horizon Fitness Ex-59 Elliptical Trainer Specs 
Dimensions – The Horizon Fitness Ex-59 measures 68″ x 22″ x 64 1/2″.
Weight – It weighs 145lbs.
Stride – The stride length for this model is 18″.
User weight – Its maximum user weight is 275 pounds.
Horizon Fitness EX-59-02 Elliptical Trainer Overview
What is SIXstarcertification™?
Featuring SIXstarcertification™, this unique biochemically proven combination of elements makes for an elliptical machine with the most natural possible feel.  The six elements are as follows:
1) ZEROgap™ – With no gap between the pedals, less stress is placed on the hips and back during workouts.
2) StraightUP™ – Guarantees your posture is upright, maximizing your comfort and bringing speedier fitness gains.
3) SUREstep™ – Pedals located 10 inches above the floor for easy boarding and alighting.
4) IDEALfit™ – Hand grips situated at a comfortable height and distance for both smaller and larger exercisers.
5) FLATellipse™ – An optimally placed footpath makes for a very natural feel when walking or running.
6) SMOOTHpulley™ – A larger than average drive pulley ratio provides a very smooth and efficient exercise experience.

Other Notable Features 
Other notable features of the Horizon Ex-59 Elliptical Trainer include:
Adjustable Resistance – 10 levels of resistance allow you to increase the intensity of workouts as your fitness improves.
Range of Programs – 10 programs provide variety and allow you to track your progress and increase the intensity of workouts to stay challenged as you become fitter.  The programs are Manual, Weight Loss, Weight Loss Plus, Intervals, Intervals Plus, Reverse Train, Rolling, Constant Watts, Calorie Goal and Random.
Monitor – Stats displayed include Time, Distance, Speed, Calories, Heart Rate, Program, Resistance Level and Watts.
Heart Rate Monitor – Contact grips enable you to monitor your pulse.  If you fall outside of your target zone, you can increase or decrease the intensity of your workout to get back into your maximum fat burning range.
Powered Incline – Allows the incline level to be adjusted at the press of a button.
Adjustable Stride – Adjustable stride capability lets you customize workouts to your individual comfort level.  This feature also allows you to do interval training.
Pivoting Pedals – Pivoting pedals follow your foot movement, ensuring a low-impact workout and reducing the risk of muscle strain occurring.
Heavy-duty Flywheel & Magnetic Brake Resistance – A 14.3lb flywheel and

magnetic brake resistance

ensure quiet, smooth and consistent starting and stopping during workouts.
Built-in Fan – A built-in fan helps keep you cool during workouts.
Audio Port – An MP3 compatible audio port and speakers enable you to listen to your favorite sounds as you work out.  There is also a headphone jack.
Horizon Fitness Ex-59 User Feedback
User feedback for the Horizon Fitness Ex-59 Trainer is very positive overall.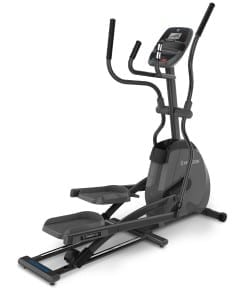 Many purchasers have praised the trainer's quality and features, including some who have used commercial gym models.
Another benefit of this model is its adjustable resistance.  With the upper levels being extremely challenging, it's unlikely you will ever outgrow the Horizon Fitness Ex-59.  In fact, some experienced exercisers said they doubt they will ever utilize the upper resistance levels.
On the downside, some assembly of the machine will be required.  The instructions are straightforward, but the job can take up to a couple of hours to complete.  A number of people said it only took them about an hour.
While there is a water bottle holder, a couple of purchasers stated that it is not in a position that is easy to reach during workouts.
Another disappointment is that though the Horizon Fitness Ex-59 Elliptical comes with a lifetime warranty on its frame and a 20-year warranty on its magnetic brake, the warranty on electronics, parts, and labor is only 1-year.
Final Thoughts on the Horizon Fitness Ex-59-02 Elliptical Trainer
With impressive feedback from purchasers published online, the Horizon Fitness Ex-59-02 Elliptical Trainer has a lot in its favor.  It has a few negatives, but these are minor, and its positives far outweigh them.
If you want to experience the benefits of the elliptical, check out the Horizon Fitness Ex-59-02 Elliptical Trainer.  It's reasonably priced, robust, comfortable and quiet to use.  It also has more than the usual number of resistance levels and all of the programs required for effective workouts.