This post may contain affiliate links. If you click a link and buy something, I may receive a small commission at no extra cost to you.
This article contains tips and advice on how to buy a rowing machine.
Included will be the things to look for, an overview of the different types of rowing machine, and instructions for how to properly use a rowing machine.
We will also look at some rowing machine tips for new users.
Rowing machine workouts offer many health and fitness benefits.  Done regularly, they will improve your cardiovascular fitness and endurance.
They will also tone and strengthen your muscles and burn calories so that you will ultimately lose weight.  And, being low-impact, just about anyone can use this type of machine.
However, before buying a rowing machine, I highly recommend trying one first if you haven't already done so.  You can do this at your local gym or ask around to see if any of your friends have one.  A sporting goods store is another option, though not all have machines set up.
The reason I recommend you give a machine a trial run is that they have a very different feel to using a treadmill or a stationary bike.  Most people have used these, or at least they have an idea of how these forms of exercise feel.
A treadmill involves walking, jogging, or running.  Most of us walk daily, and many have jogged or run at some point.  And, indoor cycling is similar to riding a bike, which many people have done.
But not everyone has rowed before, so it's a good idea to find out if you like the workout before handing over your money.  No matter how well-intentioned, if you don't like the exercise, you will struggle to do it consistently.  And, as I am sure you know, exercise has to be done regularly for you to benefit from it.
Next, we will look at how to buy a rowing machine that you will want to use.
How to Buy A Rowing Machine – Tips and Considerations
Price & Intended frequency of use
The first thing to consider if you're thinking of buying a rowing machine is how much you want to spend.  The price varies a lot.
If you only plan to use the machine to do short sessions two or three times a week, you may not want to spend too much.  If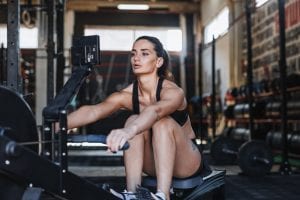 you know you will be using it several times a week for extended periods, it's worth paying a bit more.
Higher-end models tend to be very comfortable, more durable, and they come with some features not usually offered in cheaper models.
If your budget is tight, you won't be able to get a gym-quality machine.  However, there are some affordable models available that are highly functional and comfortable.
Before you buy a rowing machine, it is essential to check that the model you are considering can support your weight.  Most have a generous weight capacity of between 250 pounds and 500 pounds, but it's still a good idea to check.
As well as doing so to be sure the machine will support you, those with a higher weight capacity are often more robust, stable, and durable.
Another vital aspect of buying a rowing machine is choosing one of the right size.
Rowing machines come in different sizes.  If you don't have unlimited space, measure the floor space where the rower will be going.  This can also help you to narrow down your options.
As a rough guideline, full-sized models, including air, magnetic, and water machines, may require an area of up to 9′ x 4′.
Most hydraulic rowers are smaller, requiring around 4′ x 2′.
Another thing that could impact your choice is whether or not you want a rower that folds.  If you have the space for the type of rower you want but need one that folds to store, a water rower will be out of the question, as these do not fold.
So before going any further, keep reading to find out about the different types of rowing machine and decide which one will best suit you.
Regardless of the price, most rowers come with a monitor.  T his will be relatively basic with the monitors of low-priced models, usually showing only time, distance, and rowing speed metrics.  So if you know you won't use the extra features, you could save hundreds of dollars.
Regardless of the price, most come with a monitor.  With low-priced models, this will be relatively basic, showing metrics such as time, distance, and rowing speed.  Many people will find this information sufficient.
Step up to the next level, and you may get a rower with a monitor that comes with pre-programmed workouts and calories burned and power output (watts) displays.
Some monitors save your workout stats, enabling you to challenge yourself and try to beat your best session.  These top-of-the-line models often allow you to race against a pacer boat. While fun and motivating, these features are not essential to get an excellent workout.
Some rowing machines also have heart rate monitoring capability, with an HR monitor included or available as an add-on.  Some monitors have a USB port for storing workout data.  Others may be compatible with workout apps that make it easy to record and view workout stats.  There are even some that allow the monitor to be relocated.
Another thing to check before you buy a rowing machine is its warranty.  Look for a model that comes with a decent frame, parts, and labor warranty.  This will give you peace of mind because if the rower is faulty, the manufacturer will repair or replace the machine free of charge.
If you are thinking of getting a budget-friendly model, look for a warranty of at least one year.  More expensive models should come with a longer warranty of at least three to five years.
Before you buy a rowing machine, you will need to familiarize yourself with the different types so you can choose the one that will suit you the best.
Available choices include hydraulic, magnetic, air, and water rowers.  We look at each below.
Four Different Types of Rowing Machine
Before buying a rowing machine, the next thing to consider is the type that will suit you the best.
We will look at each of these below to help make your decision easier.
Hydraulic Rowers –
Hydraulic rowers are the lowest priced rower and usually the most compact.  This makes them suited to anyone with a tight budget and limited space.  They are quiet to use, so a good choice if you are worried about disturbing others in your household.
Also known as piston rowers, they have one or two pistons, or cylinders, attached to the handlebars.  Resistance is generated when hydraulic fluid passes through the pistons when the rider pulls back on the handles.
Most hydraulic rowers offer a broad range of resistance levels that can be varied by turning a dial.  If you buy a model with two cylinders, if desired, you can work with a different resistance level on each side of your body.  This feature is handy for anyone with a strength imbalance.
However, something to be aware of is that a hydraulic rower's resistance level is not typically adjustable during workouts.
Some have sliding seats to provide a total-body workout.  Others have fixed seats, which only give an upper body workout.  Most are foldable to save space further when needed.
Magnetic Rowers –
Magnetic rowers are a popular choice as they are very smooth and virtually silent during use.
During use, the seat moves up and down a track, providing a total-body workout with a greater extension of the arms and legs possible compared to a hydraulic rowing machine.
A magnetic brake in the rower's flywheel provides a broad range of resistance options.  This can be adjusted either manually or by turning a dial on the machine's console.  The closer together the magnets are, the higher the resistance will be.
This type of rower delivers a ride that is closer in sensation to real-rowing than a piston rower provides.  However, the movement is smoother and not as realistic as that of an air rower.
Magnetic rowers don't fold to store, so they require more space than hydraulic rowers.  For this reason, you should make sure you have the space for one before you purchase.
Air Rowers –
Air rowers are among the most popular option for home and commercial use and competitive rowers.  They are solid and durable and have a smooth stroke action and natural feel resembling water rowing.
An air rower's resistance is delivered by a fan that attaches to the machine's handles by a cable and pulley.  When the user pulls on the handles, the machine's flywheel spins and drags in air.
The harder you pull the handles and the faster you row, the more challenging the workout will be.  A damper allows further customization for easier or more challenging sessions.  This adjustability makes air rowers suitable for users of almost any fitness level.
Most air rowers have sliding seats that support a total body workout.  Some models take up quite a bit of space.  However, most fold to store, and many have transport wheels to facilitate easy moving.
A downside of this system is that it is noisy compared to the other types of rowing machine, so it may not suit you if you live in shared accommodation.
Water Rowers –
Water rowers have rotating fins or paddles housed in a round water tank.  When the user pulls on the handlebars, the paddles turn, creating resistance.
The faster or harder you pull on the handlebars, the greater the resistance, which makes them suitable for people of most fitness levels.  The feel is very close to that of real water rowing, which makes them a favorite with competitive rowers.
Coming with a sliding seat, water rowers provide total body workouts.  Esthetically pleasing, some have a hardwood frame, while others have a steel frame.  The frames on this type or rowing machine absorbs vibration for smooth sessions.
They are relatively quiet to use, but they make a splashing sound, which you may or may not like.  Most users state that the sound is relaxing.
Something to be aware of with this type of rower is that the water tank adds a lot of length to the machine, so it is not suitable for small spaces.  They also tend to weigh more than the other types of rowing machine, and they are usually more expensive.  And they don't fold to store.
The tank's water will need to be changed periodically to prevent algae growth.  Its chains will need oiling from time to time, usually after every fifty hours or so of use.
The footrests on water rowers are not usually adjustable, and their monitors are typically smaller than those of other types of rowing machine.
Next, we will look at the proper way to use a rowing machine.
How to Use a Rowing Machine Properly
While the rowing machine offers low-impact workouts, over-use injuries are not uncommon.  The most common rowing injury is a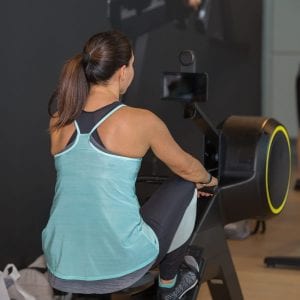 lower back strain, followed by knee pain.
Neck strains and sore wrists are also fairly common.  To help prevent these, always do a five-minute pre-workout stretching Warm-Up and a five-minute post-workout stretching Cool-Down.
Taking things slowly if you are a newbie and knowing how to use a rowing machine properly is equally important.  The latter will also enable you to get the most benefits from your sessions.
Keep reading to find out the proper way to use a rowing machine.
Mount the rower's seat, place your feet on the footpads and adjust the straps so that they hold your feet securely.
Each stroke you will be taking involves four stages.  These are known as the Catch, the Drive, the Finish, and the Recovery.
The Catch is the term used to describe the start of each stroke.  The Drive is the "work" part of the stroke.  The Finish describes completing the stroke.  The Recovery is the rest portion that brings you back to the Catch.
To perform a complete stroke, bend your knees, lean forward, and securely grip the machine's handles.  Push down with your legs, making sure to keep your back flexed forward until your knees are almost straight.
As you straighten your knees, lean back slightly, and begin bending your elbows, pulling the handles towards your chest.
Straighten your arms, bend slightly forward, allow your trunk to move forward.
Bend your knees as the seat slides back, allowing the handles to move forward
Repeat these movements for the duration of the workout.
When you are traveling forward, remember the sequence:  legs –> trunk –> arms
When you are pulling back, the movement will be arms: –> trunk –> legs
Next, we will look at some rowing machine tips to help new users avoid injury and get the most benefit from their workouts.
Rowing Machine Tips
Read and practice how to properly use a rowing machine before beginning.
Start slowly and get into a rhythm before increasing your pace.
Use the lowest resistance level until you are familiar with the correct rowing technique, then increase the resistance over time as your strength and fitness improve.
Gradually increase the duration of your sessions.  Start by doing just 5 to 10 minutes, depending on your fitness.  Add five minutes a week if you can, working up to 30 minutes at a stretch.
Maintain an upright posture and don't arch your lower back.  When bending forward, do so from the hips.
Do not hyperextend your knees.  Keep a few degrees of bend in your knees when you start leaning your trunk back.
Don't allow the seat to bang against the machine.  This will not feel comfortable, and it will jar your knees.
Do not lift your shoulder towards your ears.  Keep them down and relaxed at all times.
Don't lift your arms higher than chest level.
Don't hold your breath.  Try inhaling when moving forward and exhaling when moving backward.
Final Thoughts on How to Buy a Rowing Machine
Now that you know how to buy a rowing machine, it's time to narrow down your options.
Price, size, type, and features are the most important things to consider.  If you live in an apartment or share a house with others, the noise level is also a consideration.
Hydraulic and magnetic rowers are generally the quietest of the different types of rowing machine.  Air rowers are noisier, but they have a smooth, flowing action.
While water rowers make a splashing sound, most people find this relaxing.  They do, however, require more maintenance.
Whichever type you choose, used correctly and consistently, you will experience the benefits of rowing machine workouts, including improved strength, better muscle tone, increased cardiovascular endurance, and much more.