This post may contain affiliate links. If you click a link and buy something, I may receive a small commission at no extra cost to you.
I've received a few emails from people asking if it is possible to lose 20 pounds in a month and, if so, how to do this safely.
I will say up front that I'm not a fan of crash or fad diets.  So while it is possible for someone carrying a lot of excess weight to lose 20 pounds in a month, generally speaking, it's not something I would recommend.
Firstly, the faster we lose weight, the quicker we tend to gain back the weight we lose.  One of the reasons for this is that the human body reacts to the stress of a drastic cut in calories by kicking into survival mode.  When this happens, our metabolism slows to preserve the new, lower calorie intake and maintain our body's fat stores.
Another reason we tend to regain weight quickly following a crash diet is that old habits die hard.
After losing weight, it's easy to let our guard down and start eating just a little more.
We may think we have a handle on it, but we can soon be eating as we did before starting the diet.
When we do this, our body, which is still burning fewer calories, stores the extra food intake as fat.
Staying on a strict diet indefinitely is not the answer.  This would not only be intolerable but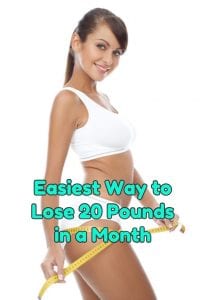 also potentially very detrimental.
For a start, rapid weight loss usually causes us to feel tired and weak and make us irritable and light-headed.  It can also cause health problems such as diarrhea or constipation, sugar level fluctuations, and, in some cases, even cardiac arrhythmia.
As with anything, there are exceptions, and there may be instances when losing 20 pounds in a month is necessary.  For example, if the person is extremely obese and their health is in immediate danger.
Or if they need to lose a lot of weight quickly before having surgery.  If you fit into either of these categories, follow your health care provider's advice and undertake your weight loss program with medical supervision.
I recommend aiming for a weight loss of 20 pounds in 2 months or even three months for anyone else.  That's still a lot of weight to lose in a relatively short period, but it is a far more realistic and comfortable goal to achieve.
When losing weight at that rate, the chance of suffering health problems will be less.  And the likelihood of keeping the weight off, long-term, will be greater.
For those who are still determined to lose 20 pounds in a month, one of the easiest ways of doing so is to follow a high protein, low carbohydrate diet.
Easiest Way To Lose 20 Pounds in a Month
Whether or not you can lose 20 pounds in a month will depend on a number of factors.  These include how much you currently weigh, your calorie intake, and whether or not you are presently exercising.  Some people will lose less than 20 pounds in a month following a high protein, low carb diet.  Others may lose more.
Something to be aware of is that diets which restrict an entire food group can be difficult to sustain.
Having said this, the high protein, low carb diet has been around for a long time.  Many people have used it successfully in the past and continue to use it to this day to lose weight.
Most believe that it's easier to follow than many other diets they've tried because the foods allowed are satisfying.
Why it Works
The high protein low carb diet works so well because protein keeps us feeling full for longer, and the process of digesting it burns calories.  Carbs are the first thing our bodies burn for energy.  By cutting back on high-carb foods and increasing protein, we can better burn our stored fat.
A high protein, low carb diet should not be undertaken for more than a few months at the most.  Any longer and your health will inevitably begin to suffer due to nutritional deficiencies developing.  And, because this type of diet is low in
fiber, constipation and diverticulitis can result.
Many high protein, low carb diets advocate consuming large quantities of red meat, full-cream milk, and full-fat cheeses.
No harm should come from following this regimen for a short period.  However, prolonged intake of foods containing high levels of saturated fat will usually increase bad cholesterol levels.  Over time, this can lead to heart disease.
Better high protein choices are skinless fish, chicken or turkey, pork, lean cuts of beef, and low-fat dairy products.
As for the carbohydrates to choose when you want to lose 20 pounds in a month, stick to healthy, nutritious carbs like whole-grain cereals, fruits, and veggies instead of things like pasta and bread.
Click this link to learn the real truth about carbs and weight loss, and find out why you should not follow a low carb diet long term.
Will I Need to Exercise to Lose 20 Pounds in a Month?
Regardless of whether or not you exercise, you should quickly lose a good deal of weight on a high protein, low carb diet.
Increasing your activity level as well will enable you to burn even more calories.  Exercise will also help you maintain and build muscle, which we lose, along with fat, when we diet.
People on a low-carb diet generally find their energy levels are lower than usual, especially in the beginning.  Eat some carbs within the hour before you exercise and within half an hour afterward to optimize your energy.
You may also find it beneficial to undertake gentle exercise such as walking, light cycling, swimming, or yoga.  Even 10 or 15 minutes, two or three times a week, will burn extra calories and improve your muscle tone.  Gradually increase this to around 30 to 45 minutes, four or five times a week.  This will go a long way towards helping you achieve your weight loss goal.
Stick with the above plan, and you should be able to lose 20 pounds in a month or close to it.