This post may contain affiliate links. If you click a link and buy something, I may receive a small commission at no extra cost to you.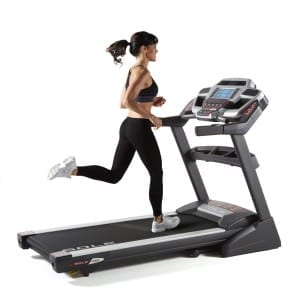 There's a lot to like about the Sole F85 Treadmill.  Upgraded in 2016, this top-of-the-line treadmill is the latest version of Sole's very popular 2010 and 2012 models, which went by the same name.
Proclaimed by its manufacturer Sole, to be a "sophisticated high-end machine that has been designed for those who are serious about getting into shape," one glance at this handsome treadmill and you will suspect they may be onto something.  One workout will tell you their description is right on the money.
Looking and feeling more like the professional treadmills found in gyms and fitness centers than a home treadmill, the Sole F85 isn't cheap.  It's not the most expensive treadmill either.  If it's within your budget, its range of impressive features will revolutionize your workouts, making them more enjoyable than ever before.
Suitable for users of any height and with an upper user weight limit of 400 pounds, this treadmill has many positives and only a couple of minor negatives.
Keep reading this Sole F85 Treadmill review to find out more.
Sole Treadmill F85 Infomercial
Sole F85 Treadmill Specs 
Overall dimensions – Assembled, the Sole F85 Folding Treadmill measures 35″ (W) x 58″ (L) x 80″ (H).
Deck dimensions – Its deck measures 35″ x 80″.
Running surface – The tread belt of this model measures 22″ (W) x 60″ (L).
Weight – The treadmill weighs 265lbs.
User weight – Its upper user weight limit is 400 pounds.
Color – This model is available in gray.
Sole F85 Treadmill Key Features

The Sole F85 is one of the strongest, most powerful and durable home-use treadmills available.  Equipped with a heavy-duty industrial strength 4.0 CHP motor and a zinc-coated steel flywheel, it delivers a very smooth ride.  Its two-ply woven belt comprises four layers, so wear should not be an issue.
The Sole Treadmill F85 comes with 10 programs.  Six are pre-programmed workouts that can be activated at the press of a button.  These
include Cardio, Interval, Fat Burning, Hill, Strength, and Manual.  There are also two custom programs which allow the user to personalize workouts to suit their preferences and goals.  The two heart rate control programs are customizable to the user's specifications.
The Sole F85 Treadmill has a speed range of between 1/2 and 12MPH.  Its deck can be inclined up to 15%.  This combination of functions can accommodate even the most experienced runner.
The wireless chest strap used for heart rate monitoring has proven to be a very impressive 99.9% accurate.  When one of the two heart rate programs is selected, the treadmill automatically adjusts the incline level, keeping your heart rate in your target zone and displaying a graph for convenient reference.
If preferred, you can use the hand grips to monitor your heart rate, but this method will be less accurate.
Boasting a far weightier flywheel than most other treadmills in its price bracket, the workouts the Sole F85 Treadmill delivers are as smooth as those you would get on a commercial-grade machine.
Larger than average 2 3/4″ rollers ensure more contact with the belt, increased life for the roller and belt and a smooth gliding motion.
Hook up your MP3 player to the built-in speakers, and you will be able to exercise to the music of your choice.  This model can also be synced with mobile apps to share data.
Built-in transport wheels enable the treadmill to be wheeled away for storage.  When you want to use it again, simply roll it back into position, release the deck, and it will unfold itself.
In the next part of this Sole F85 Treadmill review, we will be looking at its pros, followed by its cons.

Pros
Quiet, Low-impact workouts 
The running surface of the Sole F85 Folding Treadmill utilizes Cushion Flex Whisper shock absorption, which provides quiet, comfortable workouts.  This breakthrough technology reduces strain and impact on the joints by around 40 percent compared to running on asphalt, lowering the likelihood of injury occurring to your ankles, knees, and other joints.
A 10.1″ blue LCD panel provides easy tracking of your time, distance, speed, pace, incline, heart rate and the number of calories you burn during workouts.  There's also a 1/4 mile track feature and a Peak and Valley graph.
A scrolling messaging function guides you through your workout and the various programming features of the machine.  There is also the provision to record your workouts for easy progress tracking. 

The Sole Treadmill F85 has two fans to help keep you cool during workouts.
There are two cup holders and a ledge for holding a magazine, tablet, iPod, or similar electronic device.
The treadmill's Easy Assist Folding Deck provides easy automatic hydraulic powered folding for compact storage when this is required. 

Setting up the Sole F85 takes most people about an hour and a half.  Having a second person to help, will shorten the time.  The instructions are easy to follow, and assembly tools come with the treadmill.
The Sole F85 has a lifetime warranty on its deck, frame, and motor.  A 5-year warranty covers the treadmill's electronics, roller, belt and components that can be impacted by wear.  There's a 2-year warranty for labor.
Cons
While the quality of the Sole F85 Treadmill's speakers is perfectly acceptable, it could be better.
Speed changes tend to take longer to kick in with this model than with some others.
What Others are Saying About the Sole Fitness F85
The Sole F85 Folding Treadmill has excellent feedback from purchasers.  Many have commented on its solid and sturdy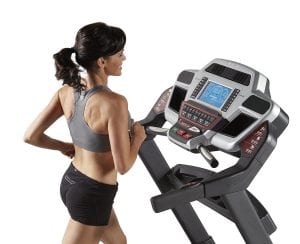 feel.  Positive feedback has been given for the machine's smooth and quiet operation, with some people comparing it to treadmills they've used at a gym.
Buyers love that it delivers a low-impact workout.  Very tall and heavy users appreciate that they can stride out without fear of falling off the edge of the running surface or damaging the machine.
Though not cheap, most purchasers consider the Sole F85 to be excellent value for money.  Many left positive feedback for the large LCD panel, which is easy to read.
A small minority of people commented unfavorably on the quality of the speakers, which they think could be better.  Others, however, are happy with their quality, so this is likely to be personal preference.
Some people have noted that there is quite a lag between adjusting the speed on the control panel and the belt reaching that speed.
Sole F85 Treadmill Summary
Many people in the fitness field consider the Sole F85 to be the best fold-up treadmill on the market.  Its cushioned
running deck makes it ideal for heavier runners and anyone who is prone to or rehabilitating from injury.
While the response time of the Sole Fitness F85 is slower than some treadmills when changing speed, this won't bother serious runners who will appreciate the treadmill for its range of outstanding features and programs which provide all of the control needed for the best possible workouts and progress monitoring.
Though not the cheapest treadmill on the market, it is far from being the most expensive either.  If your budget can stretch to it, it will certainly be a worthwhile investment that will allow you to experience the benefits of working out on a treadmill, today and for years to come.
Not the model you're seeking?  Click here to read reviews of other popular treadmills.