This post may contain affiliate links. If you click a link and buy something, I may receive a small commission at no extra cost to you.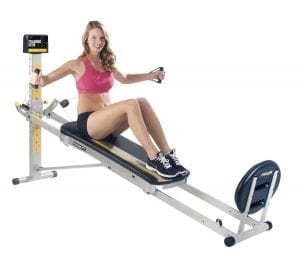 This Total Gym Fit review looks at everything you may want to know about it to help you decide if it's right for you.
The home gym offers a convenient and cost-effective way to improve your body shape and physical fitness without stepping outside your front door.
But for those who don't have space for bulky equipment, a home gym can be impractical. Such people may give up on the idea of owning a gym and continue with a gym subscription.
Or they may invest in small weight benches and kettlebells or dumbbells.  While effective, the room to store and use these can be underestimated.
Buying multiple pieces of equipment can also be expensive.  And, the pieces you choose may not provide access to a full range of exercises.
A high-quality, compact home gym that offers a comprehensive total body workout solves these issues.  Along with becoming stronger and more toned, it will strengthen your bones, improve your flexibility, and help you to lose weight.  It will also improve your balance and coordination.
Does the Total Gym FIT Home Gym fit these criteria, and is it worth the investment?  Keep reading to find out.
This model may not be currently available on Amazon, but you can buy it from the manufacturer by clicking on the banner image directly below.

Who will this model best suit?
The Total Gym FIT is suitable for everyone from 8-year-old kids through to seniors.  It can be used by people of every fitness level from beginners to the very experienced.  Individuals who are rehabilitating from an injury can also use it.  And, because its glide board is wider than average, it suits larger-built people.
And if you're looking for a piece of fitness equipment that will get you into shape fast, this gym has got you covered.
Use the machine for just twenty to thirty minutes at a time, two or three times a week, and in a few short weeks, you will begin to see and feel results.
NB: If you are rehabilitating from an injury, check with your doctor before using this, or any other fitness aid.
Total Gym FIT Home Gym Specs
Assembled dimensions – Assembled, the Total Gym FIT Home Gym measures 93″ (L) x 18 1/2″ (W) x 44 1/2″ (H)
Clearance – For unrestricted workouts, allow a 24″ to 36″ clearance all around the gym
Folded dimensions – Folded, the gym measures 50 1/2″ (L) x 18 1/2″ (W) x 8 1/2″ (H)
Glide board – The glide board measures 45″ (L) x 15″ (W)
Weight – It weighs 66 lbs
Maximum weight capacity – This model can support up to 450 pounds
Overview
Chances are that even people who are just beginning their fitness journey have heard of Total
Gym, a reputable company that has been designing efficient and reliable gym equipment since the 1970s.
All of the brand's gyms offer quality and reliability and they let you do a broad range of exercises.  The Total Gym FIT is one of the newest models in the company's lineup, and their top-of-the-range offering for home use, so you will pay a bit more for it.
Generally speaking, the more you pay, the more resistance levels and exercise options it offers.  With this model, you can do more than 85 different exercises!  And it has 12 resistance levels.  The higher-priced models also have a higher weight capacity and they include more accessories.
Featuring an upgraded steel frame, an updated pulley and cable system, reinforced slide pivots, and a custom Fender System, it is rock-solid and smooth, and stable to use.
Workouts are low-impact, with minimal pressure placed on the joints, even during intense sessions.  As with all of the offerings in the range, the FIT is a gravity gym, meaning the resistance comes from the user's body weight fighting against gravity.
Twelve resistance levels are available.  These are selected by changing the angle of the gym's newly-designed ergonomic glide board, which automatically locks into place after an angle is selected.  The higher you set the glide board, the tougher your workout will be.  Doing the exercises with the board flat will make for the easiest sessions.
Something to keep in mind is that while this model offers more resistance levels than the brand's budget-priced model, the Total Gym 1100, it doesn't provide greater resistance.  The extra resistance levels do, however, offer more variety.  They also allow you to more gradually progress to the next level.
The firmly padded glide board is encased in durable vinyl.  It is comfortable and supportive, and it runs smoothly.
The gym's flexible nylon strap handles are strong, easy to grip, and gentle against the skin.
When used with Total Gym FIT Accessories (see below), you will be able to do 85 different exercises.
The gym comes almost fully assembled.  All you need to do is unfold the glide rails and
insert the safety pegs.  You will also need to attach the Squat Stand and the exercise cardholder.
Easy-to-follow instructions explaining the above procedures are included.  And, DVD 1 contains a run-through.  The DVD also demonstrates how to attach and detach the accessories.
Folding the gym is just as quick once you get the hang of it.  Once folded, you can store it in a closet or up against a wall.  If you want to store it beneath a bed, you will need to first remove the Squat Stand.
With this model, you will get a lifetime warranty on the frame and 2 years on parts.
Next, we will look at the Total Gym FIT accessories.
What are the Total Gym Fit Accessories?
The Total Gym Fit accessories include a Leg Pulley with two ankle cuffs and detachable brackets, an Ab Crunch accessory, a Squat Stand, and a 2-Piece Wing Attachment.
The Squat Stand is used for leg toning exercises.  It is height-adjustable, and it comes with a detachable leg brace and two ankle straps.
The Wing Attachment is used for shoulder and arm exercises.  It also targets the core.
The Ab Crunch accessory tones and strengthens the core and obliques.  It will also improve your posture.
The Leg Pull Attachments primarily work the hamstrings and quadriceps.
Keep reading to find out about the Total Gym workout DVDs that come with this model.
There's also the option of buying an Ab Crunch accessory.  This comes with an Ab Crunch Workout DVD demonstrating exercises to tone your abdominal muscles and improve your posture.   
20-Minute HIIT Workout on the Total Gym FIT
Total Gym Workout DVDs
When you purchase this model, you will receive six Total Gym workout DVDs that target every fitness level.  The DVDs are as follows:
Start It Up – A simple workout that also teaches you how to use the machine
Beginner Program – This beginner level workout builds strength and stamina and increases energy
Intermediate Program – An intermediate level workout that builds muscle and burns fat
Advanced Program – This five-day program for experienced fitness fans focuses on upper and lower body strength training moves
Beginner Express – Beginner Express comprises short workouts that will enable you to fit in a workout on days when you don't have much time, or gently ease into longer sessions
6-8 Minute Workout – This video offers 12 different 6 to 8 minutes workout routines for busy people
There's a wall chart that shows 35 exercises.
You will also receive the Total Gym Training Deck that comprises individual instruction cards outlining different exercises.  This is a handy alternative to the chart if there's no wall in your line of vision during workouts.
Just slot the cards into the gym's holder to use as a reference guide.  To progress to the next exercise, flip over the card.
Furthermore, you will get a Nutritional and Meal Plan formulated by Hollywood fitness trainer Dan Issacson.
What exercises can I do on the machine?
Exercises you can do with this model include Squats, Abdominal Crunches, Pull-Ups, Leg Presses, and
dozens more.  This extensive range of options ensures that you will be able to train every major muscle group.
The next section of this Total Gym FIT review looks at its pros, then its cons.
Pros
Suitable for all ages and fitness levels
Solid, stable, and smooth
Addresses all aspects of fitness
Has a very generous weight limit
Gives access to 85 different exercises
Offers 12 resistance levels
Comes with useful accessories, including a Leg-Pulley, a Squat Stand, a Wing Attachment, and an Ab Crunch
Includes six workout DVDs, an illustrated wall chart, training cards, and a nutritional meal plan
Can be teamed with an Ab Crunch Accessory which comes with an an ab workout DVD
Is light enough to move if need be
Minimal assembly required
Comes with a good warranty, and a money-back guarantee
Cons
Costs more than the other home models in the range
Not suitable for building a lot of muscle mass
The gym may be a bit fiddly to fold and unfold until you get used to it
Final Thoughts on the Total Gym FIT
With a Total Gym FIT in your home, you will be able to tone and strengthen your entire body, do cardio and improve your flexibility and bone strength.
It gives access to 85 low-impact exercises, and there are 12 resistance levels, so there's plenty of scope to progress to more challenging workouts as you become fitter and stronger.
The Total Gym FIT is more expensive than some other home gyms, but considering all it offers, it is good value.
If a basic model with fewer features will suit you better, read my review of the Total Gym 1100.  Providing access to more than 60 different exercises, it has six resistance levels, and it can support up to 275 pounds.
If you want a few more bells and whistles than the 1100 but you don't need all of the features of the FIT, take a look at the Total Gym XLS.  It can support up to 400 pounds, it has 6 resistance levels, and it will enable you to do over 80 different exercises.
To read reviews of other popular home gyms, click this link.
Or click on the link below to buy from the manufacturer and save!