This post may contain affiliate links. If you click a link and buy something, I may receive a small commission at no extra cost to you.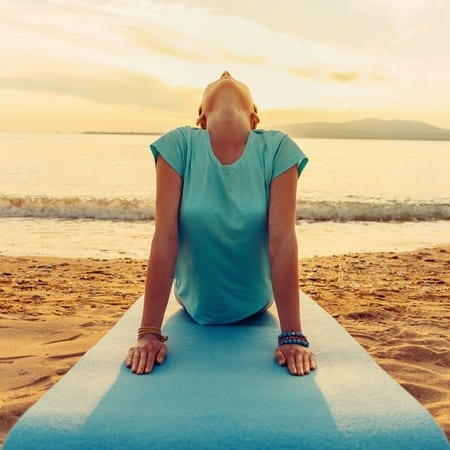 Jade Yoga make great yoga mats, and one of their most popular is the Jade Harmony Professional Yoga Mat.  AKA the Jade Harmony Professional 3/16 Inch Yoga Mat, it is the yoga mat of choice for many yogis and yoga teachers.
Made in America from all-natural, eco-friendly materials, its "stickiness" is perfect if you do Pilates, yoga or any other floor exercise that requires you maintain a secure grip.  This stability makes for more enjoyable workout sessions, as you will be able to concentrate on your poses and breathing, instead of worrying about the possibility of slipping.
Along with being safe to use, the mat is comfortable and durable.
Keep reading this Jade Harmony Yoga Mat review to learn its specs, pros, and cons.  We will also discuss the advantages and disadvantages of open-cell and closed-cell mats.
Jade Harmony Professional Yoga Mat Specs
Dimensions – The Jade Harmony Professional Yoga Mat is 24″ wide and there's a choice of three lengths, including 68″, 71″, and 74″.  All are 3/16″ thick.
Weight – The mats weigh between 4.3 lbs and 4.5 lbs.
Colors – The mats come in a range of appealing colors including Midnight Blue, Slate Blue, Teal, Raspberry, Purple, and Plum.  Other options are Olive Green, Tibetan Orange, Saffron, and Black.
The range also has a two-toned mat.  71 inches long, it is reversible and comes in either Lavender and Purple, Slate and Midnight Blue, or Chili Pepper and Sedona Red.  
For those who prefer a wider mat, there's the Jade Harmony Yoga Mat XW.  28 inches wide, it is available with a length of 74 inches or 80 inches.
Jade Harmony Yoga Mat Video
Jade Harmony Professional Yoga Mat Pros
The Jade Harmony Professional Yoga Mat is comfortable to use.  It is thick enough to provide cushioning, but not so thick as to affect balance negatively.
The mat will stay firmly in place during your yoga sessions, regardless of your floor's surface.  It won't move around or slip, even if you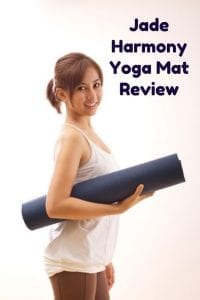 perspire profusely.  This means your workouts will be safer, even when doing difficult poses.
The Jade Yoga mat is durable.  It will see you through many yoga sessions, without flaking as many other yoga mats tend to do.
The mat is made of open-cell premium rubber and other all-natural components.  Tapped from rubber trees, a renewable resource, it doesn't contain PVC, EVA or other ozone-depleting substances.  Along with being safe for the environment, it will be safe and gentle on your skin.
Additionally, Jade Yoga has partnered with the non-profit organization Trees for the Future, planting a tree for every mat purchased.
The Jade Harmony Professional 3/16 Inch Yoga Mat can be hand washed in warm water, using a mild soap.  It should then be hung up or laid flat to air dry out of direct sunlight.
Jade Harmony Professional Yoga Mat Cons
Initially, your Jade Yoga Mat may smell strongly of rubber.  The smell dissipates, but it doesn't always disappear completely.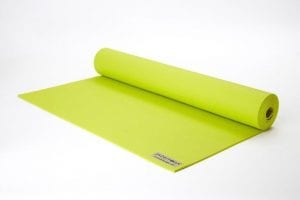 When exposed to direct sunlight, the rubber will begin to deteriorate, and the mat will lose some of its stickiness and grip.  Leaving it in your car on a hot, sunny day, could also result in the rubber breaking down.  If you do have to leave it in your car in such conditions, cover the mat with a towel or something similar.
The surface of the mat tends to pick up grit, lint, pet fur and the like.
The next section of this Jade Harmony Yoga Mat review compares open-cell and closed-cell mats.
Is Open-Cell Better Than Closed-Cell?
Open-cell and closed-cell yoga mats each have advantages and disadvantages.
Closed-cell yoga mats usually cost less than open-cell mats.  They are most suited to light yoga sessions and people who don't perspire a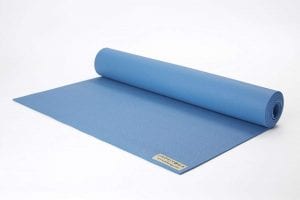 lot.  They're considered to be the most hygienic of the two types of mat because they don't absorb water or oils from our skin when we sweat.
The downside of closed-cell mats is that they don't cope well with moisture, so even a little perspiration will make your palms and feet tend to slip.
Open-cell mats are usually more expensive than closed-cell mats.  They are porous and permeable, and they have far superior traction.  This makes them a better choice for anyone who perspires a lot.
Made of less dense material than closed-cell mats, absorbing moisture as they do, they will wear faster.  They are also slightly more difficult to clean.
Jade Harmony Professional Yoga Mat Summary
One of the most popular yoga mats on the market, the Jade Harmony Professional Yoga Mat has over 2,200 purchaser reviews posted on Amazon, where it has an extremely high customer satisfaction rating.
Its non-slip construction is an excellent safety feature and, while slim; the mat provides more comfort and durability than many of its thicker counterparts.  Easy to clean and requiring minimal storage space, the Jade Harmony Yoga Mat should be on your short list if you are in the market for a new yoga mat.
The Aurorae Yoga Mat range is also worth checking out.  Click here to read a review