This post may contain affiliate links. If you click a link and buy something, I may receive a small commission at no extra cost to you.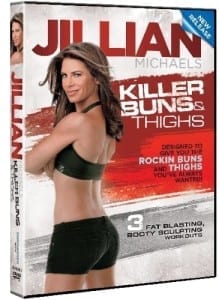 Whether you're carrying excess junk in your trunk or your butt resembles a deflated pancake, Jillian Michaels Killer Buns and Thighs DVD will get you into great shape fast.  With overwhelmingly positive reviews from many happy customers, it is one of the "Tough Love Queen's" most popular fitness programs.
If you don't have a lot of time to spend exercising, you will love this program that will blast your excess fat and tone and sculpt your butt and thighs in workouts that last a little over 30 minutes.
If you haven't exercised before, I'm not going to lie and tell you it's going to be a cakewalk.  It won't be, but it will get easier.
Along with the regular version, there's a modified and an advanced version of the workout.  By following along with whichever is right for you, you should find the workouts doable.
And if you put in the necessary effort a few short weeks from now, you can be rocking those skinny jeans and looking forward to bikini weather rather than dreading it.
In this Jillian Michaels Killer Buns and Thighs review, we look at what the workouts involve to help you decide if the program will be right for you.
What to Expect from Jillian Michaels Killer Buns and Thighs 
Jillian Michaels Killer Buns and Thighs DVD comprises three workouts, entitled Level 1, 2, and 3, respectively.
Each is advertised as being 30 minutes long, minutes long, but you will need a few extra minutes to do the Warm-Ups and Cool-Downs.  According to my calculations, Level 1 runs for approximately 42 minutes, all up, Level 2, 43 minutes, and Level 3, 45 minutes.
Start with Level 1 and stick with it until your strength and fitness improve to the extent you can move onto Level 2, and later Level 3.  For the best result, do the workouts 5 or 6 days a week.
With Jillian leading, Anita and Natalie (both of whom you may recognize from Beginner Shred and 30 Day Shred) make up the team.  Anita demonstrates a modified version of the workouts, suitable for beginners, and Natalie does an advanced version.
An exercise mat and one or two pairs of hand weights are needed for each level.  Levels 2 & 3 also require that you use a chair.  Make sure the chair is sturdy and preferably unpadded, as you will be standing on it to do some of the exercises.
Some of the moves target more than one muscle group.  For example, the core and upper body or the abs and legs.  While working multiple muscle groups simultaneously presents more of a challenge, it is a very efficient way to exercise, and it brings faster results.
To give you a better idea of what is involved, I will list all of the exercises you will be doing in level 1 of Jillian Michaels Killer Buns and Thighs, then give a general overview of Levels 2 & 3.

Jillian Michaels Killer Buns and Thighs Video Demonstration
Level 1 Exercise List:
Jillian Michaels Killer Buns & Thighs Level 1 runs for 42 minutes, including the Warm-Up and Cool-Down.  The moves change every 30 to 40 seconds, and each circuit is performed twice.  While the workout is very intense, it moves along quickly.
Warm-up (two run-throughs)
Each of the circuits starts with a warm-up comprising the following:
• 1) Jumping rope
• 2) Deep Lunges
• 3) Side Lunges
• 4) Military Marching
• 5) Pivoting Crescent Pose
Circuit 1 (performed twice)
Advanced level exercisers can hold hand weights for a more challenging workout when doing the Lunge-Squat Combos, Calf Raises, and Sumo Hops.
• 1) Lunge-Squat Combo
• 2) Calf Raises
• 3) Sumo Hops
• 4) Single-Legged Chair Pose
• 5) Stiff-Legged Deadlifts
Circuit 2 (performed twice)
Advanced level exercisers can do Judo Bridges standing on just one leg at a time and use hand or ankle weights when doing Swimmers.
• 1) Butt Kicks
• 2) Judo Bridges
• 3) Mountain Climbers
• 4) Swimmers
• 5) Plank Jumping to Squats
Circuit 3 (performed twice)
• 1) Fire Hydrants
• 2) Donkey Kicks
• 3) Inner Thigh Lifts in Side Plank Position
• 4) 90 Degree Leg Lifts
• 5) Hamstring Curls
Circuit 4 (performed twice)
Advanced level exercisers can hold hand weights when doing Pendulum Curtsies
• 1) Front and Back Kicks
• 2) Deep Lunge into Warrior 3 Yoga Pose
• 3) Front, Side, and Back Kick combo
• 4) High Knees
• 5) Pendulum Curtsies
Cool-down
• 1) Quad Stretches
• 2) Arm & Shoulder Stretches
• 3) Chest Stretch
• 4) Hamstring Stretches
For me, the most difficult moves in Level 1 are the Sumo Squats with Calf Raises.  The One-legged Chair Poses and Inner-Thigh Side Planks are also very challenging.
Level 2 General Overview
The difficulty level of the exercises in Jillian Michaels Killer Buns & Thighs Level 2 increases markedly from level 1.  It is, in fact, harder than the level 3 workout in my opinion, and reading feedback from other reviewers' I see I am not alone in thinking this.  The workout runs for around 43 minutes including the Warm-Up and Cool-Down.
If your quads are in need of a serious workout, it would be difficult to find a better one than this to whip them into shape.
Jillian recommends using weights of between 3 and 8 pounds for some of the moves.
Don't worry if you have to use lighter weights.  It's far better to maintain correct form and use lighter or no weights than to work with a too hefty weight and risk injury.
When your muscles are stronger, add light weights if you don't use them initially, or move to heavier weights if you start with light ones.
The moves I find to be the most challenging in level 2 are the Goddess Squats and Single-Legged Runners.  And if you think regular Burpees are hard, wait until you try Single-Legged Burpees!
Level 3 General Overview
The primary focus of Jillian Michaels Killer Buns and Thighs Level 3 is cardio, plus isometric exercises that sculpt and tone the muscles in such a way that they will appear to be leaner and sleeker rather than bulky.  This workout is 45 minutes long, including the Warm-Up and Cool Down.
I'd class myself as reasonably fit, and with Level 2 being as tough as it was I could only imagine what level 3 would be like.  Whether I'd become stronger through completing the first two workouts or Jillian designed the program this way on purpose, I can't say, but my fear of not being able to manage level 3 was unfounded.
Having said this, I think with Level 3, there is more scope to slacken off a little.  Put more into the workout by moving faster, jumping higher, and squatting lower.  Do this, and the workout can be as challenging as you make it.
The moves I find the most difficult in Level 3 are the Single-Legged Mountain Climbers, Rock-Star to Cannon Ball Jumps, and Single-Legged Dead Lifts.
Final Words on Jillian Michaels Buns and Thighs Workout
Summer is here, which is bad news if, like most of us, you've been getting stuck into too much comfort food and skipped more than the occasional workout over winter.  With Jillian Michaels Killer Buns and Thighs DVD, the good news is that you can turn all that around and get into shape fast.
You will sweat, your heart will pound, and your muscles will burn and beg for mercy, but it will be worth it.  The variety of exercises you will be doing pretty much guarantee that boredom will never be an issue.  And, if you stick with the program, you will end up with the taut and toned butt and thighs you desire.
I recommend this program without reservation to anyone who wants to strip fat and tone their lower body fast!
Not the right lower body workout for you?  Check out the Brazilian Butt Lift Workout.
Click here to read reviews of alternative Jillian Michaels DVDs