This post may contain affiliate links. If you click a link and buy something, I may receive a small commission at no extra cost to you.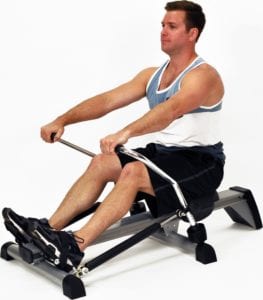 The Kettler Favorit Rowing Machine is a competitively priced exercise rower that uses dual hydraulic cylinders to provide continuous, adjustable resistance.
While its features are fairly basic, this compact indoor rower machine is high in quality, sturdy and durable and it comes with a great warranty.
Manufactured by a German company that has been producing high-quality exercise equipment for decades, you really can't go wrong with a Kettler Rower.
I recently had an opportunity to give the rower a test run.  The first thing I noticed was its solidity, and how comfortable the seat it.
The rower's free-motion arms moved smoothly, whether I was pushing them outwards or pulling them back towards myself.  I also liked being able to swing the handles out to the sides to simulate the feeling of rowing on water.
Another outstanding feature of the Kettler Rower is its 50 resistance levels.  These make it suitable for everyone from the rank newbie exerciser to the experienced athlete.  It also provides plenty of scope for most people to grow their fitness well into the future.
In this Kettler Favorit Rowing Machine review, we will look at its specs, key features, pros, and cons, to help you decide if it deserves a place in your home gym.
Kettler Favorit Rowing Machine Specs
Dimensions – Assembled, the Kettler Favorit Rowing Machine measures 52″ (L) x 32″ (W) x 10″ (H).  The distance from the footplate to the middle of the seat is 42″, and it is 46″ to the end of the seat.
Weight – This rower weighs 44 lbs.
User height – Numerous purchasers under 5 feet tall and up to at least 6 feet 3 inches tall have left positive feedback for this model.
User weight – According to Kettler's website, the user weight limit for the rower is 285 pounds, not 250 pounds as is stated on some websites.
NB If you are over 6 feet 3 inches, or slightly under and long from the waist down, you may not be able to fully extend your legs when using this model.  Likewise, if your pant's inseam is 40 inches or more. 
An excellent alternative worth checking out is the Stamina Avari Programmable Magnetic Exercise Rower (click the link to read a review) which, according to the manufacturer, can accommodate people up to 6 feet 4 inches.  
Batteries – Two AA batteries are included for the display monitor.
Kettler Favorit Rowing Machine Demo
Kettler Favorit Rowing Machine Key Features & Pros
Next, we will cover the key features and pros of this model, followed by a closer look at each.
Works major muscle groups
Extensive range of hydraulic piston resistance
In the next section of this Kettler Rowing Machine review, we will take a closer look at its key features and pros.
A closer look at the key features and pros – – –
Many exercise machines focus mainly on cardio and working the lower body.  Rowing machines,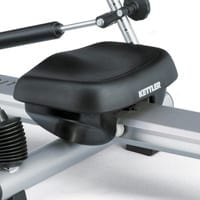 including the Kettler rower, provide cardio, plus total body toning.  Muscle groups targeted during workouts include the shoulders and biceps, the upper and mid-back, the quadriceps and glutes and the core muscles, including the abs.  This equates to a nearly complete body workout.
The wide, contoured seat of the Kettler Favorit Rowing Machine is well-padded.  This makes it more comfortable to use, even during longer exercise sessions.  Thickly padded handgrips enable a good grip and add to the comfort of workouts.
Top-grade rollers ensure the rower's seat glides smoothly on the rail.  With the seat's ball bearings sealed, there will be no need for a lubricant to maintain the machine's smooth action.
Non-slip pivoting footrests with adjustable straps will keep your feet securely in place as you row.  The pivoting movement allows for a natural and comfortable foot movement.
The Kettler rower is one of the most compact indoor rowing machines on the market.  This makes it a great choice for people with limited space to house exercise equipment.
With the rower being quite light, it can easily be moved to suitable storage space after you've used it.  It can't be folded flat, but its handlebars can be pushed up.  You will then be able to store it upright in a closet, against a wall, or beneath a bed.
NB: To store this model underneath a bed, there will need to be over 10 inches of clearance between the base of the mattress and the floor.
With its high carbon steel, powder-coated frame, the Kettler Favorit Rowing Machine is solid and stable.  No matter how hard or fast you work out, it will never wobble.  This being the case, you will be more inclined to stick to your exercise schedule.  This feature also makes it easier to stay focused on your workouts, as you won't be distracted by a machine that rocks if you stroke too hard or fast.
Along with being sturdy, the Kettler Rower is also durable.  Numerous purchasers have reported using it regularly for extended periods of time, without a problem.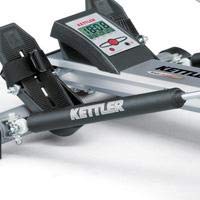 Some rowing machines use a flywheel graded by distinct levels of resistance.  The Kettler Favorit Rowing Machine, on the other hand, uses a hydraulic piston system.  This enables a very smooth transition between levels and a far greater range of options.
With 50 resistance levels to choose from, you will be able to customize your workouts to suit you perfectly.  You won't waste time exercising at a level that isn't challenging enough, nor will you risk injury by working at a level that is too challenging for your current fitness.
Most of us have one side of our body that is stronger than the other.  The arms of the Kettler Favorit Rowing Machine each has its own hydraulic piston.  This means you can set a different level of resistance for each arm if desired.
Using this machine, you will be able to program in metrics you want to track, including your stroke speed and distance covered.  You can elect to be alerted by a visual or audio signal upon reaching your goal, eliminating the need to refer to the monitor constantly.
Alternatively, you can row in the aerobic zone the computer recommends, based on your age.
The Kettler Favorit Rower has an easy-t0-read, high-resolution display screen.  It automatically starts when you begin pedaling and switches off after a few minutes of inactivity.
Located near the foot of the machine for easy viewing, stats displayed simultaneously include time, distance, the number of strokes, stroke speed, distance covered, calories burned and heart rate.  A single metric is shown in large text at the center of the screen.  This changes every five seconds as the monitor cycles through the various stats.
You will receive an infrared ear clip.  By clipping one end to your ear lobe and plugging the other end into the monitor, you will be able to track your heart rate.  Alternatively, a Kettler HR Chest Strap can be used, but this is not included in the purchase price.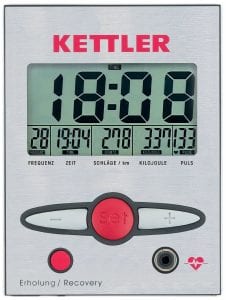 For those who are not mechanically minded, just the thought of having to assemble a machine is daunting.  The good news is that most people say they find assembling the Kettler Favorit Rowing Machine to be a quick and straightforward process.
Kettler estimates the assembly time to be around 35 minutes.  Many reviewers said it took them between 30 and 60 minutes.
With a second person helping, you will shorten the time.  You will find the tools to complete the job in the box; however, some people said they also used a screwdriver.
The user manual includes instructions in six languages.
The Kettler Favorit Rowing Machine comes with a lifetime warranty on its frame and 3 years on parts.
Kettler Favorit Rowing Machine Cons
Next, we will look at the cons of the Kettler Favorit Rowing Machine, then take a closer look at each.
Short heart rate monitor cord 
A closer look at the cons – – –
The monitor's display is large, making for easy viewing.  It doesn't have a backlight, however, so be sure to locate the rower in a room with good lighting.
The monitor displays the distance traveled in kilometers, and the number of calories burned in kilojoules.  If "the numbers" are important to you and you're not up with the metric system, you can always use an online calculator to get accurate stats.
A couple of reviewers said they found the heart rate monitor's cord too short to use comfortably.  If this is an issue for you, there are some very inexpensive extension cords available that will solve the problem.
Kettler Favorit Rowing Machine Summary
If quality, sturdiness, and durability are more important to you than a range of high-tech features,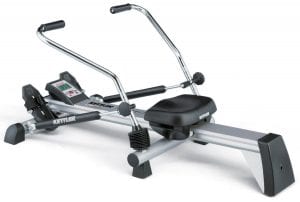 the Kettler Favorit Rowing Machine could be just what you're looking for.  With its realistic rowing motion and wide range of resistance levels, it will deliver effective workouts, whatever your fitness level.
Compact enough to fit into a reasonably small space, light enough to relocate and strong enough to withstand the rigors of extended daily exercise sessions, the Kettler Favorit Rowing Machine should give you years of trouble-free service.
To read review of alternatives, click this link