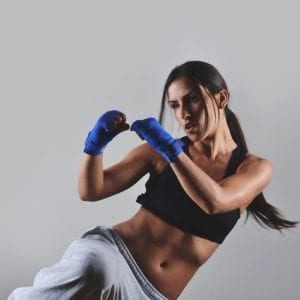 In this article, we will look at kickboxing for fitness and the benefits of kickboxing for women.
Until relatively recently, kickboxing for fitness was undertaken almost solely by males.  This began to change when several female celebrities announced that regular kickboxing workouts helped them to stay healthy and in shape.
While men are still the main participants, nowadays, kickboxing workout benefits are also appreciated by women who are looking for an exciting and intense low-impact fitness activity that will enable them to transform their bodies quickly.
With its focus on martial art techniques and cardio, when undertaken as exercise, the benefits of kickboxing for fitness are indisputable.  Keep reading to find out what they are and the equipment you will need to get started.
What equipment will I need?
As when undertaking boxing for fitness, you will usually require some equipment to do kickboxing workouts.  Some people prefer to kickbox barefoot.  If you find that this is the case, you will only need comfortable clothing that allows freedom of movement.
If you prefer to exercise wearing shoes, cross-training shoes are a good choice as they provide support and stability, and they are light and flexible.  Other than comfortable clothing that allows freedom of movement, if you will only be shadow boxing – kicking and punching into the air – you won't need anything else.
If you will be using a punching bag, buy some 14oz or 16oz boxing gloves, shin guards, ankle support wraps, and wrist wraps.  People who plan on sparring with a partner will also need the appropriate protective headgear and a mouth guard.
23-minute kickboxing workout
Kickboxing for Fitness Benefits
Suitable for all fitness levels
Kickboxing workouts are perfect for people of all shapes and sizes and any fitness level.  While fast-paced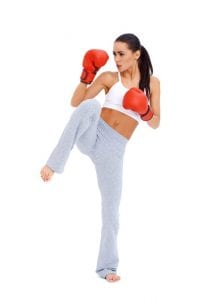 and intense, the moves can be modified and you can go at your own pace.  This makes the benefits of kickboxing available to all, including beginners.
NB Consult with your medical doctor before undertaking any new fitness regimen, including kickboxing
Burns calories and body fat
On average, one hour of kickboxing can burn up to 750 calories an hour.  The exact number of calories will vary depending on factors including your weight and how much effort you put in.
Many of us struggle to reduce belly fat.  Known as visceral fat is not just unsightly; it is unhealthy too.  Unlike excess thigh and buttocks fat, a fat belly increases the risk for some serious medical conditions including diabetes, cancer and heart disease.
One of the most significant kickboxing workout benefits is that it helps to burn visceral fat fast.
Offering a total body toning workout, kickboxing engages all of the body's muscles.  Regular participation will strengthen your core and back, define your abs, and give you a small waist, and toned arms, legs, and buttocks.
Another of the benefits of kickboxing is that it quickly strengthens and tones the abs and core.  The reason for this is that to stay balanced during workouts, these muscles will be continuously engaged.
If you're bored with your regular workout routine, give kickboxing a try.  To add variety and get into
shape even faster, do your sessions wearing wrist and ankle weights or a pair of light boxing gloves.  You will work extra muscles, and get out of that fitness rut super-fast!
Improves balance, coordination, and endurance
Another of the benefits of kickboxing is that because you will be standing on one leg as you kick with the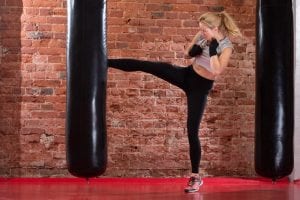 other for a lot of the workout, as time goes on your balance and stability will improve to allow you to kick harder.
As you punch and kick, to stay upright you will need to coordinate your arm and leg movements.  This will hone your coordination over time.  And, being fast-paced and highly intense, regular kickboxing workouts will improve your endurance.
Relieves stress & releases endorphins
Another of the kickboxing workout benefits is that it can reduce stress levels due to the martial arts and cardio aspect of the sport providing the opportunity to kick and punch anxieties away.
The exercise also stimulates the production of endorphins in the body.  These chemicals boost the mood and help us to relax.  They also make us feel happy and positive, with this feeling lasting for several hours after the workout finishes.
The world today can be dangerous, and kickboxing for women (and men) provides a means for us to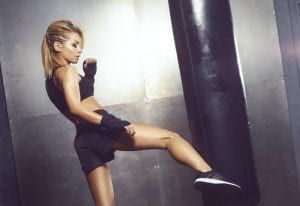 defend and protect ourselves should the need arise.
Through kickboxing, we learn to gauge distance as we jab and weave and throw kicks and punches.  Most of the moves are practiced on bags, which teaches us how to make contact with our target.  This makes kickboxing workouts adaptive to real-life situations, unlike some martial arts practices.
Knowing that you will be able to defend yourself should the situation require it will help you to have confidence in yourself and your abilities.
Final Thoughts on Kickboxing for Fitness
Kickboxing workouts offer numerous health and fitness benefits.  Whether you're a fitness fanatic or just starting to work out, this fast-paced sport can help you to reach your fitness goals.