This post may contain affiliate links. If you click a link and buy something, I may receive a small commission at no extra cost to you.
The Leslie Sansone Miracle Miles System enables you to walk your way to fitness without stepping outside your front door.
Being low-impact, the workouts are suitable for people of any age and fitness level who want to get into shape at home.
They are also perfect for anyone who travels and wants to be able to exercise in their hotel room.
The workouts vary in length from 1 mile to 5 miles, with the foot, arm, and body movements differing to target a range of muscle groups.
This diversity helps to allay boredom and ensures that along with burning calories, you will tone your entire body.
In this Leslie Sansone Miracle Miles System review, we will look at the workouts, the inclusions, buyer feedback, and more.
Leslie Sansone Miracle Miles System Overview
The Miracle Miles System contains everything you will need to lose weight and improve your physique.  It is fronted by author and fitness expert Leslie Sansone who has specialized in walking workouts for over 30 years.  The exercises are easy to follow along with, and they can be customized to suit the individual's fitness level.
Though the moves are simple to do, they are very effective.  While probably best suited to new and intermediate level exercisers, anyone who puts in the effort can benefit.
The walking pace varies throughout.  You will also do cardio boosts during which time the speed and intensity increase further.  For some of the moves, you will use a resistance band.
Everything is set to music with a beat that will help you to keep in time.  There is also auto cueing, which can be turned off if desired.
Each workout includes a Warm-Up and a Cool-Down.  A countdown timer on the screen displays your workout progress in minutes and seconds, so you always know how much longer there is to go.
Next, we will look at the 5 Miracle Miles System workouts.

Miracle Miles System Workouts
DVD 1 – The 1 Mile Walk (35 minutes)
The first DVD comprises a 20-minute one-mile walk hosted by Leslie.  The pace alternates between regular and fast walking and cardio
boosts.  Included in this and all of the sessions, are moves which enhance flexibility.
Led by fitness trainer Nick Drago who is accompanied by a team of exercisers, the DVD concludes with a 15-minute total body strength training session using the included resistance band.  (Leslie recommends that you do this segment two or three times a week.)
The lower body moves you will be doing include Squats, Plie Squats, and Lunges.  Upper body exercises include Punches, Chest Presses, Bicep Curls, and Tricep Kickbacks.
The total-body moves you will be doing incorporate Side-to-Side Standing Crunches, Front Shoulder Raises, Side Shoulder Raises, Chest Presses with Squats, Good Mornings, and more.
DVD 2 – The 2 Mile Walk (30 minutes)
The two-mile walk is led by Leslie who is joined by other exercisers who also participate in all but the three-mile walk which Leslie alone features in.
Going by the name of Belly Slimming, this session starts at a regular pace before the speed and intensity increase.  Primarily targeting the core and waistline, you will be using the resistance band from time to time.
DVD 3 – The 3 Mile Walk (45 minutes)
Leslie calls this one the Thigh Slimming Walk.  Starting with one mile of walking that incorporates belly-slimming moves, during the second mile the focus will be on your thighs, butt, and entire lower body.  Mile three consists of fast walking.
DVD 4 – The 4 Mile Walk (60 minutes)
The four-mile walk incorporates lots of Fast Walking, Cardio Boosts with Belly and Thigh Slimming moves, and Arm Sculpting.
DVD 5 – The 5 Mile Walk (75 minutes)
The five-mile walk starts with one mile walked to the beat of popular hit songs.  Next comes one mile of Belly Slimming, then one of Thigh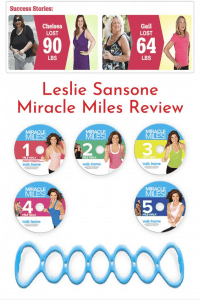 Slimming.  This is followed by a one-mile walk with Arm Sculpting exercises, then one mile of Fast Walking.
What else is in the Box?
Also included is the following:
Miracle Miles Exercise Band
A resistance band is included for you to use when doing the muscle-sculpting exercises.
7-Day Quick Start Walk & Meal Plan
The Quick Start Walk & Meal Plan contains 7 breakfast, lunch, and dinner recipes, plus nutritional advice.
All Year Long Workout Calendar
The 1-Year Workout Calendar enables you to track your sessions and know which workout you should do on any given day.  It also contains tips for walkers of all levels.
Leslie Sansone Miracle Miles Infomercial
Leslie Sansone Miracle Miles DVD Buyer Feedback – The Good, and The Bad
The overwhelming majority of purchasers have nothing but good things to say about the Leslie Sansone Miracle Miles 5 DVD Set.  The consensus is that the workouts are enjoyable, and Leslie's manner is friendly and uplifting.
Customers appreciate the program's flexibility, which enables them to do the shorter workouts when they don't have a lot of free time, and the longer ones when they do.  Many who have undertaken it claim to have lost pounds and inches and toned up.
On the downside, one purchaser's only complaint is that she thinks Leslie talks too much.  To get around this, she silences the autocue.  Another buyer doesn't like the music.  Many others left favorable comments about the music though, so this comes down to personal preference.
A couple of people received scratched DVDs so had to request a replacement.
One buyer said that the Cool-Down stretches at the end of some of the workouts should be longer.
Leslie Sansone Miracle Miles 5 Dvd Set Summary
The Leslie Sansone Miracle Miles 5 DVD Set is a simple to follow, low-impact fitness program that can be done just about anywhere.  If you have a small amount of free space and a DVD player, you will be good to go.
If you already have Leslie's other workouts, you may not need this one.  However, if you haven't undertaken a walking workout before, the Miracle Miles System will provide you with all of the benefits this form of exercise can bring, and you will have fun in the process.
Not what you're looking for?  Click this link to read reviews of other fitness programs I like and recommend