This post may contain affiliate links. If you click a link and buy something, I may receive a small commission at no extra cost to you.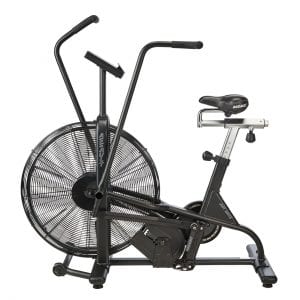 If you're looking for a stationary bike that will enable you to train as hard and as fast as you want to, you've found it in the LifeCORE Assault Air Bike.
While not the cheapest fitness aid of its type on the market, it is less expensive than most other commercial-grade bikes, and a bargain considering its functions and superior quality.
It is so robust, in fact, that the American Military use it in their training program.
Suitable for people of any fitness level, the bike provides limitless air resistance, so no matter how fit you become, you will never outgrow it.
The bike's movable arms will enable you to work your upper as well as your lower body simultaneously. This makes it suitable for everyone from those undergoing rehabilitation through to experienced athletes.
A diverse range of workout programs, an adjustable seat, quick and easy assembly, and a great warranty are just some of the noteworthy features that customers love about this sturdy bike.
In this Assault Air Bike review, we will look at its specs, key features, pros, and cons, to help you decide if it's the right stationary bike for you.
Who will the Bike Suit?
The LifeCORE Fitness Assault will suit just about anyone who is looking to do low-impact cardio and
total body sculpting exercise that will enable them to lose weight.
Its generous user weight capacity and seat adjustability mean that most people can use the bike to improve their fitness.  Offering infinite resistance, the bike will appeal to everyone from newbies, to people rehabilitating from an injury to seasoned athletes.
The Assault Air Bike is one of the few pieces of exercise equipment that you will never have to replace due to having outgrown it.  This just doesn't happen with this bike.  It's incredibly durable too, so you can expect to use it for many years.
Something to be mindful of though is that the fan makes quite a lot of noise.  The noise isn't unbearable, but it's something to be aware of if you live in a shared household and you are concerned about disturbing the other residents.
LifeCORE Fitness Assault Air Bike Trainer Specs
Dimensions – The LifeCORE Fitness Air Bike Trainer measures 50.95″ (L) x 23.34″ (W) x 50″ (H)
Floor space requirement – An extra 2′ all around will be needed to use the bike
Weight – It weighs 95.64lbs

User weight – The user weight limit for this bike is 300 pounds
Color – This model comes in black
LifeCORE Fitness Assault Air Bike Trainer Overview
The LifeCORE Assault Air Bike was two years in the making, and the manufacturer's attention to detail has certainly paid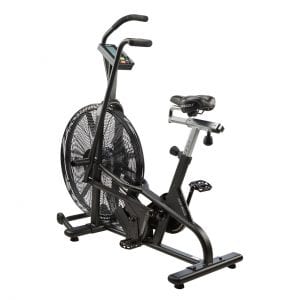 off.
With its chain-drive system, and high user weight capacity, the bike is one of the most dependable fitness aids of its type.  Its powder-coated finish resists scratching, so the bike will look as good years from now as it does the day you buy it.
Twenty plus sealed cartridge bearings are integrated into the frame, pistons, and moving parts.  Their purpose is to enhance stability and provide smooth workouts without the wobbling or annoying squeaking that occurs with some cheaper stationary bikes.
Adjustable stabilizers built into the base add the to the bike's stability, while urethane "feet" enhance grip and prevent floor damage.
Able to cater to users of any fitness, a 25″ diameter steel fan provides unlimited resistance.  This means that you will be able to cruise at a slow pace, go all out at maximum intensity, or something in between.  You can also vary your speed and effort to do interval training.  Regardless of how fit you are or how much effort you put in, workouts won't jar your joints.
Eight preset workout programs enable you to diversify your sessions and do interval training.  These include three interval programs – 20/10 Interval, 10/20 Interval,  and Custom Interval.  The five-goal options are Time, Distance, Calories, Heart Rate, and Manual.
An LCD monitor displays training stats including segment time, total time, RPM, speed, distance, and Watts.  The screen
also shows your pulse rate when you're using the Polar-compatible wireless heart rate monitor.  (To use this facility, you will need to purchase a chest strap.)
The bike's contoured saddle-style seat is height-adjustable to accommodate people from short to very tall.  It can be angled, moved backward or forward, or up and down, by turning a knob.  This customization will enable you to find the perfect fit for you.
By utilizing the machine's movable arms as you pedal, you will be able to tone your arms, back, chest, and shoulders for a total body workout.
Along with improving your physical appearance, this feature will also enable you to burn more calories.  The arms, which are made from 2mm steel tubing, have comfortable-to-hold textured rubber handgrips.
The steel pedals can be replaced with SPD pedals if preferred.
If desired, you can exercise only your legs by placing your hands on your upper thighs or against the handlebars as your pedal.  To work just your upper body, put your feet on the pegs located above the pedals.
If you dislike assembling things, you will be pleased to know that with this bike the process is quick and easy, taking most people 20 to 30 minutes.
Wheels at the front of the bike's base enable it to be moved easily if this is required.
The Assault Air Bike comes with a 5-year warranty on its frame, and 2 years on parts.
While the bike has overwhelmingly positive feedback, a number of buyers have complaints.  Some said that the bike's seat is uncomfortable.  This is very common with exercise bikes.
To make your workouts more comfortable, you can place a towel or a cushion on the seat.  Alternatively, you can buy a bicycle seat cover.  Two that work well with this model are the Sunlite Cloud-9 Bicycle Suspension Cruiser Saddle, and the Schwinn No Pressure Bicycle Seat.
A few people stated that the bike made more noise than they'd expected, and some said that when pedaling hard it created a stiff breeze.

Assault Air Bike Pros at a glance
Robust
Provides upper and lower body workouts
8 Built-in workout programs
Heart rate monitoring capability
LCD screen for viewing training stats
Sturdy 2mm steel tubing arms
Comfortable-to-hold textured rubber handgrips.
Adjustable stabilizers enhance stability
Casters will protect your floor from scuffs and scratches
Assault Air Bike Cons at a glance
You may need a bike seat cover to enhance comfort
The bike is noisier than some other models
The saddle sometimes becomes loose, but can easily be tightened
The Assault Air Bike doesn't fold to store
Intense workouts create a strong breeze which some people may not like
LifeCORE Fitness Assault Summary
The LifeCORE Fitness Assault Air Bike adapts to suit users of any fitness level.  The bike is solid and durable, and it has a range of preset programs that will allow you to get into shape quickly, burn a lot of calories, and ultimately lose weight.
It provides unlimited resistance and movable arms that will allow you to target your upper body.  No matter how fit you become, you will never outgrow this model.  This makes it excellent value and definitely worth putting on your shortlist if you are looking to buy an upright exercise bike.
If the Assault Air Bike isn't the right model for you click here to read reviews of other popular upright bikes.