This post may contain affiliate links. If you click a link and buy something, I may receive a small commission at no extra cost to you.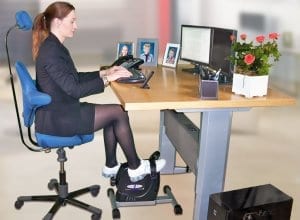 In this article, we look at the MagneTrainer, a mini exercise bike that will enable you to get in some exercise while seated.
Are you an older person who wants to exercise but can't due to a lack of mobility? Someone who is recuperating from an injury? Or someone who is looking for an easy way to fit more exercise into their day? If so, this foot and hand pedal exerciser can help you do so.
Also known as the MagneTrainer Mini Exercise Bike and the MagneTrainer-ER Mini Exercise Bike Arm and Leg Exerciser, this compact device has triple the resistance of most mini exercise bikes.
Able to tone the upper and lower body and increase strength and flexibility, it also improves the user's range of motion, and it burns calories. Medically-sanctioned, it is used in some nursing homes, hospitals, and other medical facilities.
In this MagneTrainer Mini Exercise Bike review, we will look at its specs, features, benefits, drawbacks, and more.
MagneTrainer Mini Exercise Bike Specs
Dimensions – The MagneTrainer ER measures 20″ x 18″ x 17 1/2″.
Weight – It weighs 23lbs.
User weight – The maximum user weight for the device is a very generous 550 pounds.
Desk height – If you plan on using the MagneTrainer while talking on the phone or checking your email, the height of your desk won't matter. If you want to use it as you type, your desktop will need to be at least 34″ to 36″ above floor height. By placing the apparatus further back and fully extending your legs, you may get away with a 33″ high desk.
Batteries – Two x AA batteries (included) are required for the monitor.
MagneTrainer Mini Exercise Bike Overview
The MagneTrainer Mini Exercise Bike is perfect for people whose home lacks the space for bulky exercise equipment. It is heavy enough to be robust and
stable, but not so heavy as to not be portable.
Being almost silent during operation, you can use it while you sit and watch the television or read. Pop it under your office desk, and you will be able to get in a workout without disrupting your productivity or annoying anyone in your vicinity.
Put the MagneTrainer on a tabletop, and you can use it to exercise your arms. The outside edges of the pedals have finger indentations for an enhanced grip.
Your workout will not be as intense as you would get lifting heavy weights. However, the device can provide substantial resistance, so don't think it is solely for elderly folk and those rehabilitating from injury.

While the unit has everything you will need to improve your fitness, some optional accessories are available that you may find useful. The next part of the MagneTrainer-ER Mini Exercise Bike review will cover these.
MagneTrainer Optional Accessories
Large foot pedals:
If your feet are larger than average, or if you would prefer a larger footplate, these pedals are perfect to use with the MagneTrainer. They have a non-slip base and soft, wide adjustable velcro straps, and they come with a 1-year warranty.

Large hand pedals:
There is also the option of buying a set of MagneTrainer Ergonomic Hand Pedals. Sturdy and durable, the pedals allow a fluid and natural movement. They are easy-to-grip and comfortable to use. Coming with a 1-year warranty, the pedals are quick to attach, and they can be removed just as easily with a wrench.

Quick connects:
As with all of the other accessories, Quick Connects are not essential to getting an effective workout. However, if you don't want to fiddle around with a wrench when changing the arm and foot pedals, they will speed up the process. Just remove the pin, swap pedals, put the pin back in place, and start peddling.
The Connects eliminate thread damage that can occur from continually changing the pedals. Extending the pedals by 1 3/8″, they are made from tool-grade steel, to ensure durability and longevity.

MagneTrainer ER video overview
Features and Benefits
Quality – Commercial grade steel construction ensures years of trouble-free use.
Dual-purpose – Being a foot and hand pedal exerciser, you can get a lower and upper body workout from one compact unit, saving you space and money.
Quiet – A patented resistance system uses magnetic fields for quiet operation.
Monitor – The MagneTrainer's electronic monitor tracks and displays your Speed, Distance, Time, and Estimated Calories Burned.
Adjustable resistance – This mini exercise bike has three times the range of adjustment compared to some similar devices. Its diversity will allow you to more accurately tailor your workout to your fitness level and achieve your goals faster.
Portable – Being light, this mini exercise bike is very portable, allowing you to take your exercise regimen with you.
Stable – With its 15″ wide base, the MagneTrainer-ER Mini Exercise Bike Arm and Leg Exerciser is exceptionally stable. This means you can exercise without expending effort just trying to keep the unit balanced.
Adjustable pedals – The pedals have adjustable Velcro straps that will suit hands and feet of any size.
Reverse pedaling – This model has forward and backward pedaling capability.
Drawbacks
Limitations – MagneTrainer workouts cannot be compared to workouts you will get on a full-size exercise bike. If you are looking for a challenging workout, this mini exercise bike won't be for you.
Movement – Some people who used the device on a tiled or wooden floor complained that it tends to move forward. To get around this, try placing it on a rug or rest its legs against a wall.
MagneTrainer-ER Mini Exercise Bike Arm and Leg Exerciser Summary
If you are looking for a compact foot and hand pedal exerciser that can be used just about anywhere, check out the MagneTrainer! The vast majority of reviews left for the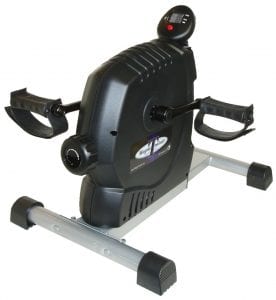 device are extremely positive. Most purchasers consider it to be well-constructed, with much praise given to its strength and stability.
The majority of negative feedback for this model is due to it being compared to a full-size stationary bike and its benefits. This is unrealistic and unfair. Both have value, and each offers benefits the other does not.
Dedicated cyclists and spin class aficionados may not get as much resistance as they require. However, everyone else should be happy with the exercise possibilities packed into such a small package.
So while the MagneTrainer will not be for everyone, a plus it has over many exercise bikes is that it can deliver both a lower and an upper body workout.
This mini exercise bike is also an excellent option for people who don't have space for or the finances to buy a bulky and expensive exercise machine, or separate machines, to work their upper and lower body. If that sounds like you, the MagneTrainer-ER Mini Exercise Bike Arm and Leg Exerciser is worth considering.