This post may contain affiliate links. If you click a link and buy something, I may receive a small commission at no extra cost to you.
The Marcy Foldable Exercise Bike (NS-652) is one of the best value X-frame exercise bikes you will find.
Most suited to new and intermediate level exercisers, the bike is relatively basic.  It is, however, robust and durable, and it has everything most people will need to get an effective workout.
Available in a range of fresh and appealing colors, there's sure to be one that is perfect for your home gym's decor.
Noteworthy features include a seat that can be raised or lowered to suit your height and variable resistance.  There's also a monitor that displays useful workout stats.
Smooth and quiet to use, the bike is compact, and when you've finished your workout, you can fold it to store if desired.
In this review of the Marcy Upright Foldable Exercise Bike, we will look at its specs, key features, pros, and cons.
Who will it suit?
This model will best suit users from 5′ 1″ to 6′ 3″ who weight 250 pounds or less.  It will also appeal to those looking for a compact, foldable upright exercise bike that gets the job done.
All but very experienced athletes should find that the higher levels of resistance offer an effective workout.
Marcy Foldable Exercise Bike Specs
Assembled measurements – Assembled, the Marcy Foldable Exercise Bike is 42 1/4″ (H) x  18 1/4″ (W) x 32″ (L)
Folded measurements – Folded, the bike measures approximately 45″ x 18 1/2″ x 20″
Weight – It weighs 34 lbs
User weight limit – The upper user weight limit for this model is 250 pounds
Color choices – This model is available in All White, Black and White, Lime Green and White, Navy Blue and White, Sky Blue and White, and Pink and White
Batteries – The monitor requires two AA batteries, which you will need to buy
Marcy Foldable Exercise Bike Overview
The Marcy Foldable Exercise Bike NS-652 offers 8 levels of manual magnetic resistance that can be adjusted during workouts.
The higher levels of resistance are sufficient enough to cater to everyone from new to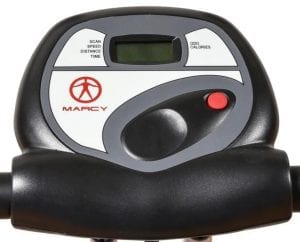 experienced exercisers, and it provides the opportunity to step up to another level when your fitness improves.  To increase the challenge further, wear ankle weights during your sessions.
A large, easy-to-read LCD monitor shows your time, speed, distance, and calories burned.  The monitor is user-friendly, making it easy to plan your workouts and track your progress, to get the best results.
The seat of the Marcy Foldable Bike is padded for comfort.  Its height can be lowered or raised to bring it closer to or further away from the pedals, allowing it to accommodate people from approximately 5 feet to over 6 feet tall.
The seat's ergonomic design promotes good posture and reduces lower back pressure.  Its soft-grip wrap-around handlebars enhance comfort and enable numerous grip positions.
Marcy's Foldable Exercise Bike has balanced counter-weighted pedals with adjustable straps, for comfortable and secure workouts.  You can also pedal in reverse, to target different muscle groups.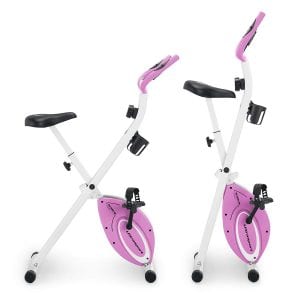 The bike's base has a rubber coating to protect your floors from scuffs.
If you are short on space, you will be able to fold the bike vertically for easy relocation or to store against a wall or in a closet between workouts.
Folding the bike is just a matter of removing a pin, pushing the back and the front of the bike toward each other, then reinserting the pin to stop it from unfolding. 

Marcy Upright Foldable Exercise Bike Infomercial
Pros
Having variable resistance, you will be able to mix up your workouts for faster fitness gains and progressively increase the resistance as you become fitter.
With its solid, 14 gauge steel frame, the Marcy Foldable Exercise Bike will hold up to long-term, repeated use.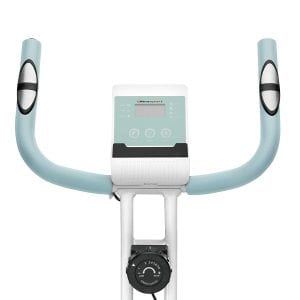 A small footprint makes this model ideal for people with limited space.
A smooth flywheel makes for a steady workout platform and wobble-free exercise sessions.
Exceptionally quiet to use, you won't have to struggle to hear the TV or take part in a conversation when using the Marcy Foldable Bike.
Assembling the Marcy Foldable Bike will take one person around 30 minutes.  The instructions are easy to follow, and there's a checklist of the parts to use as a reference.
The flywheel casing and main cross frame are pre-assembled.  All you will need to do is attach the pedals, seat, base stabilizers, and display console.
The frame of the Marcy Foldable Exercise Bike comes with a 2-year warranty.  This is longer than the warranty given with most exercise equipment in this price bracket.
Cons
The seat can feel uncomfortable after extended periods of cycling.  This is a common problem with exercise bikes that may be resolved by using a seat cover.  One that teams well with the Mary Foldable Bike is the Sunlite Cloud-9 Gel Seat Cover.
Being an entry-level bike, the Marcy Foldable Exercise Bike doesn't have preset programs.  This means you won't be able to perform fitness tests or sync your stats to an app or your computer.
This model doesn't have transport wheels, but it is light enough that moving it isn't difficult.
Marcy Foldable Bike Summary
When you buy Marcy fitness equipment, you get quality and innovation at a very realistic price,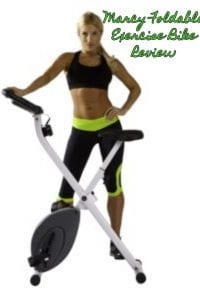 from a company that has been in business since the 1950s.  Their products rate consistently well with purchasers, and this one is no exception.
With many hundreds of buyer reviews published online, this model has overwhelmingly positive comments usually associated with high-end exercise equipment that costs a lot more.
Marcy's Upright Foldable Exercise Bike is reliable, solid, and functional.  It is smooth and quiet to operate, and its multiple resistance levels will provide enough of a challenge for most people.
The bike's height-adjustable seat and ergonomic design increase the safety and comfort of workouts.
The main drawback of this model is its seat, which can be uncomfortable during long workouts.  Placing a cushion or folded towel on the seat can help to overcome this.
A better fix is to buy a seat cover.  This is a relatively inexpensive fix that makes an enormous difference.
Easy to assemble, the Marcy Upright Foldable Exercise Bike is one of the most compact fitness aids of its type that you can buy.  And, if space is really tight at your place, the bike can be folded to store after you use it.
If you need a bike with a higher user weight capacity, take a look at the Marcy Upright Mag Cycle.  It has many of the same features as the Marcy Foldable Bike, but at 300lbs its user weight capacity is considerably higher.
While it doesn't fold, the Marcy Upright Mag Cycle does have built-in transport wheels that facilitate moving it if need be.  (Click the previous link to read a review.)
Or click here to read more upright bike reviews